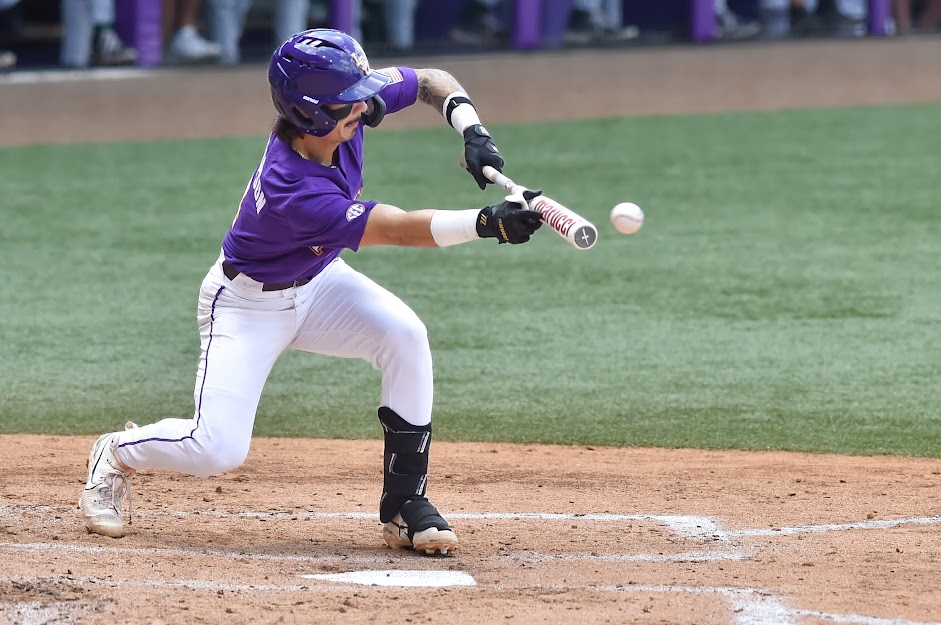 Part of the unpleasant taste left in the mouths of LSU's baseball team after its 5-4 loss to Texas A&M on May 26 in Southeastern Conference Baseball Tournament was its inability to bring in runners from third base.
Not only were the Tigers eliminated from the tournament after suffering their second straight one-run defeat, but it was the manner in which they were sent home that resonated most.
LSU batted just .150 (3 of 20) with runners in scoring position against Texas A&M, an area that gave the Tigers plenty to work on before the start of Friday's NCAA Regional at Alex Box Stadium.
The result for LSU was a 7-2 victory over Tulane that propelled the region's top-seeded team to Saturday's winners' bracket game at 8 p.m. The Tigers took a step forward in regional – batting .400 with runners in scoring position (4 of 10) and getting five runners in from third base without a hit.
"I mean, it's good baseball is what it was," LSU coach Jay Johnson said. "I mean, couple sacrifice bunts, couple sacrifice flies, two ground balls to the middle of the field with a man on third with less than two outs. These are things that we've done well, honestly, but it gets overshadowed because you've got seven guys with 10 or more homers. And we walk a ton and those types of things."
LSU reached double-digit hits with 11, nine of which came against Tulane's losing pitcher Dylan Carmouche into the fifth inning. The Tigers had their first two runners of the inning reach base in four of the first five innings, contributing to a 6-0 lead for the nation's Player of the Year – pitcher Paul Skenes – to work with.
Catcher Hayden Travinski (2-for-5, 2 RBIs) continued his torrid hitting with a two-out, run-scoring double to the gap in left-center field to score Dylan Crews following a double play grounder from Tre' Morgan.
Instead of being able to rely on sheer power, though, the Tigers added to their lead with efficient situational hitting where runners, who set the table early in the inning with base hits, increased the team's lead by scoring without the use of additional base hits.
"We do a lot of things really well when we're at the plate — manage zone, hit mistakes, very good two-strike-hitting team," Johnson said. "And playoff baseball is a little different. And playing with the lead helps. And when you have a pitcher like that on the mound today, sometimes a four-run lead can feel like an eight-run deficit to them. So, it was important today and really helped us out."
The Tigers began that trend in the second inning when Gavin Dugas beat out an infield single, a call that was upheld by video replay, and Brayden Jobert was hit by a pitch.
For a team tied ninth in the SEC in sacrifice bunts, the Tigers relied on two solid bunts from Jordan Thompson in the second and Dugas in the third to facilitate run-scoring opportunities.
Thompson's bunt moved Dugas and Jobert up a base and Josh Pearson's RBI-ground out to the right side of the infield produced a 2-0 lead. Crews (3-5) added a RBI-double down the third-base line and into the left field corner to score Dugas.
Travinski and Cade Beloso (2-5) both singled against Carmouche to lead off the third and moved up a base on Dugas' sacrifice bunt. Travinski scored on Jobert's groundout to first.
"Yes, I think it's very important especially with runners on first and second with less than two outs to get the guy over," Crews said. "And we've been working hard all week with our bunting and our short game. So, I think Jordan and Gavin laid one down. So, we're able to get the guys over and we scored them. We definitely worked on that for sure."
The Tigers finally knocked Carmouche out of the game in the fifth when Travinski walked and Beloso singled down the right-field line, advancing Travinski to third base.
Following a pitching change, Dugas and Pearson, who didn't have a hit in three plate appearances, both delivered sacrifice flies that pushed the team's SEC lead to 36 in that category for a 6-0 lead.
The Tigers loaded the bases in the eighth on three straight walks and Travinski accounted for the final score by drawing another walk.
"We have to be functional," Johnson said. "We were definitely functional today. I think they're very confident in how we were going to play offense today and played really well."