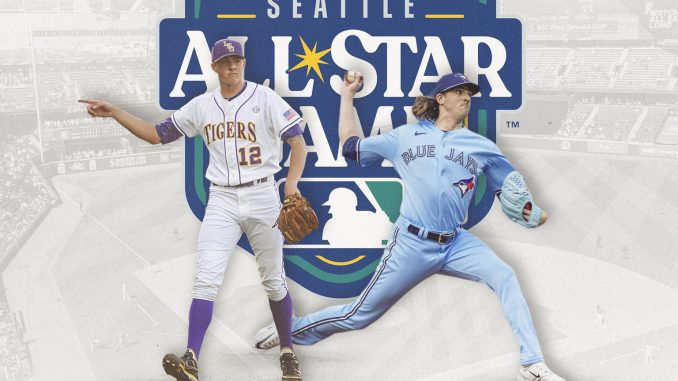 LSU All-American and Toronto Blue Jays pitcher Kevin Gausman has been named to the 2023 American League All-Star team, earning All-Star recognition for the second time in his MLB career.
Gausman was voted to the National League squad for the 2021 All-Star Game as a member of the San Francisco Giants.
The 2023 MLB All-Star Game will be held July 11, at T-Mobile Park in Seattle.
The selection of Gausman marks the seventh time in eight seasons – beginning in 2015 – that a former LSU player has been chosen for the All-Star Game. The All-Star Game was not played in 2020 to the COVID-19 pandemic.
Gausman, who pitched at LSU in 2011 and 2012, is in his 11th MLB season and second with the Blue Jays.
The native of Centennial, Colo., who resides in Baton Rouge during the off-season, earned first-team All-America honors at LSU in 2012, and he was selected in the first round of the MLB Draft by the Baltimore Orioles.
Gausman has a 3.04 ERA this season, and he leads the American League in strikeouts with 146. He's pitched in 285 MLB games during his 11-year career with the Orioles, the Atlanta Braves, the Cincinnati Reds, the Giants and the Blue Jays.
Below is a complete listing of LSU's MLB All-Stars:
LSU's Major League All-Stars
Connie Ryan, 2B, Boston Braves (NL) – 1944
Alvin Dark, SS, New York Giants (NL) – 1951-52, 1954
Joe Bill Adcock, 1B, Milwaukee Braves (NL) – 1960
Albert Belle, OF, Cleveland Indians (AL) – 1993-96; Chicago White Sox (AL) – 1997
Paul Byrd, RHP, Philadelphia Phillies (NL) – 1999
Brian Wilson, RHP, San Francisco Giants (NL) – 2008, 2010, 2011
Brad Hawpe, OF, Colorado Rockies (NL) – 2009
Aaron Hill, 2B, Toronto Blue Jays (AL) – 2009
DJ LeMahieu, 2B, Colorado Rockies (NL)- 2015, 2017; New York Yankees (AL) – 2019
Will Harris, RHP, Houston Astros (AL) – 2016
Aaron Nola, RHP, Philadelphia Phillies (NL) – 2018
Alex Bregman, 3B, Houston Astros (AL) – 2018, 2019
Kevin Gausman, RHP, San Francisco Giants (NL) – 2021; Toronto Blue Jays (AL) – 2023