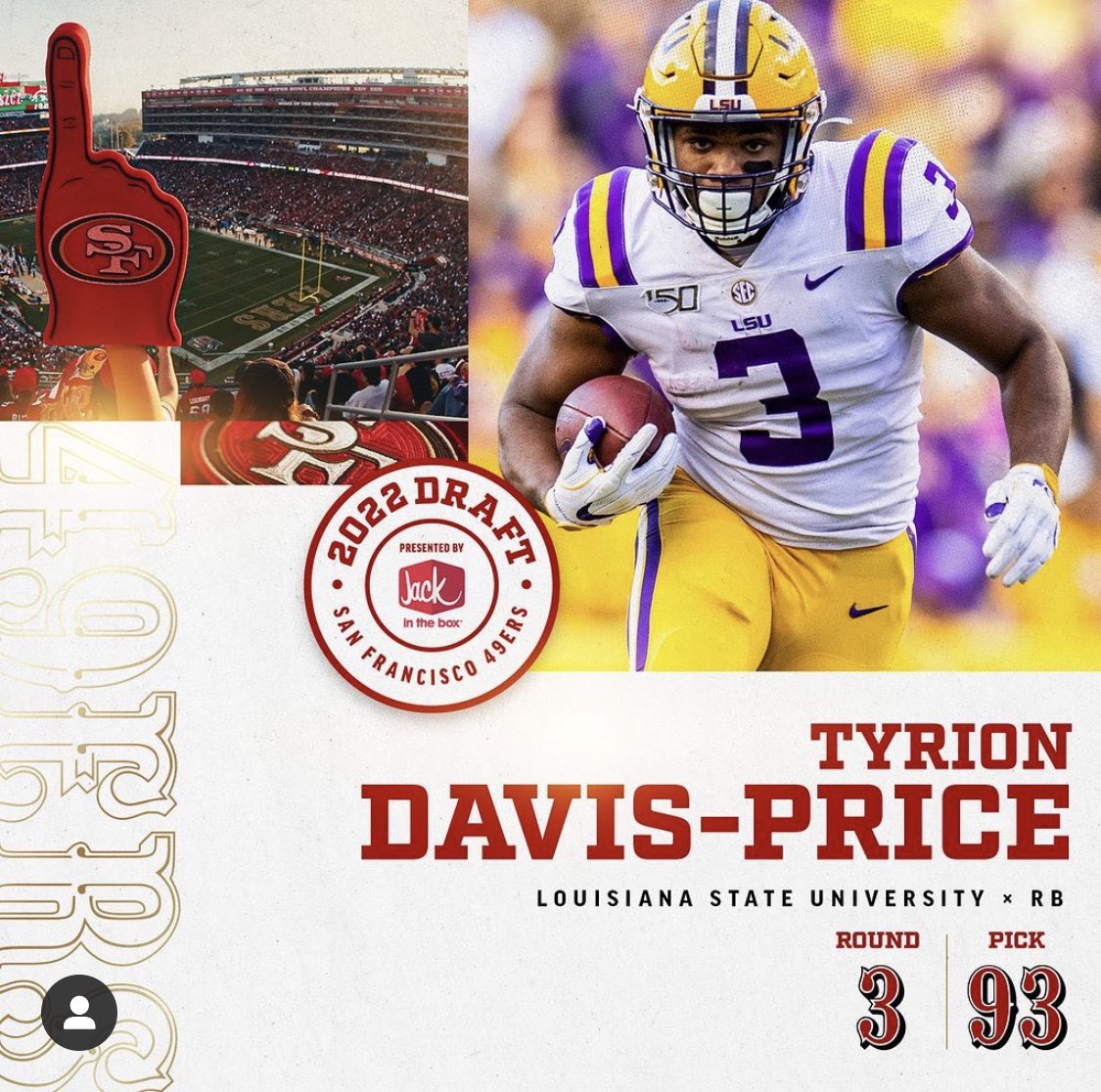 The surge that carried LSU running back Tyrion Davis-Price to a 1,000-yard rusher during his junior season continued Friday. The former Southern Lab standout, who turned pro after gaining 1,003 yards, became the No. 93 overall pick in the third round by the San Francisco 49ers in Friday's NFL Draft.
Davis, who was projected as a third-day selection, moved into the second day on the strength of a strong finish to his final season in college, coupled with his work at the NFL Combine and Pro Day at LSU.
The 6-foot-1, 211-pound Davis combines both balance and power into an intriguing prospect San Francisco believed it couldn't pass on Friday. Davis-Price was the fifth overall running back drafted, above the pre-draft projections.
"If you wanna be on the field, you've gotta protect the quarterback. No. 1," Davis-Price told The Athletic.
Davis-Price was timed at 4.48 at the NFL Combine and recorded a vertical leap of 30 inches.
He enjoyed a solid junior season for an up-and-down offense that resulted in 1,003 yards – sixth best in the SEC – for an average of 83.6 yards per game. He appeared in 12 games, rushed four times for 100+ yards with his crowning moment taking place in LSU's 42-35 win over Florida when he broke the 41-yard record of former Georgia running back Herschel Walker (238) with 287 yards rushing and 3 TDs against Florida.
Davis-Price's mark was the single-best performance in LSU history and the effort earned him Walter Camp national player of the week honors.
He shared time with Chris Curry during his freshman season, rushing for 295 yards with six TDs when they backed up starter Clyde Edwards-Helaire on LSU's national championship team.
Davis-Price improved those numbers during LSU's COVID-19 shortened season to 446 yards rushing on 104 carries, tying for the team lead with three rushing TDs, and wound up his career with 1,744 yards and 15 TDs.