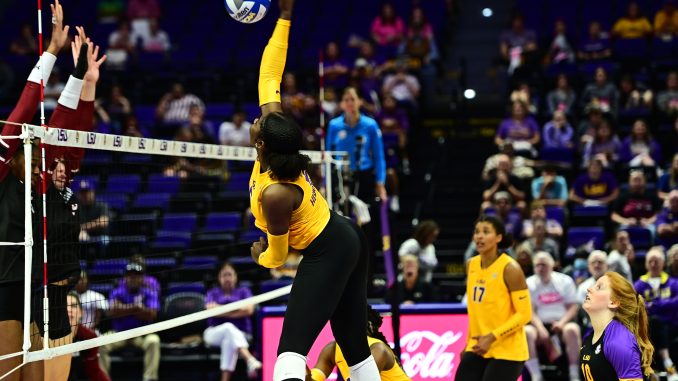 A balanced offense with 10 kills from Jurnee Robinson and a career-high nine kills from Ellie Echter helped lead LSU volleyball to a Southeastern Conference sweep Sunday over South Carolina at the Pete Maravich Assembly Center.
The Tigers (9-11 overall, 4-6 in SEC) took their fourth sweep of the season with scores of 25-15, 25-13 and 25-22 over the Gamecocks (8-11, 2-8).
Robinson contributed three blocks, two aces and six digs for LSU which registered a .326 hitting percentage and 39 kills with 10 service aces. Echter added a match-hive five blocks.
Paige Flickinger equaled a career-high five aces, six kills and a match-high eight digs. Setter Maddie Waak recorded 19 assists and had five digs and setter Emily Mitter had 12 assists.

After the first set witnessed a deadlock at 12-12, LSU broke the tie with a 10-1 run that was fueled by an 8-0 run for a 22-13 lead on four kills apiece from Echter and Alexis Roberson.
LSU's fast start, taking a 9-2 lead, nearly fizzled when South Carolina rallied and trailed 13-12. However, the Tigers scored 12 of the last 13 points in the second set with Roberson and Robinson picking up three kills each and Flickinger adding four aces.
LSU found itself in a 20-20 battle in the final set but responded by taking a 22-21 lead and scoring the last four points for the victory on five kills from Robinson, with three each from Echter and Flickinger.
The Tigers return to action Wednesday at Ole Miss at 7 p.m.