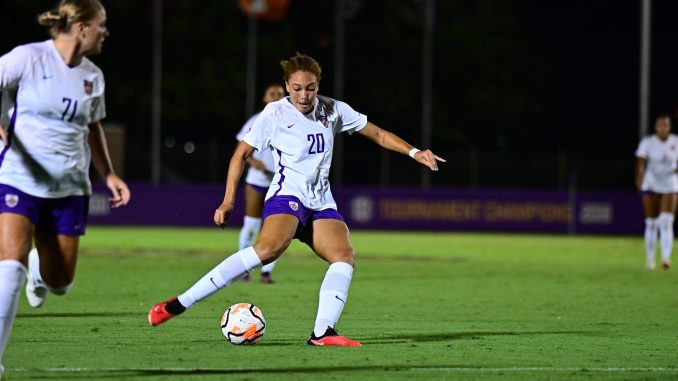 The first career goal for freshman Ava Galligan in the 83rd minute enabled LSU to come away with a 2-2 draw against Pepperdine in match Thursday that was delayed by weather at LSU's Soccer Stadium.
LSU (4-2-1) found itself with an uphill climb in the first half, surrendering a pair of goals in the first 28 minutes before the Tigers began to mount a comeback.
Galligan dribbled the ball the length of the field and fired a shot that hit off the crossbar and landed at the feet of Mollie Baker. She then found Ida Hermannsdottir whose shot into the right corner of the goal found the back of the net in the 35th minute.
The match was delayed for 2 ½ hours by lightning following halftime with the second half not getting underway until 9:30 p.m.
"All credit to Pepperdine," LSU soccer coach Sian Hudson said. "They bossed the midfield and possession early in the game. It was a great response in the second half from our team. They applied the information we gave them and came out strong. We learned our lesson in the first half that we have to start out strong and we need to learn and grow from this going into SEC play next week.
"Ava Galligan had a huge impact in the game," Hudson said. "In our first goal, she drove to get in behind them and sent a great ball to Mollie Baker who found Ida (Hermannsdottir) for the finish and then a great goal for her to kick off her LSU career with the equalizer."
LSU finally found the equalizer when Tori Gillis sent a pass up the field to Galligan. From just outside the 18, Galligan sent a long range shot that caromed off the bottom of the left corner post and into the net.
Baker and Galligan each led LSU with four shots and the Tigers outshot the Waves 10-4 in the second half. Goalie Mollee Swift had three saves.
LSU returns to action at home Sunday against Northwestern State at 4 p.m. It will the team's final non-conference match before the start of SEC play on Thursday at Ole Miss.