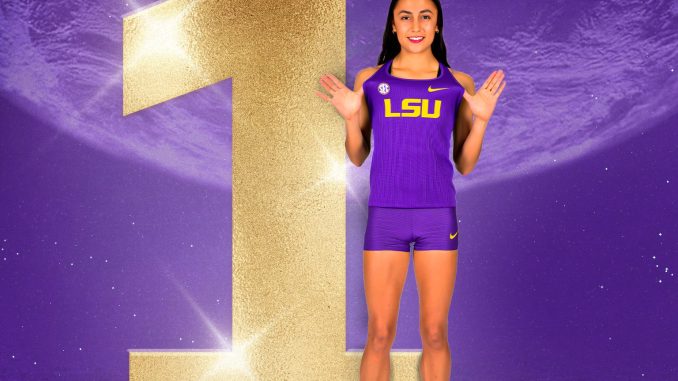 The pieces came together for LSU women's cross country team Friday to cross the finish line in first place.
For the first time this season the Tigers had their top two runners – Lorena Rangel-Batres and Michaela Rose – in the lineup and the results were very favorable.
Rangel-Batres, Rose and Ella Chesnut went 1-2-3 to highlight LSU's team championship in the 35-team field at the Florida State Cross Country Invitational at Apachee Regional Park in Tallahassee, Florida.
LSU knocked off second place and No. 8 Florida, 27 to 42, followed by Florida International (106), Tampa (110) and Miami (170)
"I thought we ran a really good team race," LSU cross country coach Houston Franks said. "We were really patient and put ourselves in a good position to let the race develop. When it was time to push for home, I thought we did a really good job."
The LSU men, led by Will Dart's 34th place finish, were seventh with 215 points. Florida won the 8K race with 39 points.
Because of a long outdoor track season that carried into June, Franks opted to rest Rangel-Batres and Rose for the team's first team meets where the Tigers were second at the UNO Invitational and claimed their own LSU Invitational.
The first race of the season was a personal record-breaking performance for Rangel-Batres who ran the 5K course in 17 minutes, 13 seconds. Rose followed at 17:20.5 and Chesnut in a personal best time of 17:21.5.
Montana Monk was sixth (17:40.5), Callie Hardy 15th (18:06.2) and Adele Broussard (18:14.7) 19th.
"I thought they (Rangel-Batres, Rose, Chesnut) did a fantastic job," Franks said. "This was Ella's first all-out race of the season. I had her focus on leading the pack at the New Orleans's meet, and more focusing on the team rather than herself. I had Michaela and Lorena take a little bit more time off than the others since their season ended later, but they've been training great and I couldn't have asked for a better opener for them. Lorena seemed to be in real control the whole race."
LSU's men had its six top runners finish within the top 67 with Tyler Stevens (25:47.6) following Dart in 49th. Dyllon Nimmers (25:54.0) was 54th, Jack Wallace (25:59.2) was 60th, Casey Goetschel was 63rd (26:00.1) and Hugh Carlson (26:07.9) was 67th.
LSU's two teams return to action Oct. 13 at Texas A&M's Arturo Barrios Invitational in College Station, Texas in the final meet of the regular season. The Tigers will then head to Columbia, South Carolina for the SEC Championships on Oct. 27.
Results – FSU XC Invitational
Women's Top-10 Team Scores
LSU – 27
#8 Florida – 42
FIU – 106
Tampa – 110
Miami (Fla.) – 170
Palm Beach Atlantic – 222
#28 Florida State – 241
Florida Southern – 259
South Florida – 260
Nova Southeastern – 294
LSU Women Individual Times (5K)
Lorena Rangel-Batres – 17:13.0
Michaela Rose – 17:20.5
Ella Chesnut – 17:21.5
Tana Monk – 17:40.5
Callie Hardy – 18:06.2
Adele Broussard – 18:14.7
Sophie Martin – 18:33.4
Gwyneth Hughes – 18:36.9
Katie Johnson – 18:44.1
Hailey Day – 19.12.7
Maddie-Kate Gardiner – 19:19.5
Annie Fink – 19:19.6
Svenya Stoyanoff – 19:43.3
Shelby Spoor – 19:59.8
Men's Top-10 Team Scores
Florida – 39
Embry-Riddle – 75
Florida Southern – 82
Tampa – 114
South Florida – 178
Miami (Fla.) – 213
LSU – 21
Florida Gulf Coast – 268
Auburn Montgomery – 278
Huntington – 278
LSU Men Individual Times (8K)
Will Dart – 25:37.5
Tyler Stevens – 25:27.6
Dyllon Nimmers – 25:54.0
Jack Wallace – 25:59.2
Casey Goetschel – 26:00.1
Hugh Carlson – 26:02.9
Rob Buisson – 26:11.3
Alex Holbrook – 26:16.0
Rhen Langley – 26:48.7