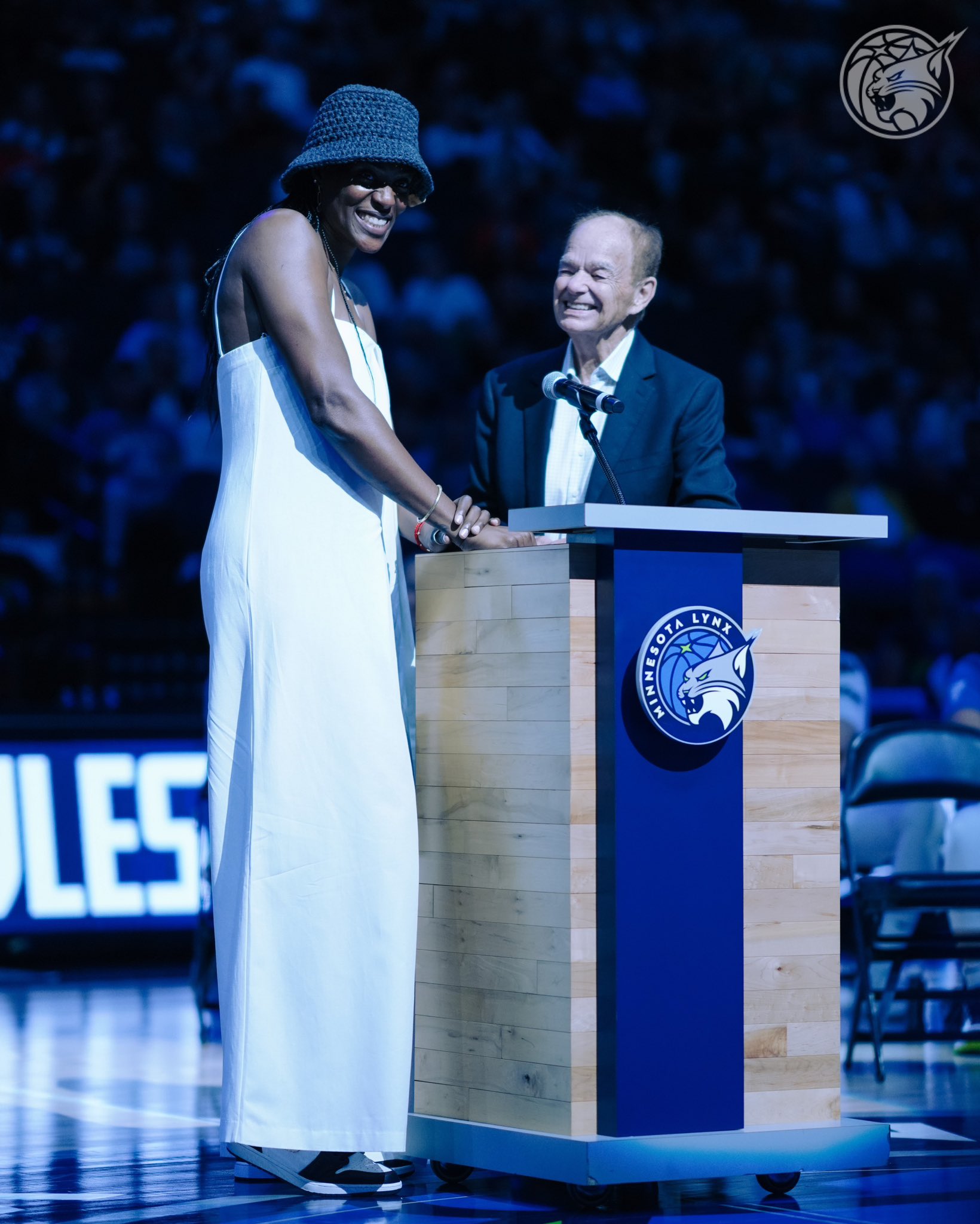 Former LSU All-American and four-time Olympic gold medalist Sylvia Fowles remembered how her professional basketball life changed for the better following a change in scenery.
Fowles, the No. 2 overall selection by the Chicago Sky in 2008, was traded nearly halfway into a 15-year career in the WNBA in 2015, landing in Minnesota where she teamed with former LSU teammate Seimone Augustus to create additional indelible memories.
The 6-foot-6 Fowles, 37, spent eight seasons in Minnesota and helped the Lynx to WNBA Championships in 2015 and '17, just part of a decorated career that included a league MVP honor in '17, the league's Defensive Player four times and eight berths on the All-WNBA team.
Nearly a year after her retirement the down-to-earth Fowles was honored Sunday by the Lynx which made her the fourth player in the organization's history to have her jersey retired. Her No. 34 joined the No. 33 worn by Augustus who was in attendance at the Target Center for the ceremony.
Current LSU women's assistant coach Bob Starkey, who was on staff during Fowles' college career, was on hand at the ceremony along with his wife Sherie.
'My life changed once I got here," Fowles said during Sunday's ceremony. "I hit my peak. This organization was everything that I needed it to be, from top to bottom. From how they treated each other to the respect that they had for each other. Then I was coming in with these girls who didn't take nothing less than great as an option."
It was the second jersey retirement for Fowles who also has her No. 34 hanging in the rafters of LSU's Pete Maravich Assembly Center. She starred for the Tigers from 2004-08, leading the team to four straight trips to the Women's Final Four.
Fowles completed her WNBA career as the league's all-time leader in rebounds (4,007), field goal percentage (59.9%), double-doubles (193). She averaged 15.7 rebounds, 9.8 rebounds, 1.8 blocked shots and 1.2 steals.
"I've never been one to chase goals, chase many records. … To see who I'm next to in the rafters, it's a big thing that I've done my job," Fowles said.
Fowles played for seven years in Chicago, earning three All-WNBA honors, but was ready for a change and identified Minnesota as a franchise and Cheryl Reeve as a coach she wanted to play for. She helped the Lynx to the first of their two WNBA Championships, further paving her legacy as one of the league's greatest centers.
"We do not become the dynasty that everyone knows and loves without Sylvia Fowles' contributions," Reeve said.