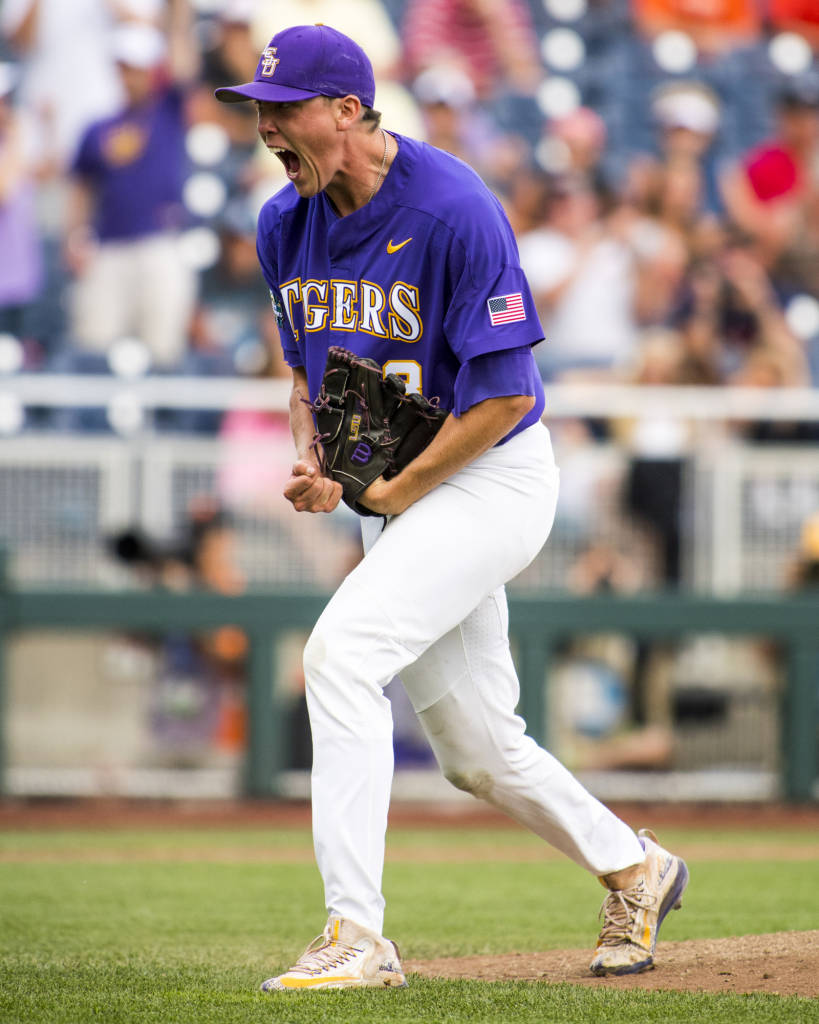 By JAMES MORAN | Tiger Rag Associate Editor
LSU isn't giving up on Zack Hess developing as a midweek starter — but he's needed in the bullpen, too.
The freshman right-hander will get the start against Southeastern Louisiana on Wednesday night, LSU coach Paul Mainieri announced Tuesday.
However, the coach said he'll work on a somewhat limited pitch count because LSU needs him available to pitch in relief at some point during this weekend's Southeastern Conference series on the road against Florida.
"We're going to still want to have him available of the weekend," Mainieri said. "So I'm not sure exactly how far he'll go. So much of that will be determined by how efficient he is. But I think you'll see a few guys tomorrow night, if not a handful."
Hess shut out Louisiana College over six innings of one-hit ball in his last start. He threw 75 pitches in that outing, and Mainieri brought him back on Sunday against Georgia.
The rookie allowed a single and a walk before being pulled in favor of Matt Beck, a move Mainieri reiterated was more about game situation — expecting a bunt, he opted for a more athletic strike thrower — than any lack of in Hess as a reliever.
It's a move of necessity to bolster a shorthanded bullpen. More on that in the next note.
NEWMAN "MAKING PROGRESS"
Closer Hunter Newman saw the doctor Tuesday, Mainieri said, and while back surgery still hasn't been ruled out completely, the news is "somewhat encouraging."
Newman is "making progress," the coach said, and he'll be reevaluated by the doctor again next week after an additional week of rest. Mainieri confirmed the senior right hander won't make the trip to Gainesville for LSU's series against Florida, as expected.
"We'll just have to see," Mainieri said. "At this point, you hate to speculate too far into the future. If he makes the same progress from last week to this week again from this week to next week, then I feel confident he'll be back helping us before you know it. But we don't know what's going to happen yet."
PITCHING MATCHUP
LSU – Fr. RHP Zack Hess (2-0, 3.26 ERA, 19.1 IP, 9 BB, 22 SO)
SLU – So. RHP Carlisle Koestler (1-1, 3.00 ERA, 18.0 IP, 9 BB, 16 SO)
DATE/TIME
Wednesday, March 22 – 6:30 p.m. CT
STADIUM
Alex Box Stadium, Skip Bertman Field in Baton Rouge, La.
RANKINGS
LSU – No. 4 by Baseball America; No. 4 by USA Today; No. 5 by D1 Baseball; No. 8 by Collegiate Baseball
SLU – unranked
RADIO
LSU Sports Radio Network; in Baton Rouge on WDGL 98.1 FM
Radio broadcast and live stats for all LSU baseball games are available at www.LSUsports.net
 ONLINE
SEC Network +, accessible at WatchESPN.com and the Watch ESPN app
 SERIES RECORD
LSU leads Southeastern Louisiana, 67-17, in a series that began in 1937. The Tigers defeated SLU on April 20 of last season, 11-4, in Baton Rouge.
LSU has won 21 of the last 22 meetings between the schools — SLU's win in that stretch came in 2008, a 6-3 victory over the Tigers in the original Alex Box Stadium. LSU has a 40-3 mark against Southeastern Louisiana since 1990.