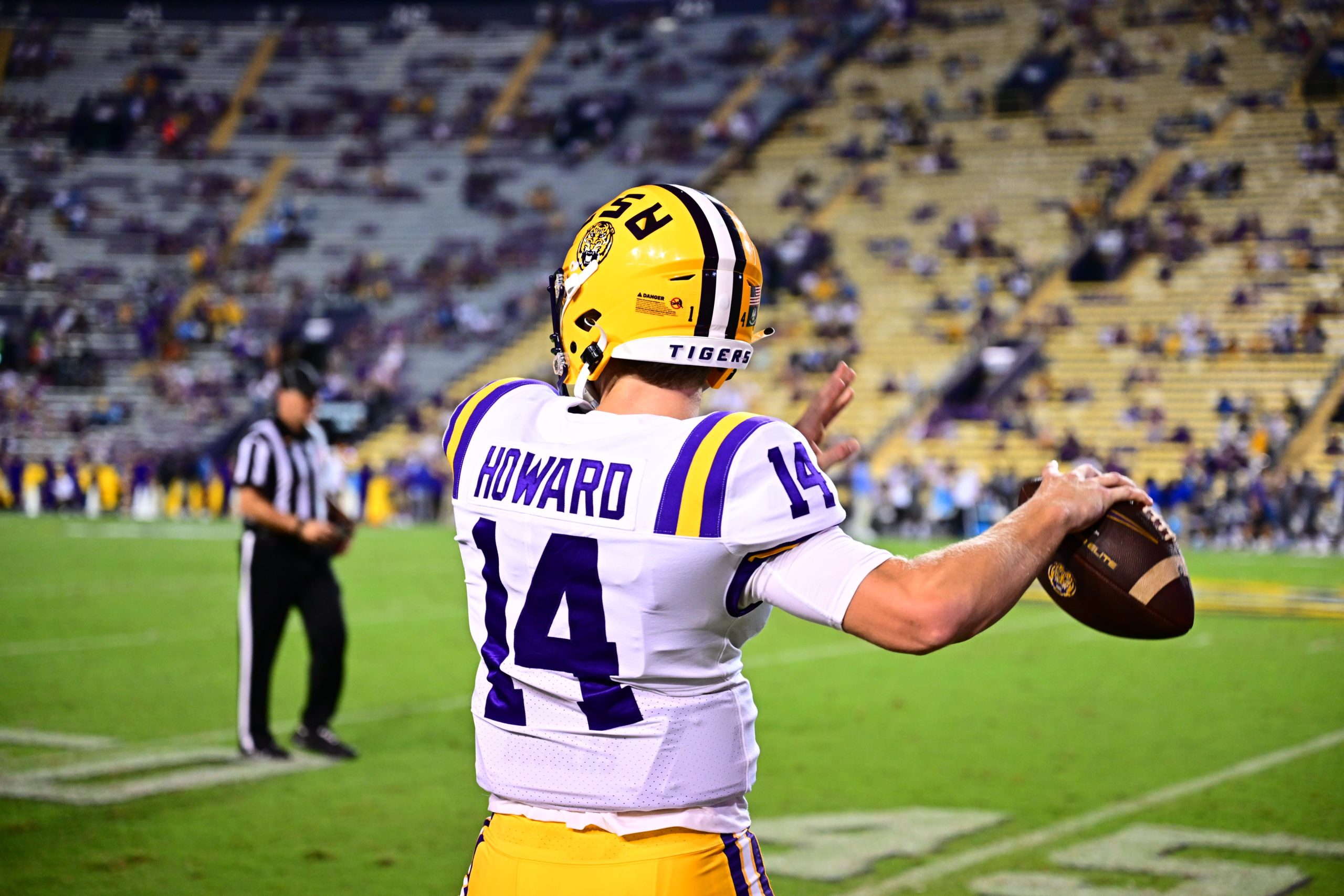 A week after reports appeared that LSU redshirt quarterback Walker Howard was entering the NCAA transfer portal, the native of Lafayette has found a new home.
The 6-foot-1 Howard, who appeared in one regular season game and the team's Citrus Bowl during the 2022 season, announced on his Twitter page Wednesday that he would be attending SEC Western Division rival Ole Miss.
Howard's departure leaves LSU with three quarterbacks entering spring drills with the return of fifth-year senior Jayden Daniels, redshirt sophomore Garrett Nussmeier and true freshman Rickie Collins of Woodlawn High, who enrolled for the spring semester.
Howard's the son of former LSU quarterback Jamie Howard who earned five-star acclaim and was regarded as the nation's No. 1 quarterback and nation's No. 27 overall player by ESPN during his senior season. He was the MaxPreps.com's Player of the Year in '21, passing for 3,430 yards and 42 touchdowns in St. Thomas More's state title season.
Howard completed 155 of 259 passes for 2,394 yards with 25 TDs as a senior, leading the Cougars to the Division II state semifinals against E.D. White. He signed with LSU's first-year coach Brian Kelly, enrolled early last January and was redshirted during the season where Tigers finished 10-4, won the SEC West and Citrus Bowl over Purdue.
He played in the team's blowout wins over Southern and Purdue, completing a total of 2 of 4 passes for seven yards. He also rushed twice for six yards.
When Daniels announced Dec. 22 that he was returning for a second season at LSU, along with the return of Nussmeier, Howard eventually decided to seek other options and entered the transfer portal with official visits to TCU and Ole Miss.
"As a kid, I always dreamed of playing at LSU," Howard said on his Twitter account announcing departure from the school. "I never imagined being anywhere else. However, when things happen in life, we have to adjust and keep moving forward.
"This was a very difficult decision for me and my family. I can't explain how thankful I am for all the relationships I have built at LSU."
Howard's one of 13 players that were part of LSU's '22 roster that entered the transfer portal, 12 of which have found new homes.
The latest was reserve offensive lineman Kardell Thomas, a graduate of Southern Lab High in Baton Rouge, who entered the transfer portal on Wednesday after starting in two games over the past four years. The 6-5, 350-pound redshirt junior will have two years of eligibility remaining.
"Unfortunately, my time here at LSU did not pan out the way I expected, but regardless I am forever grateful for the opportunity given," Thomas wrote on his Instagram account. "I believe in order for me to grow and be the best version of myself, I have to make a decision that will allow for that to occur."
Thomas became the fourth offensive lineman to seek a transfer, joining Cam Wire (Tulane), Xavier Hill (Memphis) and Marcus Dumervil (Maryland).
One of the more promising players, freshman linebacker DeMario Tolen, also entered the transfer portal and signed with Auburn. He joined other defensive players: Desmond Little, linebacker Kobe Fields (Louisiana Tech) and Raydarious Jones (Mississippi State).
Besides Howard, the Tigers have also lost offensive players: Derrick Davis Jr. (Pittsburgh), wide receiver Jack Bech (TCU) and tight end Kole Taylor (West Virginia).