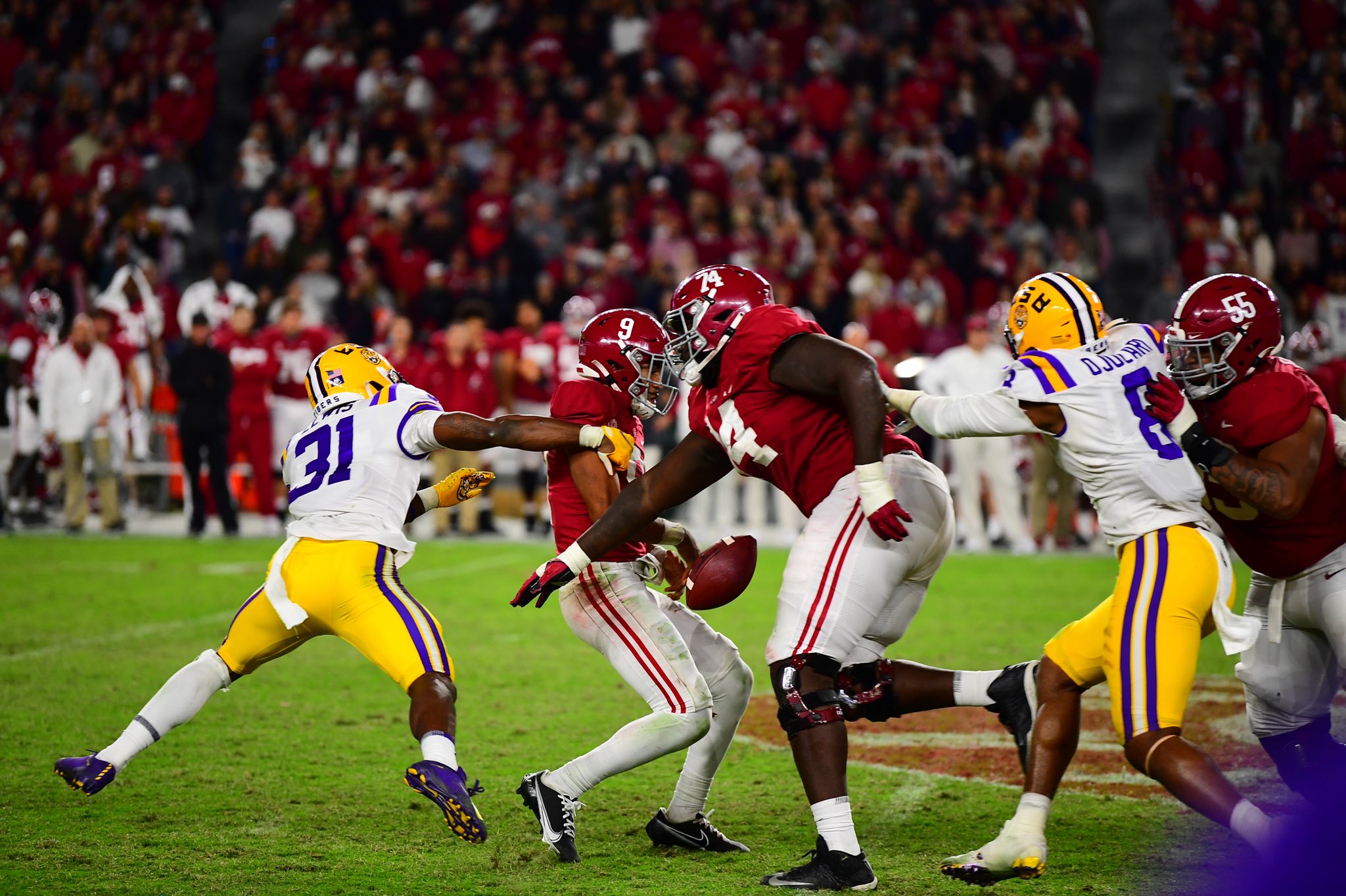 The change was almost immediately noticeable.
After being one the worst blitzing teams in the country, LSU's defense came out of the the starter's blocks from the opening gun against No. 2 Alabama
During last week's open date, LSU installed more of an attacking defense, producing more pressure than at any other time this season which confounded Alabama's offense throughout in a game the Crimson Tide hung onto to win 20-14 Saturday in a SEC Western Division battle at Bryant-Denny Stadium.
"We were too predictable, we wanted to change, we wanted to get after it." LSU head football coach Ed Orgeron said. "We found we had to do some different things. We put in maybe eight different defenses, and you have to give credit. Our defensive staff worked very hard.
"Our guys picked it up. There weren't many (coverage) busts tonight. Give credit to our players. They worked hard, they believed in it."
Alabama (8-1 overall, 5-1) broke a 7-all tie with LSU after the Tigers shut out the Tide in the first quarter for the first time in 31 games dating back to the 2016 season.
"The purpose of the bye week was to do stuff a little different," LSU senior linebacker Damone Clark said. "Coach O said we were too predictable. We weren't put in some of the best positions, so over the bye week we went out there and put in some new things that helped us tonight."
LSU's makeshift defense, which was without nine players that started at least one game this season, held Alabama to a season-low 331 total offense or 160 below its season average (494), including 6 yards on 26 carries for an 0.2 yards per carry average, and 25 points below its season average (45.9).
According to the school's record book, the six rushing yards tied Alabama's lowest output in school history. The Tide had six yards against Penn State in 1990.
The Tigers sacked quarterback Bryce Young four times and hurried him twice more. They recorded eight tackles for losses totaling minus-55 yards, forced a pair of fumbles highlighted by Cameron Lewis' strip-sack of Young which Jaquelin Roy recovered with 3:25 remaining.
"For us to get that sack fumble at the end and put us in position to win was an all-out blitz," Orgeron said. "We have never done that all year."
LSU came into the game ranked last nationally with only 45 blitzes called through eight games with a sack rate of 13.6 percent, numbers the Tigers improved with a greater emphasis on blitzing once the team hit the practice field last week.
"When I saw it, I was excited," said Clark, who the Tigers leading tackler with eight stops. "I knew it was something different. They weren't expecting us to come out and do it and we had a lot of success. Overall, a great effort by the defense."
Cornerback Dwight McGlothern, linebacker Micah Baskerville and defensive tackle Neil Farrell Jr. all had seven tackles with defensive back Jay Ward and Lewis adding six apiece. Linebacker Mike Jones Jr., who made his first start, had five tackles with a sack and a QB hurry.
LSU kept Alabama scoreless for just over 27 minutes of the first half until a 2-yard TD run on third-and-one from Brian Robinson capped a 12-play, 77-yard drive. The Tide's leading rusher, who averaged 88 yards per game, was limited to a season-low 18 yards on 13 carries with a long of five yards.
Alabama set up the go-ahead score for a 14-7 halftime lead on a deflected ball that resulted in an interception and Young rolled out and found John Metchie for an 8-yard TD pass with 48 seconds left before halftime.
The Tide's final score of the game was courtesy of a strip of LSU running back Ty Davis-Price at the end of an 11-yard run. The Tigers' defense, on first down, surrendered their biggest play of the game on a 58-yard pass from Young to Jameson Williams who got behind Lewis in coverage to make it 20-7.
"We knew they were going to gain some yards," Orgeron said of Young's 302 passing yards. "We just didn't want the ball over our head, and we called one blitz that got the ball over our head. I wish we could have had it back. We only called it one time and they beat us on it. They had a good scheme on it."
Lewis atoned for that explosive play after his team had closed to within 20-14 near the end of the third quarter.
After LSU drove all the way to Bama's 8-yard line and turned the ball over on downs, Lewis blitzed off the edge where he stripped Young and Roy recovered at the Tide's 42-yard line to set up one final series that ended on an incomplete pass in the end zone on the game's final play.
"We were just flying around having fun, making plays," Clark said. "What more can you ask for? We went out there and gave it our all and came up a play short."