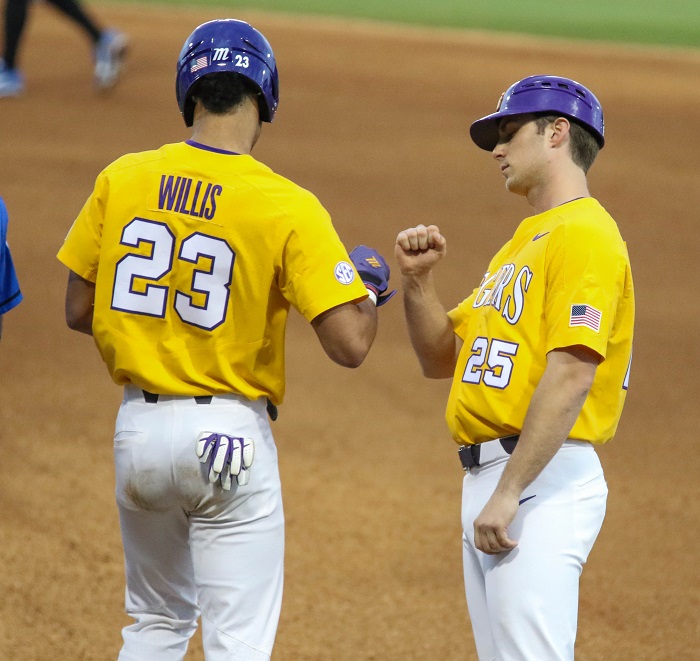 Scouting services widely regarded CJ Willis as a top-100 prospect coming out of Ruston High School, but the freshman had seemingly been the last man on LSU's bench through the first six weeks of the season.
Opportunity came knocking in the form of a pinch hitting appearance against Mississippi State on Thursday night, and Willis knocked back with a ringing RBI double.
That comeback bid ultimately fell short, but it sparked something as both Willis and LSU have been hitting ever since.
Willis started the next two games — he even hit fifth in Saturday's rubber match — and kept on producing. He finished the weekend series 3-for-8 with five RBI, three runs scored and two walks.
"It felt good," Willis said. "It felt good for myself and for the team overall because we came out with a series win. I just felt comfortable at the plate. I've been feeling a lot more comfortable lately."
Willis has vaulted himself into the middle of LSU's ongoing first base situation by virtue of his strong showing in Starkville. Both Willis and Cade Beloso will be in the lineup the next two nights, LSU coach Paul Mainieri said, and it'll be a "balancing act" between whoever hits once Daniel Cabrera returns.
"He sparked our team this weekend," Mainieri said. "Who knows? Like I've always talking about Mikie Mahtook (in 2009). He didn't start a game until 25 games into his freshman year, and when he got in there, he took advantage of our opportunity and went on to a tremendous career here.
The monster weekend seemingly came out of nowhere for a player who hadn't started a game all season before the Mississippi State series. He'd appeared in just five games before this past weekend, the fewest of LSU's healthy position players, and totaled two hits in eight at-bats.
That lack of playing time can be discouraging, but Willis seems to have kept the right attitude while biding his time.
"It's always frustrating if you have a passion for the game," Willis said. "You've been playing since you were a little kid, and it's going to be frustrating, but you've got to remind yourself in the back of your head that it is a game, and 70 percent of the time you're going to fail, so you've got to learn to live with that and move forward."
There's a couple reasons the breakthrough took so long.
Willis underwent surgery to repair a torn labrum after injuring his shoulder during his senior year of high school. He suffered the injury diving back into first base.
That injury prevented Willis from being drafted high enough to consider signing professionally, but it also limited him once he got to campus. A catcher in high school, Willis wasn't even cleared to throw during fall ball.
Being physically limited by that shoulder caused Willis to fall behind in the four-way competition at first base. Mainieri didn't want to rotate at-bats between four different players, and Willis became the odd-man out to Beloso, Drew Bianco and Gavin Dugas.
It took time for Willis to regain his timing, strength and confidence at the plate, but he'd showed signs in recent batting practice sessions. And frustrating as it may have been to not play, Willis always kept a positive attitude.
"CJ had a great attitude from the start of the season even though he hadn't been playing," Mainieri said. "I watch him in the dugout and he's right there at the top step rooting on his teammates. You love to see that as a coach. You're impressed by that. You want to give a player like that an opportunity."
So when Mainieri needed a pinch hitter to try to spark his slumping lineup, he figured why not give the opportunity to the player who'd been a good citizen on the bench.
The shoulder still isn't 100 percent healed, but coaches have noticed Willis' considerable talents starting to shine through of late. Willis' weekend wasn't as out-of-nowhere to them as it may have been to those watching at home.
"CJ is a guy who got an opportunity, like most guys do throughout the season, and he went in there and took advantage," LSU hitting coach Sean Ochinko said. "He's a big, strong kid. He's got a ton of potential. He's got a ton of ability offensively.
"As you guys know with Coach Mainieri, everyone at some point or another gets a chance to make an impact. He's hopped right in there and knew he had nothing to lose."
The first double did wonders for Willis' confidence, and seeing his name in the lineup that next day only served to bolster it.
A confident hitter can be a dangerous thing, and after performing so well on a big, hostile stage, LSU hopes it's just the start of what's to come.
Photo by Jonathan Mailhes