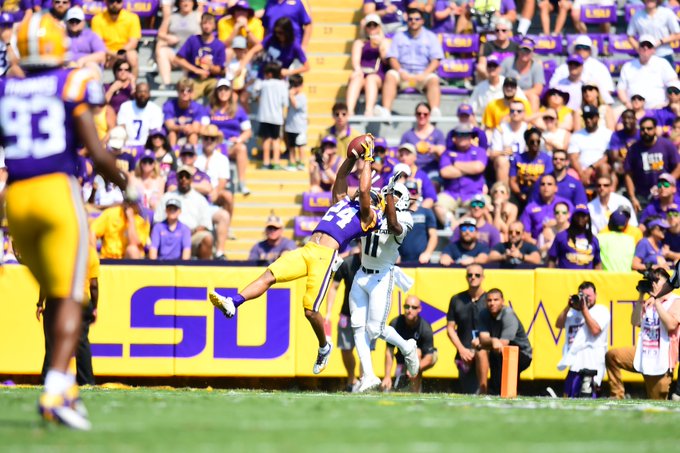 The first third of LSU's season featured the kind of ironic role reversal normally reserved for low-budget movies.
LSU's offense, a punchline for the better part of two decades, was leading the nation in points scored through four games. Joe Burrow emerged as a Heisman contender. Joe Brady usurped the genius status once reserved for Dave Aranda.
Meanwhile, the vaunted defense was getting riddled — by its lofty standards, anyway — and suddenly found itself being described as the weak link that could keep LSU from true championship contention.
None of that sat particularly well with a defense that knew full well it wasn't performing up to its talent level. So given a bye week to heal up and regroup, the LSU defense delivered its most complete performance to date in a 42-6 win over Utah State at Tiger Stadium on Saturday afternoon.
"We heard a lot of noise about our defense," said safety Grant Delpit, who picked off a pass. "I think we came and shut up a lot of doubters. We need to keep it up next week and the week after that and keep going."
"As a defense, we needed this," K'Lavon Chaisson added. "We needed something to help us establish ourselves and get our confidence back up. A lot of criticism has been coming to the defense. We know we haven't been playing well ourselves. We needed this."
LSU suffocated a warp-speed offense helmed by a possible first-round draft pick in Jordan Love. The Aggie quarterback looked the part of a future professional at times, but a swarming LSU defense never let Love and his unit find any traction.
Lots of credit has to go to the secondary, which intercepted Love three times. The pass rush, aided by Chaisson's return and a good idea of when Utah State was going to pass, didn't give Love much time to operate.
Utah State managed just six points on 106 yards in the first half. Three of those points came off a Joe Burrow interception that set the Aggies up with first-and-goal looking for the tying score. The LSU defense stood tall anyway and forced the visitors to settle for three.
The game's pivotal play came courtesy of who else but Derek Stingley Jr.
Utah State, down eight, drove the ball inside the LSU 30-yard line. Love dropped back and tried to hit a back-shoulder fade near the pylon, but Stingley ran the route better than his received. The true freshman elevated and came down with his second interception in as many games.
Big plays fuel emotion, as LSU coach Ed Orgeron likes to say. LSU took over after the interception and embarked on a 99-yard touchdown march that took 13 plays and ate up 6:42 of clock.
There was no second-half letdown defensively. Utah State turned its seven second-half possession into five punts and a pair of interceptions. None of those drives lasted more than five plays or gained more than 20 yards.
Utah State finished the game with 159 yards of total offense. The Aggies came into the game ranked ninth nationally in total offense at 533 yards per game.
"I think we just put together a complete game top to bottom," linebacker Jacob Phillips said.
More than any one player or unit, the defensive turnaround can be traced back to a dramatic improvement in the way LSU tackled.
Orgeron likened the defensive meetings during LSU's bye week to a trip to the dentist. Aranda and his staff went to work diagnosing every tackle LSU has missed through four weeks while figuring out how to get it fixed with the meat of the SEC schedule approaching.
LSU does a series of drills it calls the "tackling circuit" every Tuesday. That's not new, but it seems the focus on pursuing to the ball and wrapping up instead of going for a big thump did the trick.
"You could see our guys chewing up all the grass, not giving them space to breakdown or have a two-way go," Orgeron said. "Our guys were going fast. All the tackling drills we did with the angles of the footwork showed up today. You could feel our team play faster."
LSU missed 18 tackles that yielded 148 yards at Vanderbilt the week before the bye. Watching in real time, it was hard to think of a single missed tackle against Utah State. Linebacker Patrick Queen in particular seemed to be all over the field making plays.
"We didn't miss too many tackles," Delpit said. "We played lights out."
Photo courtesy of LSU Sports Information