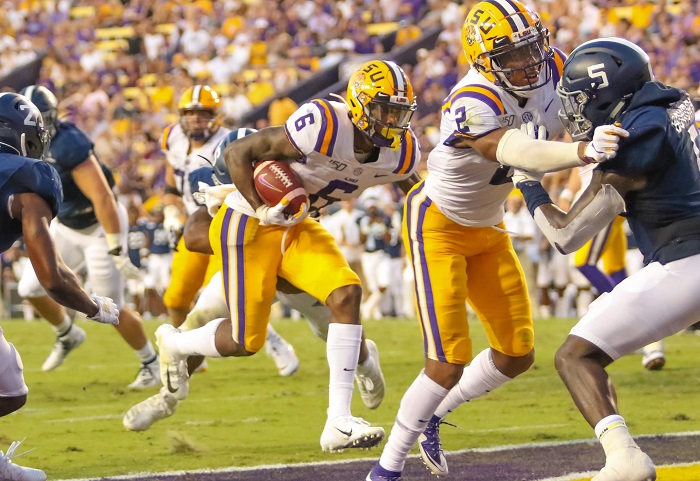 Wide receiver Terrace Marshall is going to be out a while after undergoing foot surgery on Sunday morning, but LSU is holding out hope he might be back in time for a trip to Tuscaloosa in early November.
That was the long-term prognosis offered by LSU coach Ed Orgeron during his weekly appearance on the SEC Coaches Teleconference.
To be clear, LSU doesn't have a set timetable for getting Marshall back in action. But the expectation is he'll play again this season, and obviously the Tigers could use him in what's shaping up to be a battle for the SEC West.
"Obviously we're hoping he's back for the Alabama game," Orgeron said. "That would be really good to get him back for that game, but I don't know if we can yet."
Orgeron made it clear that LSU isn't planning to use a medical redshirt on Marshall at this time.
A medical redshirt would mean Marshall, a true sophomore, would not play again this season.
Furthermore, preserving a year of eligibility isn't a primary concern for a player who is likely to leave early for the NFL Draft anyway.
"I expect him to be back," Orgeron said. "Now, obviously, if he can't come back we'll redshirt him, but we're going to need him. We're going to use him.
"A player like that, sometimes they're three-and-out anyway. I think Terrace is going to have a chance after his third year to be a first-round draft pick."
The former five-star recruit had been enjoying a breakout season before suffering a foot fracture against Vanderbilt. Marshall has caught 20 passes for 304 yards this season with a team-high six touchdowns.
NEXT MAN… OVER?
Football teams tend to talk a lot about "next man up" whenever a player goes down.
In the case of replacing Marshall, it's actually going to be next man over.
Stephen Sullivan, who moved to tight end this season, will be moving back outside while Marshall is out, Orgeron said during his post-practice presser on Tuesday.
"We moved Stephen outside and let him play," Orgeron said. "I think that will be something that's good for Stephen and good four our team. Our tight ends have played well, and I think Stephen will step in there and play a big role."
The transition should be fairly seamless for Sullivan, who spent his entire career at receiver before this season. He's caught seven passes for 99 yards through four games.
Sullivan was moved to tight end in part because of Marshall's emergence as a big-bodied target who can stretch the field.
INJURY UPDATES
One of LSU's starting defensive ends is getting close to a return to action.
Rashard Lawrence isn't expected to play against Utah State coming out of the bye week, Orgeron said, but it is going to be "close."
"Hopefully he'll be ready for that game after," the coach added. The game after would be an SEC showdown with Florida.
Linebacker Michael Divinity is on a similar timetable, apparently. Orgeron said he'd also be "close" to being able to play for the Utah State game, even though he's not expected to suit up.
The prognosis isn't as optimistic for defensive end Glen Logan. He's already been ruled out for the Utah State game and Orgeron didn't offer a timetable for his return.