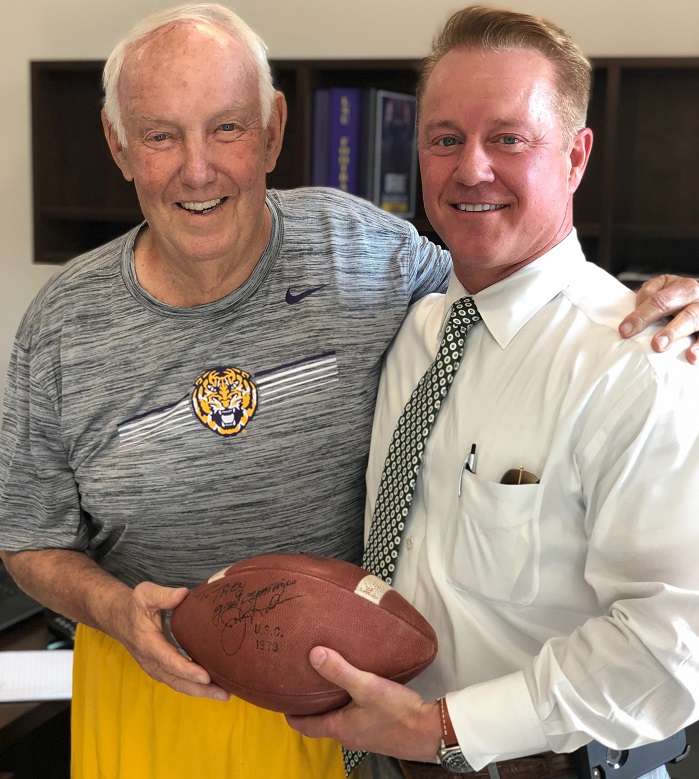 Trey Beall is the president of Gulf Coast Office Supply, but his Baton Rouge office looks more like a cross between a sporting goods store and a memorabilia shop.
Beall grew up the grandson of legendary LSU trainer Dr. Marty Broussard — the one whose name is emblazoned outside the athletic training facility on the corner of Tiger Stadium — meaning he has LSU goods that date all the way back to the 1960s.
There's one item that doesn't seem to fit within Beall's incredible memorabilia collection: a 40-year-old football imprinted with letters "U.S.C." and the digits "1979."
You wouldn't know it by first glance, but this old ball holds immense personal significance to the born-and-raised native of Tiger Town. The walls are adorned with signed jerseys and helmets galore, but that old pigskin holds a special place in Beall's heart.
"It's all really cool stuff, but this was something that I had gotten on my own, so I held onto it," Beall says.
The backstory of how it came into his possession is pretty cool, too.
Beall was a 13-year-old University High student in 1979. He'd sometimes stand with his grandfather on the sideline and fetch the tee after LSU kicked off, but he wanted to spend Sept. 29 in the student section with his classmates with No. 1 USC was coming to town.
U-High students received football tickets back then along with their tuition, and they sat not far from where the LSU students sit now. Beall hoped to catch a wrist band when the Tigers ran out of the chute before the game.
That changed when Broussard came and pulled him out of the stands shortly before kickoff. USC hadn't brought their own ball boy from California, and Broussard volunteered Beall to help out. "I was like, 'For the other team?'" Beall recalls.
This was a time well before the internet or 24/7/365 coverage of college football, so you have to understand that a teenager in Louisiana couldn't have known the kind of star power he'd share the sideline with that faithful night. He knew LSU and maybe some other Louisiana or SEC teams, but that was about it.
John Robinson's USC juggernaut might be to this day the most talented team to ever play in Tiger Stadium. The Trojans boasted 12 future NFL first-round picks and 31 drafted overall. Pro Football Hall-of-Famers Ronnie Lott, Marcus Allen and Anthony Munoz suited up that night. Charles White went on to win the Heisman Trophy a couple months later.
"I was the guy who'd wipe down the balls and hand them to the referee because it started raining," Beall says. "I'd just stand there and towel the balls off for each play, but I got to meet Ronnie Lott, Charles White and Anthony Munoz. They like put me up on their shoulders, and I'm 13 years old, so I didn't even realize what I was a part of."
The smallest person on the sidelines had a front-row seat to one of the memorable nights in the history of Death Valley. LSU came up just short of pulling the upset, falling 17-12, but the game is a fond memory for those who were there — especially Beall.
After the game, USC's equipment manager thanked Beall for a job well done. As a reward, he gave the boy a game-worn jersey from one of the offensive linemen and allowed him to keep one of the game balls — the very one that sits in his office today.
"I kept this thing for 40 years," Beall says. "I moved to Houston for a couple years. I moved to Mobile for a few years. I moved back to Baton Rouge in 1996, but I held onto this ball."
The 40th anniversary of that game is later this month, but that's not why all the memories came rushing back for Beall this summer. It was an article he read about Robinson, the legendary USC coach, joining LSU's staff as a consultant to Ed Orgeron.
That gave him an idea. Beall reached out to some friends at LSU, told them his story and asked if there was any chance Robinson would be willing to sign the ball. Beall initially thought about offering the keepsake to him, but as his parents pointed out, the long-time coach probably has plenty of old football.
Beall and his ball were invited to the new Football Ops Building by Derek Ponamsky, who serves as a special assistant to Ed Orgeron, and Ya'el Lofton, the coordinator of football operations.
Beall found Robinson sitting in his office watching film from practice during fall camp, and the 84-year-old Hall-of-Famer got up to sign the ball: To Trey. Great memories. John Robinson.
"You know, my wife still tells me we cheated to win that game," Robinson said, a nod to the controversial facemask penalty called against LSU's Benjy Thibodeaux.
Beall chucked: "No, you probably did a lot of things right, or it could've just been the ball boy."