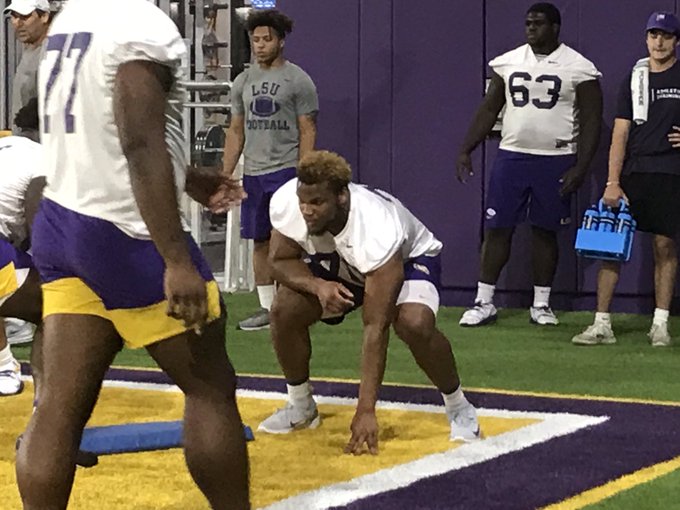 Ed Ingram returned to the practice field with his LSU teammates for the first time since being reinstated from an indefinite suspension that lasted more than a year.
Getting Ingram back is an obvious boost to LSU's offensive line, even if he hasn't played competitive football since the 2018 Citrus Bowl against Notre Dame.
LSU coach Ed Orgeron liked when he saw on Ingram's first day back with the team that he expects him to be ready to suit up when the Tigers play Utah State coming off the bye week.
"I think he looks fantastic," Orgeron said. "He's been working out. It looks like he's lost some weight. He gave our team a little pep in their step. They cheered for him when we announced that he was back today.
"I think he gives us a sense of confidence up front and a sense that we can do some things up front with other guys to give us some more depth."
LSU will assess Ingram's readiness on a day-by-day basis, but Orgeron said there's no plans to restrict his participation aside from the NCAA-mandated acclimatization period.
Ingram has worked out on his own since the start of his suspension and performed what drills he can to stay sharp. Of course there's no way to simulate the physicality of a real game.
"If he's not ready, we won't play him," Orgeron said. "We'll treat him just like anybody else, but I do believe he's going to be ready. You could see him against Utah State. That would be my gut feeling."
Left guard would be the most logical place for Ingram to slide in, but Orgeron made it clear that he'd need to beat out current starter Adrian Magee in order for that to happen.
To be clear, Ingram is fully capable of doing so. He started 12 games at right guard for LSU as a true freshman during the 2017 season.
"He has to beat him out though," Orgeron said. "He has to beat him out. Right now Magee has earned a starting spot and Ed is on the second team, and let's see if he beats him out."
Magee has made strides this season in his own right, including the double pancake against Vanderbilt that swept the internet over the weekend.
If Ingram supplants Magee in the starting five, that would allow LSU to use Magee as a versatile back-up capable of playing guard or tackle. LSU is currently using Badara Traore in a similar role.
The combination of Magee, Traore, Chasen Hines and Dare Rosenthal would give LSU considerably more depth up front than has been the case in several years.