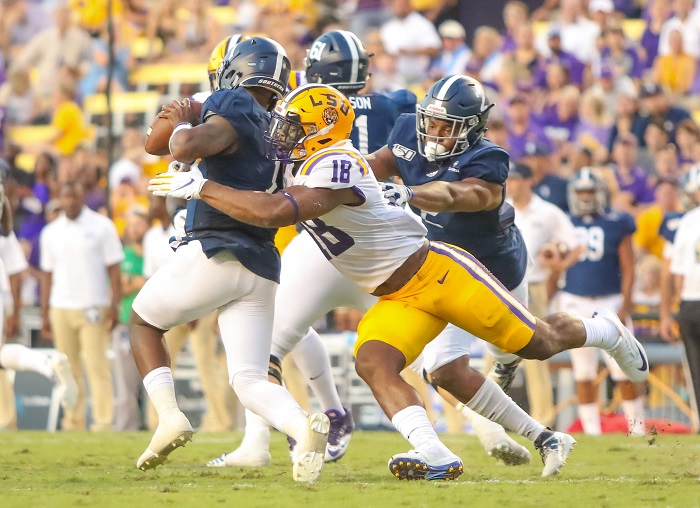 Less than 48 hours ahead of LSU's bout with Utah State set for 11 a.m. Saturday, Tigers coach Ed Orgeron discussed who he expects to see on the field and who will sit out with injuries.
He echoed himself from his radio show Wednesday night and confirmed that outside linebacker K'Lavon Chaisson will get back to action for the first time since LSU's 45-38 victory over Texas nearly a month ago.
Chaisson has personally felt ready to play since the Northwestern State game, and he even traveled to Nashville and dressed out for the Tigers' game against Vanderbilt.
Orgeron said he's not quite ready to play full-time snaps, but getting him on the field against the Aggies should help prepare him for the Tigers' second SEC game against Florida next week.
"It's going to be a feel," Orgeron said of Chaisson's playing time this weekend. "At the beginning of the week of practice, he couldn't go very many plays, but he started getting better and better. Obviously, he can't go a whole game, so we're going to have to rotate him. We'll see how he plays."
Orgeron also inferred that defensive end Rashard Lawrence may also return to action — though he was less committal than he was with Chaisson — before going on to give a litany of injury updates in succession.
"I don't know how much Rashard Lawrence will play," Orgeron said. "(Fellow defensive end) Glen Logan practiced a little bit today (Thursday). I don't expect to see him play. (Linebacker) Michael Divinity will not play. And (wide receiver) Terrace Marshall was out here today, and he looked pretty good."
Shuffling Receivers
Speaking of Marshall, it will be interesting to see how the Tigers' offense runs without one of Burrow's three favorite targets.
Marshall had become a staple in LSU's red zone offense, reeling in six touchdown passes before going down with a fracture in his foot against Vanderbilt a couple weeks ago.
He's out of commission for the time being after having surgery, leaving his spot on the field open.
Orgeron previously said Stephen Sullivan will replace him in a starting role, but there are seemingly countless options the Tigers could use to fill the absence left by Marshall.
"Those guys have been working hard," Orgeron said. "Trey Palmer is going to get a chance to get more reps, Jontre Kirklin is going to get a chance to get more reps."
And he didn't stop with the young guns at the position. He also thinks Marshall's absence will lead to starters Justin Jefferson and Ja'Marr Chase receiving more targets.
"We got a lot of guys to throw to."
Thornton Suspended
Injured athletes won't be the only ones missing playing time this weekend.
Orgeron said outside linebacker Ray Thornton has been suspended for violation of team rules.
He wouldn't elaborate much on the topic, keeping answers on the topic quite curt, and he did not have a timeline for Thornton's return.
Thornton has tallied three tackles, two assisted, through four games this season.
Photo Credit: Terrill Weil