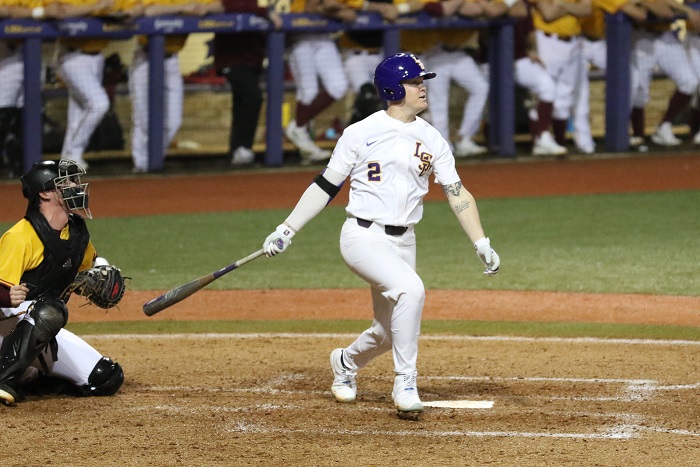 LSU will host Texas A&M this weekend with first play in SEC West potentially hanging in the balance. The Aggies bring one of the league's best pitching staffs to Baton Rouge.
Conversely, the Tigers will be without arguably the biggest bat in their lineup.
Left fielder Daniel Cabrera has been ruled out for this weekend's series against Texas A&M, LSU coach Paul Mainieri announced Thursday. The hope is he could be ready to play next weekend when LSU travels to Missouri.
"Daniel will be out for the entire weekend," Mainieri said. "That's the big news of the day from me. I just found this out a couple hours ago."
Cabrera has been dealing with a right wrist injury since the winter, and his thumb is also now an issue after taking an awkward swing during the Mississippi State series last weekend. At that point the pain become unbearable and kept him from being able to hit.
The sophomore underwent a minor procedure last Sunday in hopes of being ready for this weekend, but he'll now have to undergo more aggressive treatment as the wrist/hand hasn't healed as quickly as LSU would have liked.
"It's improved, but now enough," Mainieri said. "So they're going to have to take a little bit more drastic action with it. That'll knock him out for this weekend, but we'll hope to get him back for next weekend against Missouri."
Freshman Giovanni DiGiacomo will continue to start in place of Cabrera in left field. DiGiacomo is hitting .303 with 10 RBI and 29 runs scored in 27 games (15 starts) this season, which earned him a share of the designated hitter job, but now defense has entered the equation.
DiGiacomo certainly has the speed to be a plus defender in the outfield. He may well have ended up playing center field this season had Zach Watson and Antoine Duplantis signed professionally last summer.
Still, LSU knows there still is something of a learning curve for the rookie in left field.
"Gio is a freshman," Mainieri said. "For the most part, I think he's done an awful lot of good things. He gets in there and he competes like crazy. He's had some big hits, drawn some big walks and put down some good bunts for us, and usually he's a pretty reliable outfielder too."
The coach continued: "There was a couple balls hit last night that I thought maybe he could've had a shot to catch with his athleticism. They would've been phenomenal catches, but I would hope he'd grow into the outfield and have a shot at those kinds of catches. That's the freshman in him."
WEATHER A FACTOR
LSU and Texas A&M will play a double header on Saturday due to inclement weather in Sunday's forecast.
The games will take place at 2 p.m. and 7 p.m., adding to an already busy day around Baton Rouge. Both games will be nine innings.
WHO'S AT FIRST?
Both CJ Willis and Cade Beloso will be in the lineup this weekend with Cabrera out, but Mainieri hasn't yet made a decision on which freshman will play first base and which will be the designated hitter.
Beloso is the more experienced first baseman, having played the position throughout his high school career, but Willis is a taller target for infielders. The coach did say that Willis needed more work at the position defensively.
"I haven't decided yet," Mainieri yet. "I'm just not sure exactly what we're going to do yet … I'm just going to have to decide which way to go, and I'll sleep on that tonight."
LSU will take things day-by-day at first base, so whoever starts on Friday night will not necessarily stay at the position throughout the weekend.
"Both of them have done a good job most of the time," Mainieri said. "You just want them to be serviceable. I don't expect either of them to be Gold Glovers. Let's just make sure we make the routine plays and not give them anything extra."
ON THE MEND
One of LSU's three ailing freshmen arms is progressing toward a potential return to action, though he won't be able to pitch against Texas A&M.
Landon Marceaux has thrown without incident on back-to-back days, Mainieri said, and the plan is for him to throw again on Thursday. If all goes well, he'll throw a bullpen session this weekend with an eye toward returning to action next Tuesday night.
"We'll see how today goes," Mainieri said. "He's progressing."
Photo by Jonathan Mailhes