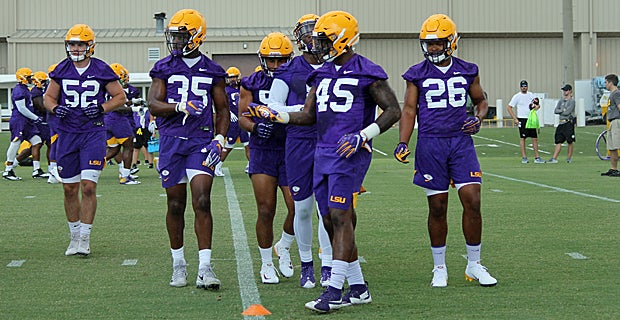 The competition between Jacob Phillips and Patrick Queen to start at inside linebacker remains tight through LSU's first preseason scrimmage of Fall Camp, Ed Orgeron said Saturday.
In fact, according to Orgeron, a third contender is pushing his way into the competition: sophomore Damone Clark.
"Jacob Phillips and Patrick Queen have been playing excellent, and so has Damone Clark," Orgeron said. "I think those guys are going to be very good at linebacker."
He continued: "The guy who has been coming up the depth chart is Damone Clark. Dave (Aranda) likes him a lot. Patrick and Jacob are even, and Damone is pushing. He may be a starter. He may not. We'll see."
The Baton Rouge native played in 12 games with no starts last season, seeing most of his action on spacial teams. He worked behind Devin White in practice.
That year of watching and learning behind an All-American seems to be serving Clark well in his second collegiate camp.
"He's really an elite athlete," Orgeron explained. "He's about 6-foot-3 and 235-238 (pounds). He can run. He's always first in sprints. In the weight room he lifts everything you put in front of him … He just had to learn to play stack linebacker and diagnose and be in the right gap at the right time. He's doing that now. He can tackle in space."
BIG THREE REMAIN OUT
Outside linebacker K'Lavon Chaisson, safety Grant Delpit and cornerback Kristian Fulton have been missing from practice for multiple days due to what Orgeron called "minor camp injuries."
None of the three played in Saturday's scrimmage at Tiger Stadium, but Orgeron did offer something of a timetable for their possible returns to action.
"I think some of those guys are a little ways away," the coach said. "Some of those guys we may get back at the end of next week."
STANDOUT RECEIVER
Defense won the day as LSU scrimmaged without starting quarterback Joe Burrow, according to Orgeron, but at least one receiver put up a strong stat line.
Wideout Ja'Marr Chase caught three passes for 101 yards, including a 56-yard touchdown.
"I thought he had an outstanding day," Orgeron said.
BIG LEG
LSU got its first look at freshman kicker Cade York in a game situation, and the reports from Orgeron were largely positive.
York connected on a 51-yard field goal, the coach said, and finished 8-for-10 overall. LSU has raved about his leg strength since York booted a 59-yarder in an all-star game last winter.
"I think he had a stronger leg (than Cole Tracy)," Orgeron said. "Obviously Cole had that magic about him. He just had that magic about him, and I think Cade will too. I think Cade is a more polished kicker at a younger age than Cole was, but obviously he has to prove it in front of a crowd."