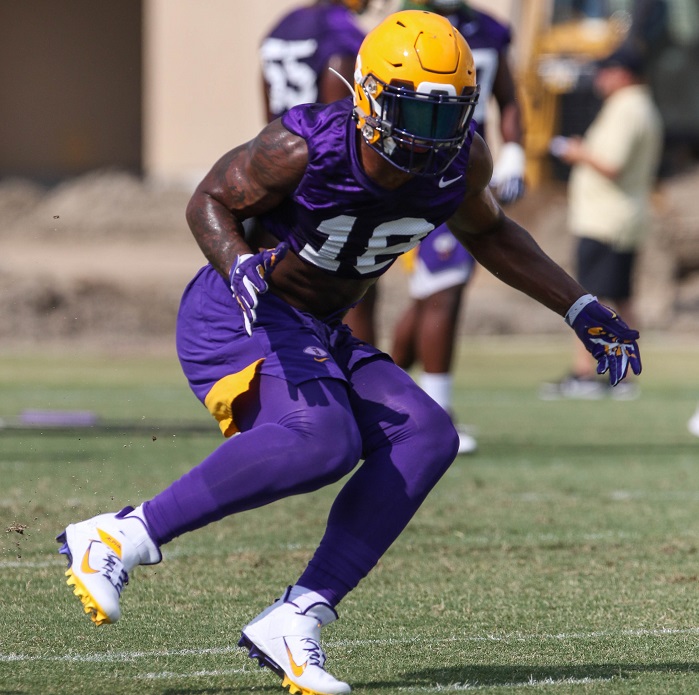 There's no meeting at LSU quite like a "Green Team" meeting, and gaining entrance to the party is strictly by invitation only.
"Green Team" is a package that puts LSU's four best pass rushers on the line of scrimmage, regardless of position. It's typically two defensive linemen on the inside of a four-man front with two outside linebackers sliding in as defensive ends.
Neither the term nor the package is particularly new at LSU. Breiden Fehoko is entering his third year with the program, and the "Green Team" has been around since before he transferred from Texas Tech.
But its existence has become a talking point throughout Fall Camp as Ed Orgeron has repeatedly called for LSU to ramp up its pass rush going into the 2019 season.
"You can't just be a guy in there when we have a green meeting," Fehoko explained. "When we have green meetings, you're either on the green team or you're not. It's an invite-only club."
So how does one earn an invitation to the "Green Team" meeting? The depth chart is etched in sand, as Orgeron likes to say, and the four best rushers in practice during a given week will be the ones who get the call on those crucial third down situations.
LSU's starting defensive ends in the 3-4 base like Fehoko, Rashard Lawrence and Glen Logan will typically play tackle in the 4-3 front. Nose tackles like Tyler Shelvin and Apu Ika can play there too, provided they're providing enough penetration in the middle.
The edge is normally manned by outside linebackers who can slide down and play defensive end. K'Lavon Chaisson will be there, as long as he's healthy, as will Michael Divinity, who tied for the team-lead with five sacks last season. Ray Thornton and Andre Anthony, among others, are also in the mix.
"You get invited to the green team meeting when you show off your pass rush skills, because that's what it's really all about," Divinity said. "It's just showing you can be a consistent pass rusher."
Safeties like Grant Delpit and JaCoby Stevens were a key cog in the pass rush last season, but as of last week there hadn't been any defensive backs invited to the meetings, Fehoko said. Keeping it that way seems to be a point of pride for the defensive front this camp.
"No safeties in there," Fehoko said. "Not yet. We're trying not to do that. We're trying to keep it in-house with the D-line. When we've got safeties on the green team, that means there's a problem. That means we're not producing a good rush."
There's one thing everyone seems able to agree upon regarding these "Green Team" meetings: they're not for the faint of heart.
Orgeron runs them personally, which is something he did even before taking a more active role in coaching the defensive line this camp.
Rushing the passer has been a passion of Orgeron's long before the career line coach took over as the head coach at LSU. He sets the tone whenever the "Green Team" gets together to meet, watch film or run through drills.
"When it's a green day or it's a green meeting, Coach O does not play around," Fehoko said. "When it comes to green team, there's another whole gear he kicks it up into. He's so big on pass rush. We have so many pass rushing coaches now, and to get on that green team is a privilege. They don't just throw anybody on that green team."
"Coach O takes the green team meetings very seriously," Divinity added. "If a PowerPoint isn't up when he likes, he's raged. Pass rush is one thing he loves. He loves pass rushing. He always says sack-fumble kills the drive, which is true. And green means go, so when it's time to go with the green team, everybody is hyped."