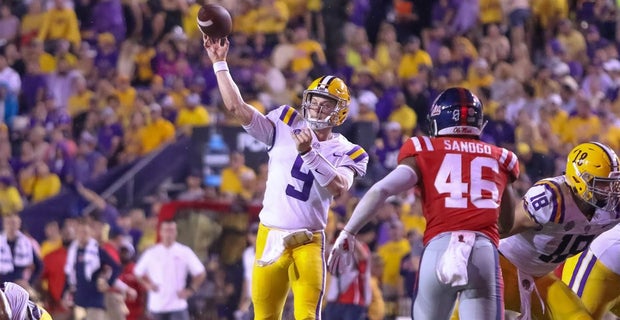 LSU played its first scrimmage of fall camp Saturday without arguably its most important player.
Tigers starting quarterback Joe Burrow did not participate in the exhibition due to what head coach Ed Orgeron called a minor injury that should not keep him out long.

"Joe Burrow did not practice today," Orgeron said. "He's held out as a precaution. He should be back with us some time next week."
If Burrow will indeed be back within the week, his absence from the first scrimmage of the season shouldn't be cause for alarm. Throughout fall camp, LSU has taken a precautionary approach with minor injuries, especially with upperclassmen who presumably have a good grasp of their positions.
Of course, the Tigers would rather have him 100 percent healthy. The senior quarterback threw for 2,894 yards and 16 touchdowns with just five interceptions last year, and Orgeron brought in Joe Brady to facilitate a new offense built specifically around Burrow's style of play.
Despite the setback, Orgeron remained optimistic about the situation, saying it gave backup quarterbacks Myles Brennan and Peter Parrish a chance to show how they can run the offense.
"You never want your starting quarterback to get hurt, but I thought it was a perfect scenario that it was going to happen this week," he said. "It gives him time to get better and come back next week. We get to see the guys step up. Myles (Brennan) had to step up, (Peter Parrish) had to step up. We put them in Tiger Stadium in the scrimmage to get them game ready."
Still, the sooner they get Burrow back, the better.
"We're not the same team without Joe (Burrow) in there. We're not there yet. The offense has been having a tremendous week with Joe in there. Without Joe, they're not the same.
"Obviously, their connection with Joe is a lot better because they always throw with him."
The result was what Orgeron called a "dominant day" by the defense. But he indicated that he hopes they treat the rough scrimmage as a learning opportunity.
Brennan has been a clear No. 2 behind Burrow since the Ohio-native grad transfer arrived on campus last summer. He still has a lot of work to do if he wants to take over the starting job when Burrow is no longer with the program.
But reps like the ones he got Saturday can only help him achieve those goals.
"I think there were a couple times when (Brennan) was indecisive under pressure. That's to be expected getting game-time reps. I'm glad it happened that way today."
With Burrow out and Brennan getting the first-team reps, the freshman Parrish got snaps as the second-team quarterback.
"He scrambled around pretty good," Orgeron said of Parrish. "His passing wasn't as crisp. He's got a ways to go. He's a freshman. Definitely not ready to play, but he showed some talent."
The Tigers will now take a day off before another full week of practice leading into another practice game next Saturday, also in Tiger Stadium.
It's clear Orgeron hopes Burrow will be back in action to get a better sense of how this offense works in a simulated game situation, but for now, he's happen to get some good reps under his young backup quarterbacks' belts.
Photo Credit: Terrill Weil