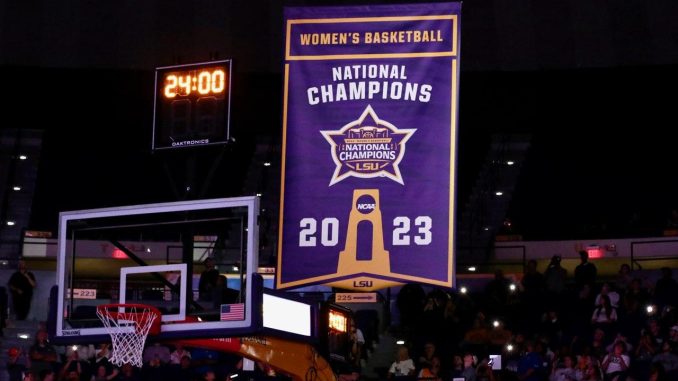 Nearly 2 ½ years later Kim Mulkey's declaration came to pass.
Standing on a dais inside the Pete Maravich Assembly Center during her introductory news conference Mulkey pointed out LSU had five Final Four banners hanging from its rafters but was devoid of a national championship.
"I made the comment that's what I came home to do," Mulkey said after Thursday's 112-55 victory over Queens University. "I never made a promise, but I'm glad I got that monkey off my back. It was fun. It was fun to come home. It was fun to do that. Now we've built this program back to relevancy and that's where you want to stay."
No. 1 LSU enjoyed the pomp and pageantry of an emotional pre-game ceremony that featured last year's team receiving its national championship rings and watching the raising of its 2022-23 national championship banner to the Pete Maravich Assembly Center's rafters before a crowd of 10,371.
The Tigers, led by first team All-American Angel Reese's double-double, never trailed and replaced the frowns of Monday's season-opening setback with smiles in a 59-demotion of Queens, the Charlotte, N.C.-based school in its second year of Division I basketball.
Reese led four players with 28 points and 14 rebounds and sophomore forward Sa'Myah Smith, making her first start, scored a career-high 21 points to go with eight rebounds. DePaul transfer Aneesah Morrow came off the bench with 16 points and guard Flau'jae Johnson added 13 points and six rebounds.
"It was a blessing," Reese said of the pregame coronation for the school's first national championship team. "It was emotional to see everything and having some players come back, but also tried to stay focused and understand what the bigger goal is."
Top-ranked LSU honored last year's national championship team (minus LaDazhia Williams and Jasmine Carson) with the distribution of national championship rings and the unveiling of a pair of banners: the school's sixth Final Four and first national championship.
The fact that the Tigers (1-1) dropped their season-opener 92-78 against No. 20 Colorado on Monday tempered some of the emotions.
"This whole week was just learning our mistakes and trying to get better," LSU reserve guard Last-Tear Poa said. "I felt like our team had to dig deep and try and find who we are as a team and try and play together. I think we did a great job with the intensity."
Reese scored 19 of her 28 in first half and Smith had 11 of her 21 in first half, leading LSU to a 56-30 halftime lead.
Smith and Morrow teamed up on 8 of 8 shooting for 18 points to help LSU flex its muscle over the last five minutes of the third quarter for a 86-50 lead.
"I don't care that we scored in the 100s," Mulkey said. "I'm so focused on defense right now. I'm challenging some of them like they've never been challenged in their life from body language, to being in a stance to talking on defense to fist-bumping somebody, to high-fiving somebody. Where should you be? It wasn't a wake-up call for us. It was a learning experience. Colorado is good and I knew that when we put them on the schedule. I think you saw more energy tonight from all of the returning players."
Mulkey sent out a lineup of four freshmen and sophomore Amani Bartlett to play the last 6 ½ minutes with LSU leading 94-52.
The Tigers' final 18 points of the game were all scored by freshmen with Aalyah Del Rosario scoring six and Janae Kent adding five.
Queens (0-2) was led by the 26 points of guard Nicole Gwynn on the strength of eight 3-pointers.
LSU had a resounding answer to Queens' best run of 12-4, turning in a 20-3 blitz following a timeout over the last 5 ½ minutes that turned a 66-45 margin into their biggest lead when Morrow capped the quarter with a 10-foot runner with four seconds to go.
Gwynn continued to put on an outside shooting display with her eighth 3-pointer to finish Queens' run when Mulkey called timeout.
LSU scored six straight points out of the timeout, including back-to-back three-point plays from Johnson and Morrow, that re-established the Tigers' momentum and 74-45 lead. That run reached 13-2 on a turnaround from Morrow, Poa's layup off a pass form Morrow and Reese's free throw at the 2:20 mark.
LSU scored the first 17 points of the second quarter in just under six minutes to gain separation with a 50-20 cushion on Reese's tip-in with 3:52 remaining before halftime.
The Tigers, who led 56-30 at the break on the strength of 19 of 21 free throw shooting, pounded the offensive glass in the first half with 11 boards with Smith and Reese combining for seven of those boards and their team's final six points in the surge for a 20-point advantage.
"I felt like I let my team down Monday and tried to get back to the player that I am, and they know me for," Reese said. "I went off rebounds first and tried to score as much as I could and do whatever it takes to win. My defense wasn't the best Monday so that was important for me to get in a better defensive stance and try to guard my opponent."
Gwynn finally stopped LSU's avalanche with her team's fifth of six 3-pointers in the half with less than four minutes remaining.
Reese gave her team a pair of 21-point leads on a putback and layup off a feed from Hailey Van Lith. She needed about five minutes of the opening quarter to heat up with 11 points in a 3 1/2 -minute stretch that resulted in as 25-12 lead.
"We had to respond tonight," Reese said. "It was important, and I think we responded."