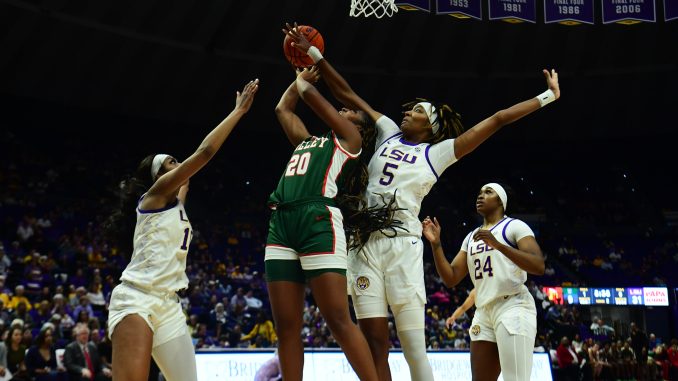 With more than 60 schools from around the Baton Rouge area supplying over 8,000 school-aged children, the LSU women's basketball team hosts its annual 'Field Trip' game at 11 a.m. Tuesday against Kent State at the Pete Maravich Assembly Center.
The No. 7 Tigers (2-1) and Golden Flashes (1-0) will be streamed by the SEC Network + and carried locally by 107.3-FM.
"We're getting better," LSU coach Kim Mulkey said after Sunday's 109-47 win over Mississippi Valley State. "I am always looking at the defensive end of the floor. I do not look at the scoreboard until it's time to do some substitutions. I'm looking at effort, I'm looking at an understanding of what all five players are supposed to do and then as I'm watching it, I'm looking to see who listened to scouting reports. You expect it to get better – it's just going to take time to polish it and really perfect it."
LSU overcame a season-opening loss to Colorado, now ranked No. 6, with a pair of impressive victories over Queens University (112-55) and Mississippi Valley St.
Sophomore forward Sa'Myah Smith has started the team's last two games and tops LSU in scoring (19.3) and is second in rebounding (8.0). She matched her career high of 21 points in Sunday's game and added 11 rebounds for her second career double-double and is shooting 74.2% from the field.
"Just being in the gym," Smith said on Sunday of her improvement over last season, "and shooting the ball and working on shooting the ball on the move, shooting the ball when I'm tired. So, the reps are showing in the game."
Returning first team All-America forward Angel Reese registered her third straight double-double to begin the season and averages 19 points and 12 rebounds. Freshman Mikayah Williams, who scored 20 points on five 3-pointers on Sunday, is next at 15.3 points and DePaul transfer Aneesah Morrow, who is coming off the bench, at 12.0 points and 4.3 rebounds.
Kent State, a WNIT participant last season and finished 21-11 overall, opened its season Sunday with a 64-55 victory at UL-Lafayette. The Golden Flashes, who are playing their first five games on the road to begin the year, were led a year ago by 5-foot-11 redshirt senior guard Katie Shumate (12.7 points, 7.1 rebounds, 35 steals) and sophomore guard Corynne Hauser (8.9 points, 95 assists).
Jenna Batsch topped Kent State in its season-opening win with 15 points with Hauser and 6-2 graduate center Mikala Morris each scoring 10 points.