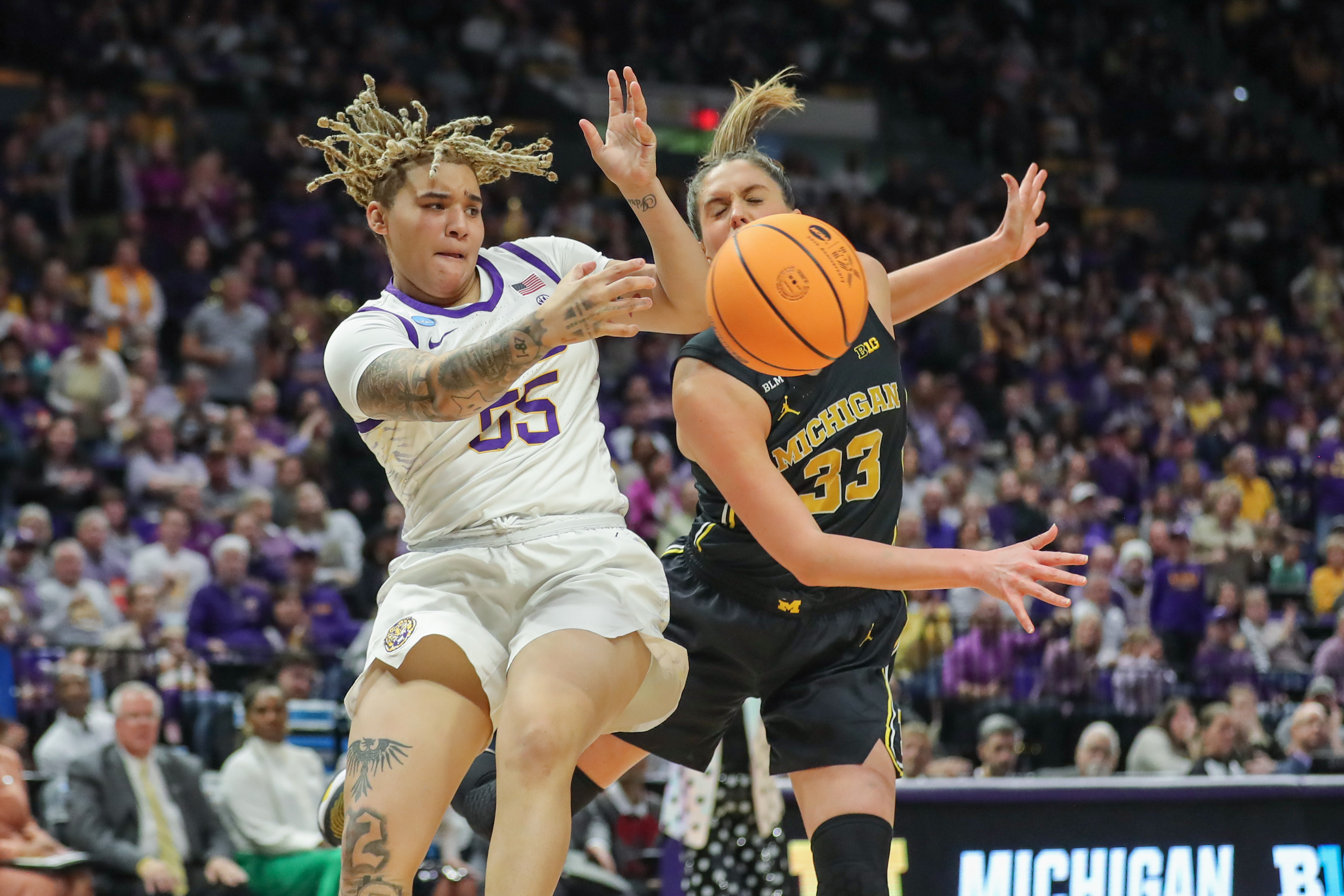 When LSU won its first 23 games of the season, there were questions about how taxing a schedule the Tigers had played, one that included 13 non-conference victories before the start of Southeastern Conference play.
The Tigers finally succumbed on Feb. 12 to a deep and talented South Carolina team, the defending national champions and top-ranked team, 88-64 on the home floor of the Gamecocks.
Observers continued to fling arrows at LSU's overall body of work that contained one loss during the regular season. The Tigers suffered their second loss in a 69-67 defeat to Tennessee on March 4 in the semifinals of the SEC Tournament.
Through it all second-year coach Kim Mulkey steadfastly maintained that her team was doing what it was supposed to do, winning games and advancing to the next challenge the program would have to conquer to become one of the nation's elite.
For a coach with three national championships, Mulkey knew the definition of what it took to reach such status and always stopped short of placing her Tigers in such company.
Mulkey's refrain was usually that her team hadn't won anything but after Sunday's 68-42 second-round victory over Michigan in the NCAA Tournament, she acknowledged the achievement of her team reaching the Sweet 16 for the first time since 2014.
Third-seeded LSU (30-2) will face second-seeded Utah (27-4) at Bon Secours Arena in Friday's Greenville Regional 2 at 4:00 p.m. on ESPN.
"It's not a championship, but it is definitely an accomplishment," Mulkey said after Sunday's win over Michigan. "We have won one more game than we won last year. And you better believe that's big for us in rebuilding this program. I thought the students were back tonight. They are done with spring break. I thought they were just awesome. I thought the crowd was electric.
"That's a big deal for this program at this time," Mulkey added. "I've got coaches in there (locker room) with tears in their eyes, that have never won and been to a Sweet 16. I have coaches (Bob Starkey) in there that have been to multiple Final Fours and championships. You don't ever take things for granted. And you let them enjoy it. You let them soak it all in. (We've) Got kids in that locker room that have never been to a Sweet 16."
LSU's got four players in transfers Angel Reese, Alexis Morris, LaDazhia Williams and Kateri Poole with Sweet 16 experience, having reached that round of the NCAA Tournament at their previous schools in Maryland, Baylor, South Carolina and Ohio State, respectively.
Together they will lead the Tigers, which won 30 games for the first time since 2008, against a Utah team playing in a Sweet 16 for the first time in 17 years and third overall.
The 6-foot-3 Reese, who garnered her 30th double-double of the season, averaged 29.5 points and 19.5 rebounds in LSU's first two games of the NCAA Tournament. She also averaged 4.5 blocks, 3.0 steals and 3.0 assists.
Key contributions also came from Williams at 9.5 points, 6.0 rebounds, 4.0 steals and 3.0 blocks and freshman Flau'jae Johnson 9.0 points, 6.0 rebounds and 4.0 assists.
"I was not very efficient at all tonight," said Reese, who scored 25 points on 8-of-23 shooting against Michigan to go with 24 rebounds. "A lot of those rebounds came from a lot of my misses. And then, I thank my teammates for missing a lot of shots – missing some shots so I could get the rebound. Just paying close attention to where the ball is. I have a really good eye for the ball. Rebounding is key. That's what's written on our board. We have to rebound and defend to win. As far as we go, we have to rebound and defend."
Those two elements proved vital for an LSU team which shot just 39.2% (51 of 130) from the field and 21.2% (7 of 33) from 3-point range in wins over Hawaii and Michigan.
The Tigers imposed their will on the defensive end of the floor, limiting their two opponents to 32.6% (32 of 98) shooting, forced an average of 18.5 turnovers and carried a resounding -plus 24 advantage on the boards.
Moreover, LSU made 75% of its free throws (30 of 40) and turned the ball over only 8.5 times a game.
"We knew one of the keys to winning the game was rebounding," said Williams, who produced a double-double (10 points, 10 rebounds in the 66-42 win over Michigan. "We really emphasized that in practice and really tried to stay and maintain great positioning on the boards, to get the boards and then do what we do with our length."
Reese's effort against Michigan, a team she lost to twice last season at Maryland, was part of her historical weekend. Her 34-point explosion in a 73-50 win over Hawaii equaled the program's best production in a NCAA Tournament game since Marie Ferdinand in 2001 and her 24 rebounds on Sunday were the most in an NCAA Tournament, breaking Sylvia Fowles' previous mark of 20 set in 2008.
Reese also gained notoriety for her 24-rebound effort which was the third highest total in NCAA Tournament history and she was the first player ever to have a 25-point, 20-rebound, 5-block (she had six) game since 2000.
This came on the heels of Reese leaving the game in the first minute with a busted upper lip that required gauze to stop the bleeding and a mouthpiece to play the remainder of the game.
"Probably freshman year, I probably would have cried, maybe, sat down for a little while," Reese said with a smile. "I knew Coach, if I was to act like I was hurt or something, she was going to get on me. I knew my team needed me. I don't ever want to disappoint my team. So, I did whatever it takes, a bloody lip and bloody mouth, I'll figure it out later tonight. I just don't want to let my team down."
While LSU's defense was limiting Michigan to a season-low 15 points in the first half, Reese had already reached a double-double with 13 points and 14 rebounds in 17 minutes.
The Tigers did so with an offensive infusion from graduate Jasmine Carson who scored more points in a 2 ½ minute stretch of the second quarter (9), than she had in her previous three games. With Michigan employing a zone defense, Carson fueled an 11-0 run with three 3-pointers, two of which were from the corner, and Williams added an offensive follow for a 23-9 lead.
Michigan began the third quarter on a 7-0 run, trimming LSU's lead to 30-22, when after a timeout, the Tigers re-established a 15-point lead (39-24) with a 9-0 surge that Morris capped with a layup at the 4:15 mark. Reese scored six of her team's final eight points of the quarter and her emphatic block of Laila Phelia's attempt left the Tigers with a 47-31 advantage.
The Tigers experienced their best offensive quarter of the game with 63.6% shooting and 19 points from four different players getting into the scoring act, including Johnson with a pair of 3-pointers to help her team secure a 24-point victory and advance to the national semifinals.
"I think we grew up a lot," Mulkey said. "I think we grew up in two areas: And that's rebounding and defense. I'm going to say it again: When I sat here and told you getting ready to play Michigan, do you remember what I told you? I thought their seed was too low and I told you how tough they were.
"I thought we were tough tonight," Mulkey said. "We were tough at all positions. And it started on the defensive end, and it started on the boards. I just thought we were tough. And if you follow the Big 10 a lot, they are tough. All those teams are just tough-minded people. And coaches and players – and I just thought we accepted the challenge of not just maybe being quicker, but just being tough. Tough on the defensive end, and I thought we were."