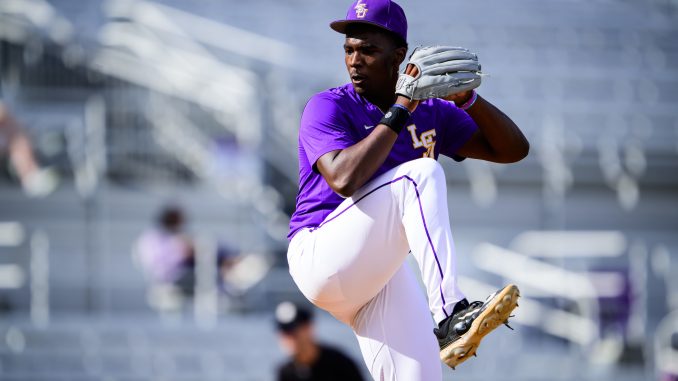 Reigning college baseball champion LSU showed it will have plenty of pitching for the 2024 season.
The quartet of UCLA transfer Gage Jump, Thatcher Hurd, Alabama transfer Luke Holman and freshman Cam Johnson each worked two innings of scoreless baseball. They allowed one hit and struck out 14 during the first eight innings of Sunday's 18-inning scrimmage with UL-Lafayette.
LSU outscored UL-Lafatette 14-3 over the course of the scrimmage at Alex Box Stadium. The two teams are scheduled to meet in the Astros Foundation Classic at Minute Maid Park in Houston on March 2.
Johnson had six strikeouts in the seventh and eighth innings.
Catcher Hayden Travinski highlighted LSU's offensive output in the first 10-inning segment with a double, a run-scoring single and a sacrifice fly. Second baseman Josh Pearson added a two-run double and leftfielder Mac Bingham lined an RBI single.
LSU, which took a 6-1 win, piled up 10 hits in the first 10 innings and limited UL-Lafayette to two hits. The Tigers won the eight-inning portion of the scrimmage, 8-2.
The Tigers continue fall practice for another week and conclude Nov. 18-19 with their Purple-Gold World Series at times to be announced. Admission and parking are free for both games.