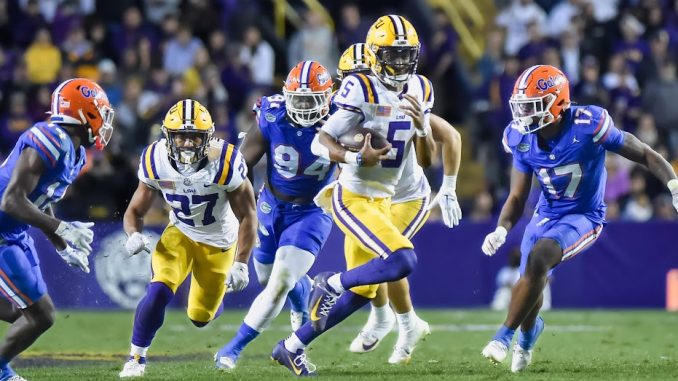 LSU's Brian Kelly admitted there was a time during his 33-year head coaching tenure where he would have taken a different approach on the subject.
When it came to promoting players for the Heisman Trophy, Kelly had arguably college football's top stage at Notre Dame but was more inclined to let the respective resumes of his players speak for themselves.
Two years into his stint at LSU, Kelly knows he has something special in Jayden Daniels and during his weekly press gathering Monday, continued to trumpet the virtues of his fifth-year senior quarterback.
"When you have the opportunity today you have to be able to talk about your players when they're doing something so special and in particular what Jayden's doing," Kelly said. "It's my responsibility when I have the opportunity in front of the media to talk about something I haven't seen happen in my three-plus decades as a head football coach.
"(He's) Somebody that has developed and excelled at an elite level," Kelly added. "He's an exciting football player. He's the most exciting football player individually in the country and I think it's my responsibility to talk about it."
Kelly was emphatic Saturday that Daniels became the nation's top candidate in the race for the Heisman Trophy with 606 yards of total offense and five touchdowns, leading LSU to a 52-35 Southeastern Conference victory over Florida.
The No. 15 Tigers (7-3) return to Tiger Stadium at 7 p.m. to host Georgia State (6-4) in non-conference action on ESPN2. The game will also be carried locally by 98.1-FM.
"Incredible performance by Jayden Daniels who certainly put himself as a Heisman candidate with that performance," Kelly said, noting Daniels won his fourth SEC Offensive Player of the Week honor, while Charles Turner was the SEC's Offensive Lineman of the Week. "But it's been a body of work … He's No. 1 in the nation in total offense, passing touchdowns, rushing yards by a quarterback, pass efficiency. Just an incredible night of offensive football and scoring 52 points and over 700 (701) yards of total offense."
Daniels' statistical windfall – the greatest individual game in FBS history – included a banner night throwing and running the ball. He completed 17 of 26 passes for 372 yards and three touchdowns, to go along with 12 attempts for 234 yards and five touchdowns.
He delivered the longest scoring run by an LSU quarterback in school history with an electrifying 85-yard touchdown for a 17-7 lead at the 8:21 mark of the second quarter.
Daniels darted 51 yards for another score with 6:09 showing in the third quarter, that helped LSU regain the lead (31-28) for good. He also threw touchdown passes of 37 and 7 yards, respectively, to Brian Thomas Jr. in the fourth quarter.
"I would be hard-pressed of a quarterback that's made the kind of leap he's made to where now you're looking at somebody that's clearly a frontrunner for the Heisman trophy," Kelly said. "I don't know if I've had somebody make that kind of jump. It starts with it was in him, and I think he had that upside."
Daniels enjoyed a measure of success in his first season at LSU, throwing for 2,913 yards (fifth highest in school history), completing 68.7% (266 of 388) of his passes (second highest in school history) with three interceptions and 17 touchdowns. He was also the team's leading rusher with 186 carries for 885 yards and 11 TDs but wasn't recognized by the SEC on any of its first, second or third teams for postseason honors.
Daniels has not only catapulted himself to the top of the SEC in most major passing categories in 2023, but the nation as well.
He's completed 71.4% (195 of 273) passes for 3,164 yards (third best in school history) with four interceptions and 30 touchdowns (second best in school history).
Moreover, Daniels has carried 114 times for a team-high 918 yards and eight touchdowns and averages 408.2 total yards a game.
"One of the things we saw in wanting him to transfer here (from Arizona State) was a player who could be elite," Kelly said. "It was a matter of him having confidence in himself, and then the development process needed to take place. All of those things coming together, and then having the confidence in himself to go out and do it. It's certainly been fun to watch."
NOTES: Kelly said that while Daniels is the nation's best player and Heisman worthy, he also praised wide receiver Malik Nabers (72 catches, 1,284 yards, 10 TDs) for his play and believes he should win Biletnikoff Award – symbolic of the nation's top wide receiver. "I think he's the best wide receiver in the country," he said. "I'm sure that (Ohio State) coach (Ryan) Day is going to say that his guy (Marvin Harrison Jr.) is the best and I totally understand that. I think he's multi-dimensional, leading the country in receiving yards. I think he's the best receiver in the country and a deserving of being a Biletnikoff Award winner. … Kelly confirmed fifth-year running back John Emery Jr. suffered a torn ACL against Florida and is out for the remainder of the season. … LSU will close the regular season at home next week against Texas A&M at 11 p.m. on ESPN.