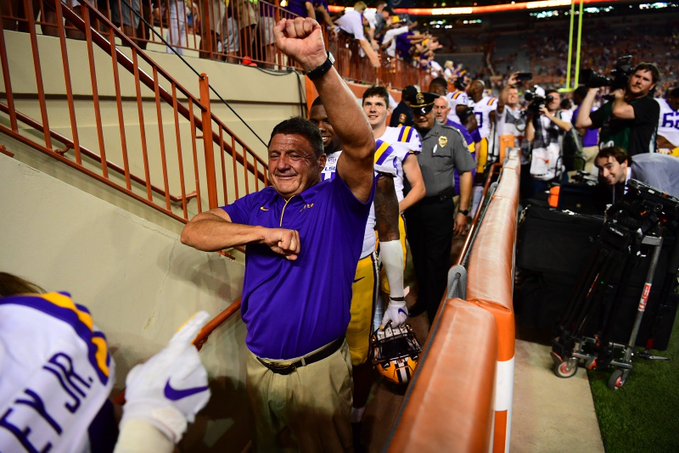 Apparently, a 27-point beatdown of Georgia in Saturday's SEC championship was what the College Football Playoff Committee needed to move LSU back to No. 1 in the final CFP rankings of the season.
The 13-0 Tigers, ranked No. 2 the last two weeks because defensive deficiencies led the committee to elevate Ohio State to No. 1 stating that Ohio State was a more "complete team," will play Big 12 champion and No. 4 Oklahoma on Dec. 28 in a CFP semifinal set as the Chick Fil-A Peach Bowl.
On the same day in the Fiesta Bowl, the No. 2 Buckeyes (13-0) face defending national champion third-seeded Clemson.
It will be LSU's first appearance in the College Football Playoffs, which began in 2014 season. LSU joins Alabama and Georgia as SEC participants who have made one of the six CFP fields.
LSU and Oklahoma are 1-1 lifetime. The Sooners blanked the Tigers 35-0 in the 1950 Sugar Bowl before LSU beat Oklahoma 21-14 in the 2004 Sugar Bowl to win the 2003 BCS national championship.
The Tigers and the Sooners have their first-ever home and home series scheduled for September games of 2027 in Norman and 2028 in Baton Rouge.
LSU coach Ed Orgeron didn't care who the Tigers played. He just knows they'll be chomping at the bit.
"I've told the team it doesn't matter where they rank us, where they tell us to go," Orgeron said after his team pounded Georgia 37-10 in Saturday's 28th annual SEC title game. "We've got to win the next game. That's all that matters. I think we're a darn good football team."
LSU QB Joe Burrow, named Most Outstanding Player of the league title game, echoed Orgeron's thoughts.
"We'll play anybody anywhere," Burrow said. "You can take us to Canada, and we'll play on a gravel lot. It doesn't matter where or who we play."
The Tigers will play against a familiar nemesis, Oklahoma quarterback Jalen Hurt. He was 2-0 as Alabama's QB against LSU on 2016 and 2017 before moving to Oklahoma this season as a graduate transfer.
"There is a narrative out there that the SEC is a different animal, but the Big 12 is tough," Hurts said. Baylor, they're a really good team, very physical team, and I got a lot of respect for them. We're going to enjoy it and, you know, just enjoy it."
Georgia coach Kirby Smart, whose Bulldogs lost to Alabama in overtime in the national championship game, wishes any team good luck trying to stop LSU's offense. The Bulldogs' defense ranked No. 1 in the SEC gave up season highs of 37 points and 481 yards.
"I've been in this league for a long time, and I don't know that I've seen the combination of things they've got," Smart said of LSU's offense. "They've got an elite quarterback that's a really good athlete. They have a back that is a matchup guy. He can match up on anybody and go in. They've got really good wideouts, and they've got an experienced offensive line.
"So, they go tempo, but they don't go tempo to just run the ball, they go tempo and take shots. They never change personnel. It's like 28 consecutive snaps with the same people on the field. So, it does not allow you to substitute in the pattern that you want to.
"There's a combination of a lot of things, and it is scheme oriented, but it's a lot more than scheme. They have plays that they've run all year, that we've run all year. Our plays haven't looked like their plays because a lot of times we might not have the same guys doing those plays.
"I've got a lot of respect for what they're doing and who they're doing it with. They're hard to defend."