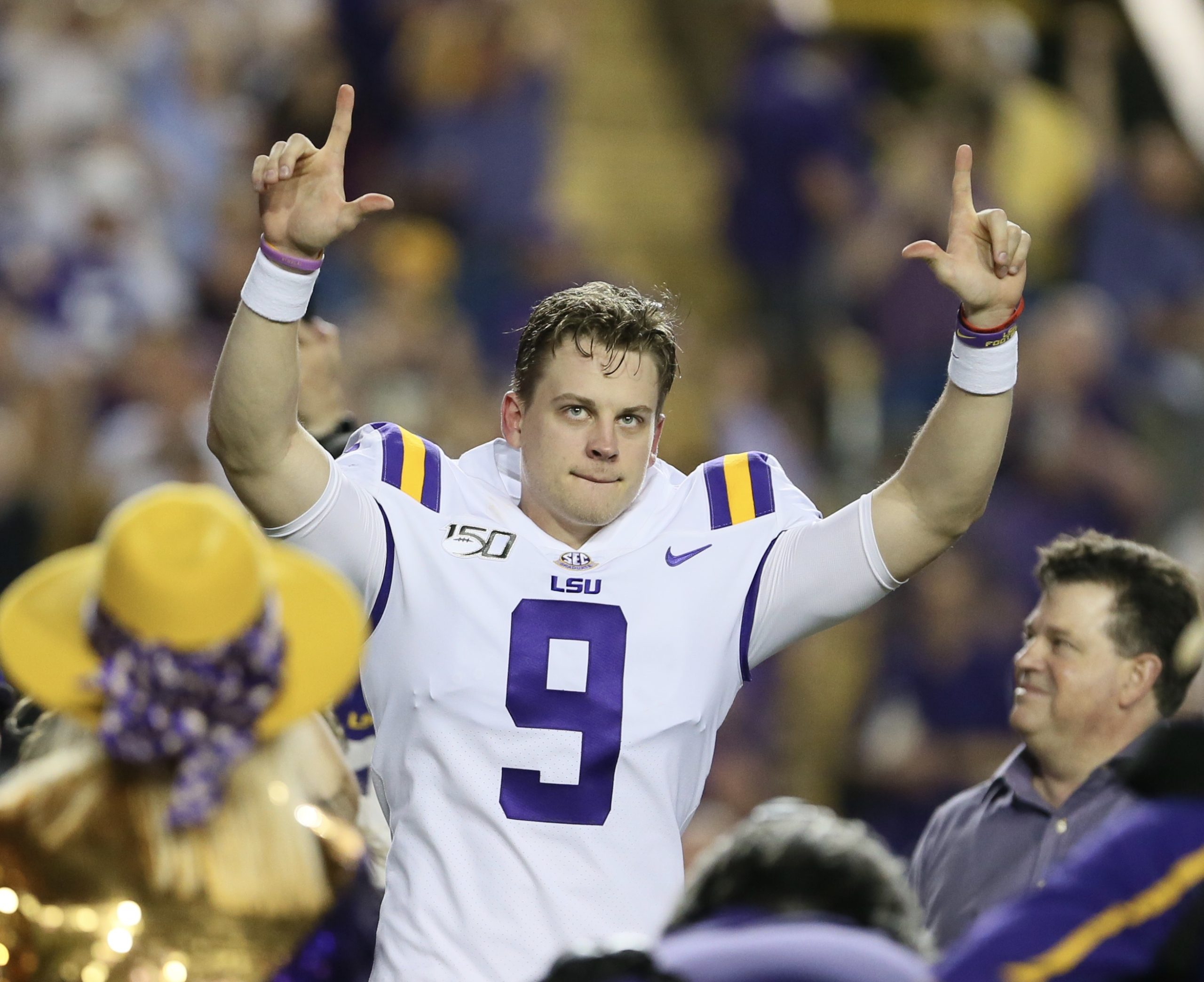 ATLANTA – Joey Burrow had the time of his life Saturday.
Joey is the 10-year old that lives deep inside LSU quarterback Joe Burrow.
Joe tries his best to execute the plays that are called by his superiors. But when they don't, a delighted Joey Burrow takes over.
Suddenly, he's back on a playground as a kid in Athens, Ohio, searching for an open receiver while a pack of kids playing defense chase him.
Spinning, dodging, dancing and scrambling, Joey makes plays leaving would-be tacklers strewn like storm debris. Opposing coaches can only shake their heads in frustration and admiration.
"I told the O-line before the (Saturday's SEC championship) game `this one's going to be a lot of fun, I can just feel it'," Burrow said. "That's exactly what it was."
The Joey Burrow Improv Show took over the 28th annual SEC title contest here in Mercedes-Benz Stadium, with 349 yards passing and four TDs, 11 rushes for 41 yards and a 16-yard reception of his blocked pass.
Joe "The Show" helped unbeaten No. 2 LSU dominate No. 4 Georgia, 37-10 as the Tigers won their 12th SEC championship and clinched LSU's first-ever spot in the College Football Playoffs.
It locked up the Heisman Trophy for Burrow, who next Saturday in New York City will be the second LSU player ever to win college football's most prestigious award.
It resulted in him being named the title game's Most Outstanding Player while he broke the SEC single season record for touchdown passes.
"He's the best player in the country," LSU coach Ed Orgeron declared. "In my opinion, he should win it (the Heisman). In opinion, he's going to win."
And if there was any shred of doubt, it was erased by his madcap scrambles away from the pass rush of the SEC's No. 1 defense on the occasions it broke through the Tigers' superb pass protection when LSU receivers didn't immediately wiggle open.
Burrow averaged almost 15 yards on three escapes that resulted in first downs.
On his first TD pass, a 23-yarder to Ja'Marr Chase on LSU's initial possession, he stood forever clean in the pocket while Chase finally worked himself free.
"I don't what Joe is doing back there, we've just got to be ready for it," Chase said. "You just keep working. When he sees an open spot, he throws to it."
Burrow has made plays like this all year, but none was a bigger dagger than his 71-yard pass to Justin Jefferson. It came just after Georgia's Rodrigo Blankenship missed a 37-yard field goal that could have cut LSU's lead to 20-6 with 4:17 left in the third period.
The Tigers took over on the Georgia 20, and chagrined Bulldogs' coach Kirby Smart decided to send the house at Burrow.
"We brought six people," Smart said. "When you bring six people, you expect to get home. I thought that was the perfect call by our defensive coordinator. We had a guy come scot-free."
Georgia freshman Trevon Walker broke through and took a swipe at Burrow, who spun a full 360 degrees and started left. When he saw Bulldogs' nose guard Jordan Davis break free from LSU guard Adrian Magee, he planted his foot, backstepped from a diving Magee who missed again at the LSU 8.
Burrow sprinted upfield toward the right sideline. As he crossed the LSU 15 just before he stepped out-of-bounds with Davis in pursuit, he whistled a pass 41 yards to Jefferson who scrambled back to the right at the Georgia 44.
Somehow, someway, Jefferson scooted back across the field before Georgia tacklers had an angle and brought him down at the Georgia 9.
"We work on it at practice every single day, Joe scrambling and throwing it on the run and we take that to the game," Jefferson said. "I only had a 5-yard hitch (route), then I saw him twirling and scrambling. I worked free, put my hand up and he threw it."
Three plays later, Burrow threw a 4-yard third-and-goal slant pass TD to Terrence Marshall. Just 90 seconds later after LSU freshman cornerback Derek Stingley Jr. intercepted Jake Fromm for a second time, Burrow lofted an 8-yard TD to a wide-open Jefferson.
And just like that, the Tigers led 34-3 with 45 seconds left in the third quarter and Georgia fans poured toward the exits.
"You learn in coaching that good players make big-time plays, and that was an incredible play by Joe Burrow," Smart said of Burrow's scramble throw to Jefferson. "He made a helluva play. I give Joe Burrow credit, man. He is a phenomenal player."
The Tigers' 37 points and 481 yards were the most allowed by Georgia this season. But it wasn't easy.
"They came out on defense with kind of what Auburn played against us a little bit, and we didn't expect that against Georgia at all," Burrow said. "We kind of had to feel our way out a little bit.
"Every single week, you watch film all week, and it started back when we played Texas. We watch film, and we go in and see something they haven't done all year. It happens time and time again every single week. I tell my coaches why do we even watch film anymore? We see something new. We might as well go out there cold turkey."
Burrow credited the coaching staff for making adjustments, but Orgeron passed on the kudos to Burrow.
"This is his team," Orgeron said, "and the reason it's his team, it's because he earned their respect. The whole team, everybody in the organization believes in Joe."
And why not?
His indomitable competitive spirit has the Tigers at 13-0, owners of a league title and a trip to play whoever in the College Football Playoffs.
"Look, we'll play anybody anywhere," Burrow said. "You can take us to Canada, and we'll play on a gravel lot. It doesn't matter where or who we play."
Yes, Joey Burrow can probably scramble on gravel very well.