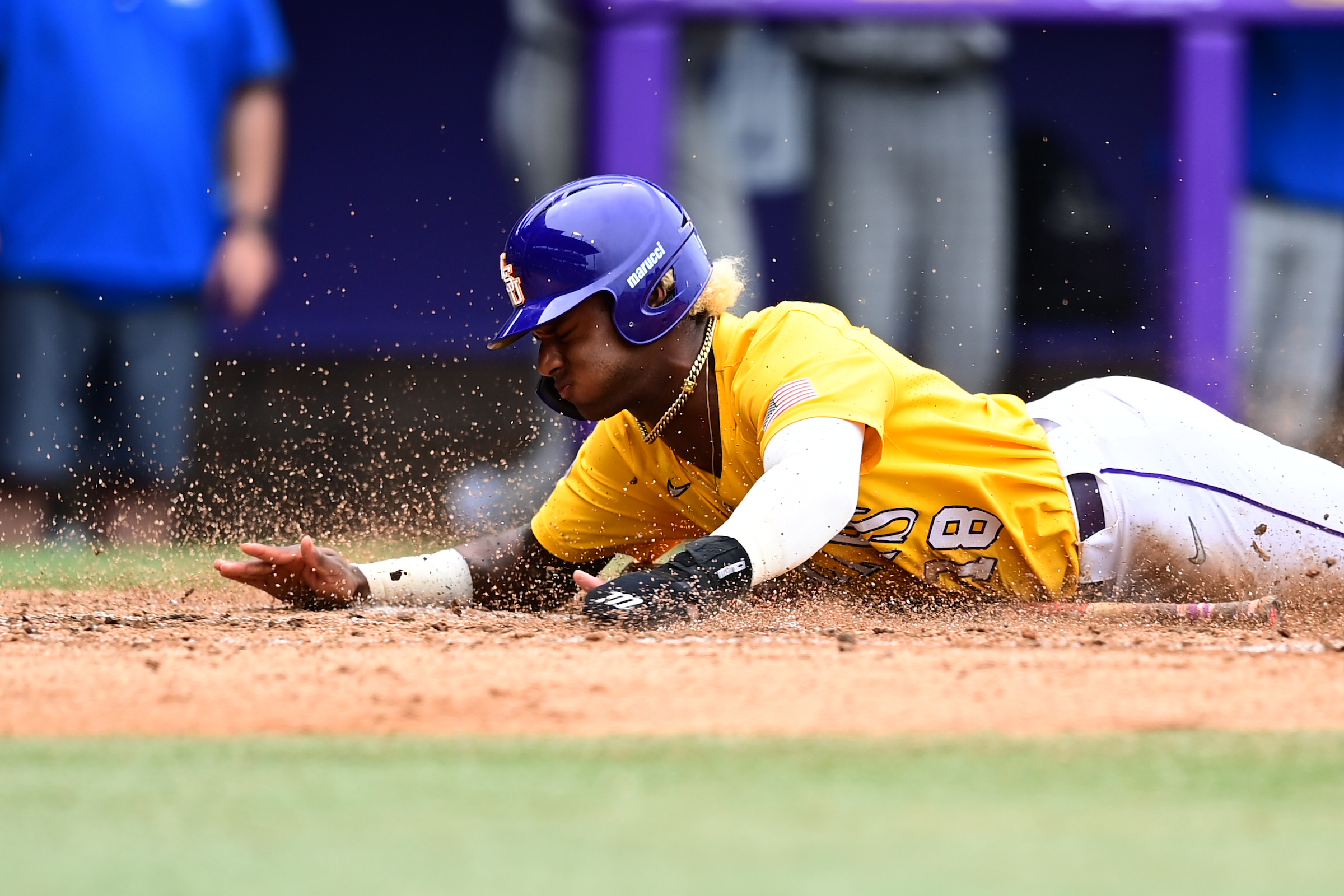 Jared "Bear" Jones' claws were showing Saturday at Alex Box Stadium, Skip Bertman Field in the third and deciding game of the SEC series between Kentucky and LSU.
Jones hit two solo home runs and provided most of LSU's offense early in a 7-6 win after the Tigers found themselves trailing 6-4 heading into the bottom of the seventh.
LSU (29-6, 9-5 SEC) used a two-out RBI double from Jordan Thompson, followed by an RBI single from Cade Beloso, to score Thompson to tie the game, 6-6, heading into the eighth inning.
Brayden Jobert singled to lead off the bottom of the eighth and stole second base. Following an Alex Milazzo walk, Kentucky intentionally walked Dylan Crews to load the bases and chose to face Tommy White with two outs and the game on the line.
Kentucky pitcher Evan Byers, the Wildcats' fourth of five pitchers on the day, then plunked White with the first pitch to score Jobert from third and provide LSU with the winning run.
Kentucky (28-7, 10-5) entered the weekend series against LSU as the No. 1 team in the nation in terms of RPI, a team that loves to run and play "small ball."
"I'm so proud of our team," LSU baseball coach Jay Johnson said. "We have so many things that we can do better and that we're going to work on to do better. But, to just gut that thing out, and find a way to win that game is a credit to our team. I'm very proud of them, they'll get a well-deserved day off, and I'm really excited for another good week coming up; it doesn't slow down.
LSU right-hander Bryce Collins (2-0) earned the hard-fought victory after coming into the game trailing by runs. Collins closed it out and tossed 2.1 innings while allowing no runs on one hit with four strikeouts.
"Bryce gave us a special performance, and I think that's six good outings in a row for him," Johnson said. "I always knew it was in him; he had some adversity earlier this year and wasn't pitching real well, but now he's right in the thick of the plans as much as anybody."
Wildcat reliever Zack Lee (3-2) was charged with the loss after throwing 3.1 innings and allowing three runs on four hits.
Jones got LSU on the board first with a solo shot to left field in the bottom of the second inning. The Tigers added to their lead in the third, which started with two consecutive singles from left fielder Tre' Morgan and Crews. Morgan scored on a throwing error by the Wildcat third baseman.
Kentucky scratched one across in the fourth inning without recording a hit. The Wildcats drew four walks in the frame and scored on a wild pitch. LSU reliever Gavin Guidry got out of the inning with a strikeout and a chopper to first, leaving the Tigers with a 2-1 lead through 3.5 innings.
The Wildcats evened the score in the fifth inning. The top half began with a walk and a single. Right fielder Nolan McCarthy reached third on a wild pitch and scored on a sacrifice bunt to make the score 2-2.
LSU regained the lead in the bottom frame with an RBI groundout from White. In the already back-and-forth game, Kentucky tied it up again in the sixth with its own RBI groundout.
Jones launched his second homer of the game in the sixth for a 4-3 lead through six innings.
"I sensed an awesome focus with Jared today," Johnson said. "I had a good gut feeling that he was locked in and ready to go. On the second homer, he got on top of a fastball and hit it a mile. That was impressive; he's becoming such a good player and I'm really proud of his development."
TIGERS TIE IT UP@cade_beloso x @J_thompson_13 | SECN+ pic.twitter.com/t1dzVBQk6M

— LSU Baseball (@LSUbaseball) April 15, 2023
Bear sends one 453 ft. 🤯🤯🤯@bearjones_3 | SECN+ pic.twitter.com/ayMVCXS8x6

— LSU Baseball (@LSUbaseball) April 15, 2023
In the top of the seventh, Kentucky scored three runs to take its first lead of the game on the strength of a two-RBI double and RBI single. LSU immediately responded in the bottom half to tie the game, 6-6.
The frame began with a single from Morgan, who advanced to second on a wild pitch. Thompson drove in Morgan with an RBI double down the left-field line and Beloso knotted the game at six with an RBI single to right.
White's bases-loaded hit by pitch in the eighth gave the Tigers the lead, and Collins closed the game by pitching around a two-out single to secure the victory.
LSU's next game is scheduled for Tuesday at "The Box" against UL-Lafayette. The matchup will be streamed on SEC Network+ with the broadcast beginning at 6:30 p.m. The contest is available to listen to on LSU Sports Radio Network affiliates (98.1-FM).