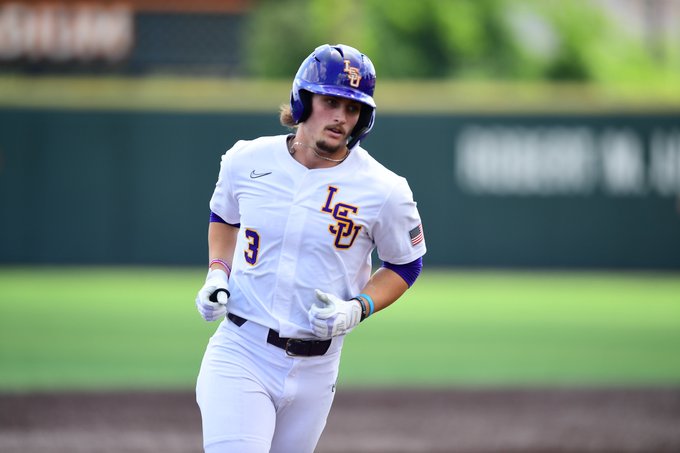 An early exit from the SEC Tournament cost the LSU baseball team whatever chance it might have had to host a 2022 NCAA Regional.
The Tigers (38-20, 17-13 SEC) instead learned Monday they will open NCAA Tournament play Friday (6 p.m. CT, ESPN+, LSU Sports Radio Network) as a No. 2 seed against No. 3 seed Kennesaw State (36-26) in a Regional hosted by Southern Miss at Pete Taylor Park in Hattiesburg, Mississippi.
LSU will be making 10th consecutive NCAA Tournament appearance and its 34th overall as it works to get to the June 17-27 College World Series in Omaha, Nebraska.
Ticket prices are $115 for all-session chairback seats, $90 for all-session general admission passes and wheelchair seating, $45 for all-session general admission student tickets. Tickets can be purchased by calling 1-800-844-TICK, visiting SouthernMissTickets.com or in person at the Pat Ferlise Center on campus in Hattiesburg from 8 a.m. to 5 p.m. CT Monday through Friday.
Kennesaw State beat Liberty 10-6 on Saturday to win the ASUN Conference Tournament in Fort Myers, Florida, and claim an automatic NCAA Tournament bid.
The Owls, who won three straight after losing two pool play games to open their conference tourney, will be making their second NCAA Tournament appearance and their first since 2014, when they made it to a Super Regional.
Kennesaw State is located in Kennesaw, Georgia, about 27 miles northwest of Atlanta.
No. 1 seed Southern Miss (43-16) of Conference USA, making its sixth straight NCAA Tournament appearance, faces No. 4 seed Army (31-23) in the double-elimination Regional's other opening game Friday (1 p.m. CT, ESPN+). Other Regional games will be played Saturday, Sunday and, if necessary), on June 6 (all other game times to-be-announced).
The winner of the Hattiesburg Regional will face the winner of the Coral Gables Regional, which includes No. 1 seed Miami, No. 2 seed Arizona Wildcats, No. 3 seed Ole Miss No. 4 seed Canisius.
Southern Miss, the tournament's No. 11 overall national seed, is C-USA's regular-season champion.
Army, which has won four straight Patriot League championships and is coming off a 12-2 win over Bucknell to win its conference tournament, is making its fourth straight NCAA Tournament appearance.
No. 4 seed LSU – ranked No. 21 nationally at the time – won its opening SEC Tournament game, beating No. 12 seed Kentucky 11-6 on Thursday Hoover Metropolitan Stadium in Hoover, Alabama.
But the Tigers lost their next two SEC games, falling 5-2 to No. 1 seed Tennessee on Friday and 7-2 in a rematch with Kentucky on Saturday.
"There's probably very few things you can do that can prepare you better for the postseason than the SEC Tournament, and it was a great exercise for our team. It was a good challenge, especially after going through the 30-game regular-season SEC schedule," first-year LSU coach Jay Johnson said. "To go against teams that are fighting to get into the NCAA Tournament, fighting to host, fighting for seeding, it was a good experience that will benefit from moving forward."
LSU went into the SEC tournament on a roll, having swept Vanderbilt 3-0 in a regular season-ending SEC series at Nashville.
The sweep came just one weekend after the Tigers were swept 3-0 by Ole Miss in their final regular season home series at Alex Box Stadium, and it left LSU hopeful there still was a chance it could host a Regional.
Regionals instead were awarded to Auburn, Texas, Virginia Tech, North Carolina, Maryland, Texas A&M, Miami, Oregon State, Florida, East Carolina, Tennessee, Louisville, Stanford, Georgia Southern and Oklahoma State in addition to Southern Miss.
Tennessee (53-7) is the 64-team tournament's No. 1 overall seed, followed by Auburn, Oregon State, Virginia Tech and Texas A&M.