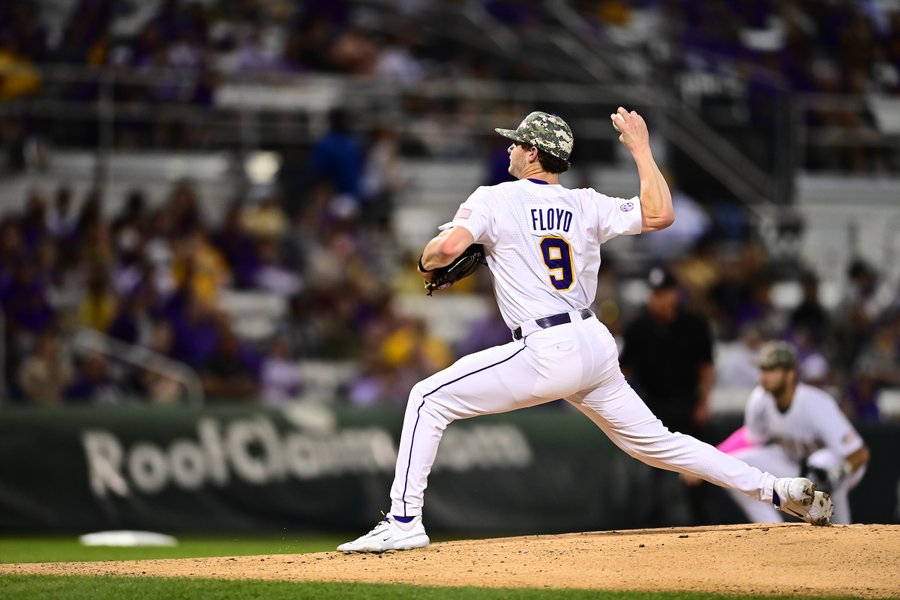 LSU pitchers Ty Floyd and Nate Ackenhausen combined to toss a one-hitter on Saturday and No. 1 LSU hit five home runs to beat Samford, 12-0, at Alex Box Stadium, Skip Bertman Field, run-ruling the Bulldogs for the second game in a row.
LSU freshman first baseman Jared Jones led the Tigers' mash party, hitting two monster 3-run home runs in back-to-back at bats. They were the third and fourth homers in a row going back to Friday night's game.
LSU (14-1) plays host to Samford (6-8) in the series finale on Sunday at 11 a.m. The game has been moved up an hour from its originally scheduled noon start in anticipation of rain.
Floyd (3-0) pitched five of the no-hit scoreless innings, striking out six, walking three and hitting one batter before Ackenhausen came on in the sixth inning.
"That was an impressive game by our team," LSU baseball coach Jay Johnson said. "There's not a lot more to say. Ty Floyd was great, throwing all his pitches for strikes. When he lost the count and got behind 2-1, he always delivered an excellent pitch and usually ended up with a strikeout or weak contact after that. So, it started there, Nate (Ackenhausen) came in and was Nate. I mean, he's been one of our best pitchers early in the season, another zero on errors for our defense, obviously love to see that and then the offense was about as impressive as it could be."
Floyd retired Samford down in order in the top of the first with two ground outs and a strikeout.
LSU scored five runs off four hits in the bottom of the first.
Dylan Crews and Jones each crushed Samford starter Brody Westbrooks' fastballs into oblivion to put LSU up 5-0.
Crews, who went 3-for-3 and improved his average to .500 on the season, hit a first pitch fastball out of the ballpark to right field to drive in leadoff batter Paxton Kling for a 2-0 lead. Kling had jumped on an 0-1 fastball for a double to center field. Tre' Morgan flew out to shallow left-center after falling behind 0-2 in the count, but then Crews crushed his fourth home run of the season and notched his 20th and 21st RBI.
"Yeah. I don't even know what else can be said, he's (Dylan Crews) the best player on the planet and if I'm from the Pittsburgh Pirates, it's a decision that is already made," Johnson said. "But it's more than just the player he is. And I've talked about this before, it's the person, the humility to continue to put in the work and stay disciplined when everybody knows he's the best player on the field."
Tommy White followed Crews by banging the next pitch off the wall in left center for a double and then Westbrooks hit Brady Neal, putting Tigers on first and second base with one out.
Jones slapped a 1-0 pitch 422-feet over the right field wall for a two-out, three-run home run. It was his fifth homer of the season and his third in two nights, but the freshman wasn't finished.
Jones clobbered another one, a three-run shot to right center, driving in Crews and White – his fourth consecutive home run stretching over two games. Brayden Jobert followed with a solo shot to right field, to make it 9-0 after three innings.
LSU added three more runs in the fourth for a 12-0 lead when White hit his fourth home run of the season, a three-run opposite fielder that drove in Crews and Morgan. Crews singled with one out to move Morgan, who had walked, to second before White hit a 1-1 pitch over the right-field wall.
Sophomore pitcher Thatcher Hurd will get the start on Sunday for LSU, Johnson said.
"Thatcher's been really sharp. I think since the first inning of that Texas game he's been about as good as you can ask for. I thought that in Monday night's game he was outstanding throwing four pitches for a strike and we are really excited for him to get back out there tomorrow," Johnson said.