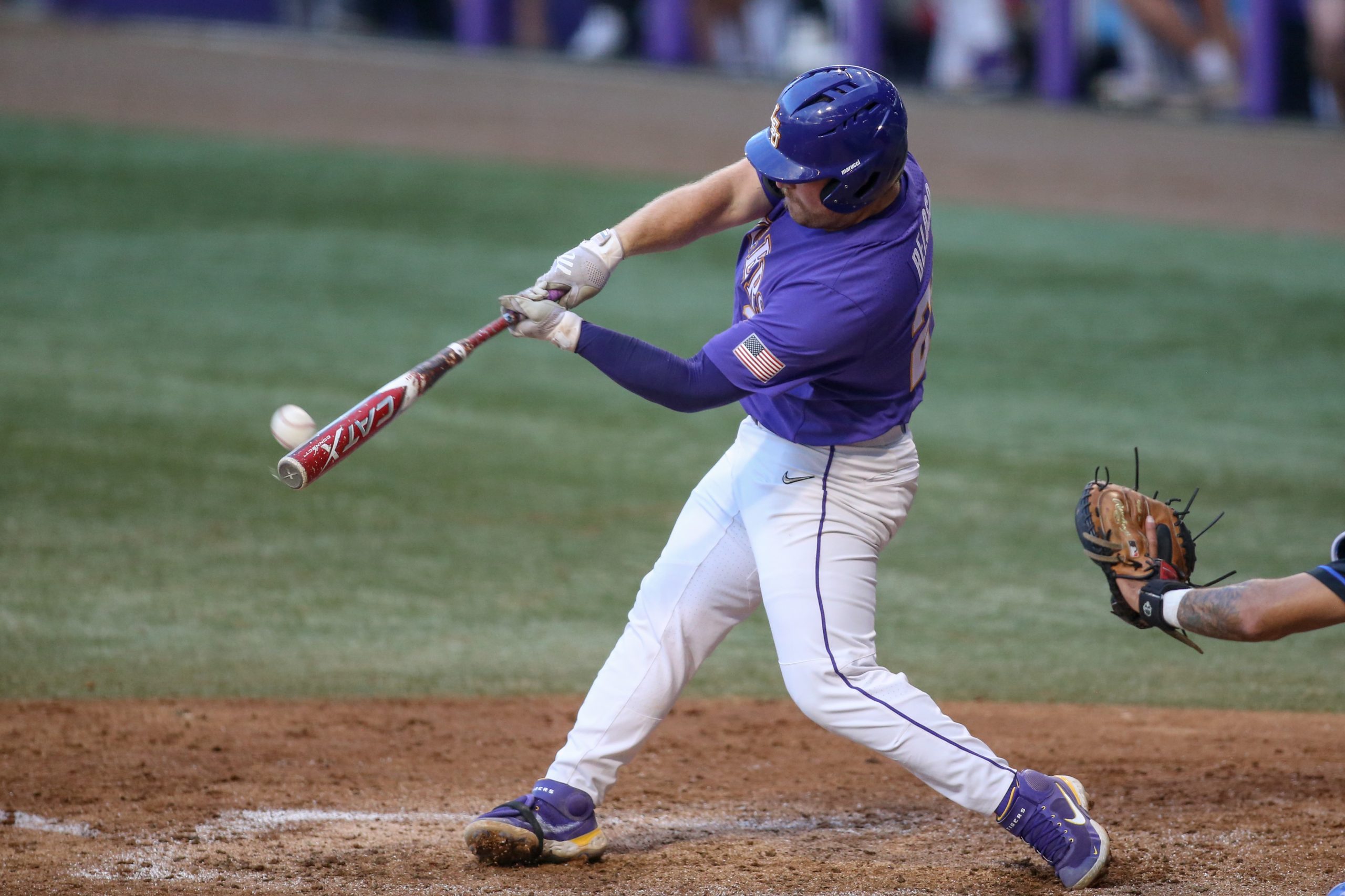 Jordan Thompson and Brayden Jobert each hit grand slams, while Cade Beloso added a three-run home run as No. 1 LSU piled up 14 runs in the first three innings against No. 12 Kentucky in a 16-6 run-rule SEC series-opening win on Thursday night at Alex Box Stadium, Skip Bertman Field.
you get a grand slam, and you get a grand slam, and…@LSUbaseball x 📺 @SECNetwork pic.twitter.com/t0vrBmvPDX

— Southeastern Conference (@SEC) April 14, 2023
LSU starting pitcher Paul Skenes (6-1) struck out 13 to tie a career-high but he gave up five runs (four earned) on seven hits – both season highs – to pick up the win. Skenes pitched six complete innings and faced 27 total batters, walking one.
"Paul has set such a high bar and high standard, and eventually, he was going to give up a few runs," LSU coach Jay Johnson said. "You don't see that very often, so credit to Kentucky for getting some swings on him. I'm very proud of Paul, and I'm glad we could get this win for him tonight."
Kentucky starter Zach Hise (1-1) was charged with the loss after tossing 1.2 innings. He allowed 11 runs on four hits with two home runs and three extra-base hits.
The second game of the LSU-Kentucky series is scheduled for a 6:30 p.m. Friday. The first pitch can be streamed on SEC Network+. The matchup is also available to listen to on the LSU Sports Radio Network affiliates.
LSU (28-5, 8-4) also continued its season-long battle with injuries when second baseman Gavin Dugas hurt his right shoulder in the seventh inning attempting to dive for a ball. He left the game immediately and the extent of the injury will be further evaluated.
"I'm really proud of our guys and the at-bats that they took," Johnson said. "I felt like they showed up to the park super determined today, and you could see it in batting practice. That's how they show up every day, but I had a really good feeling going into the game tonight that we were ready to play.
"We came off of a good game on Tuesday (at Tulane), and we carried that momentum forward. We want to be one of those teams that if you give us an inch, we're going to take mile, and we did that in the first three innings."
Kentucky (27-6, 9-4) started a relief pitcher, a strategic decision that indicates Wildcats' coach Nick Mingione was, in effect, conceding the first game to LSU and the hard-throwing Skenes. The belief was to maybe preserve its starting pitchers for the second and third games with the idea of gaining better pitching matchups against the Tigers during the rest of the series.
Mingione took the long view strategically, and LSU provided him and everyone else with several long views in the first three innings.
After a scoreless top of the first from Skenes, the Tigers opened the scoring in the bottom half striking for six runs. The inning began with a hit-by-pitch on Dugas and an intentional walk issued to center fielder Dylan Crews and Tommy White drove in both runs for a 2-0 lead.
With an early lead, Beloso was hit by a pitch and first baseman Jared Jones singled to right field to load the bases. Thompson then smashed his sixth homer of the season – this one of grand slam variety – to increase the margin to 6-0.
With the slam, Thompson's home run streak reached four games.
In the top of the second, the Wildcats reached two straight singles. Kentucky second baseman Emilien Pitre reached third base by tagging up on a fly ball to right field. The visitors scratched across their first run with an RBI single from right fielder Nolan McCarthy and shortened the lead to five.
The Tigers responded in the bottom of the second with five more runs, including the second grand slam of the ballgame – this time from Jobert. Before putting up four runs, left fielder Tre' Morgan reached base with the third hit batter by Wildcat pitchers. Following Morgan's plate appearance, White reached on a fielding error and Beloso got hit by another pitch.
Jobert launched his sixth dinger of the year to make the score 11-1.
Beloso joined the home run parade, launching a home run to right field in the bottom of the third. Crews reached base when he became the fifth batter hit by the Wildcats and White singled up the middle. Beloso's ensuing three-run bomb was his fifth of the season made extended his team's lead to 14-1.
Kentucky scored four runs across the fourth and fifth inning to bring the score to 14-5. The Wildcats added one in the seventh to make it 14-6.
LSU tacked on the final two runs of the game and catcher Alex Milazzo roped a bases-loaded, run-scoring single through the left side to walk it off in the bottom of the eighth inning.
7️⃣

Milazzo gets the walk off RBI for the run-rule victory! pic.twitter.com/uSj4lOliVk

— LSU Baseball (@LSUbaseball) April 14, 2023