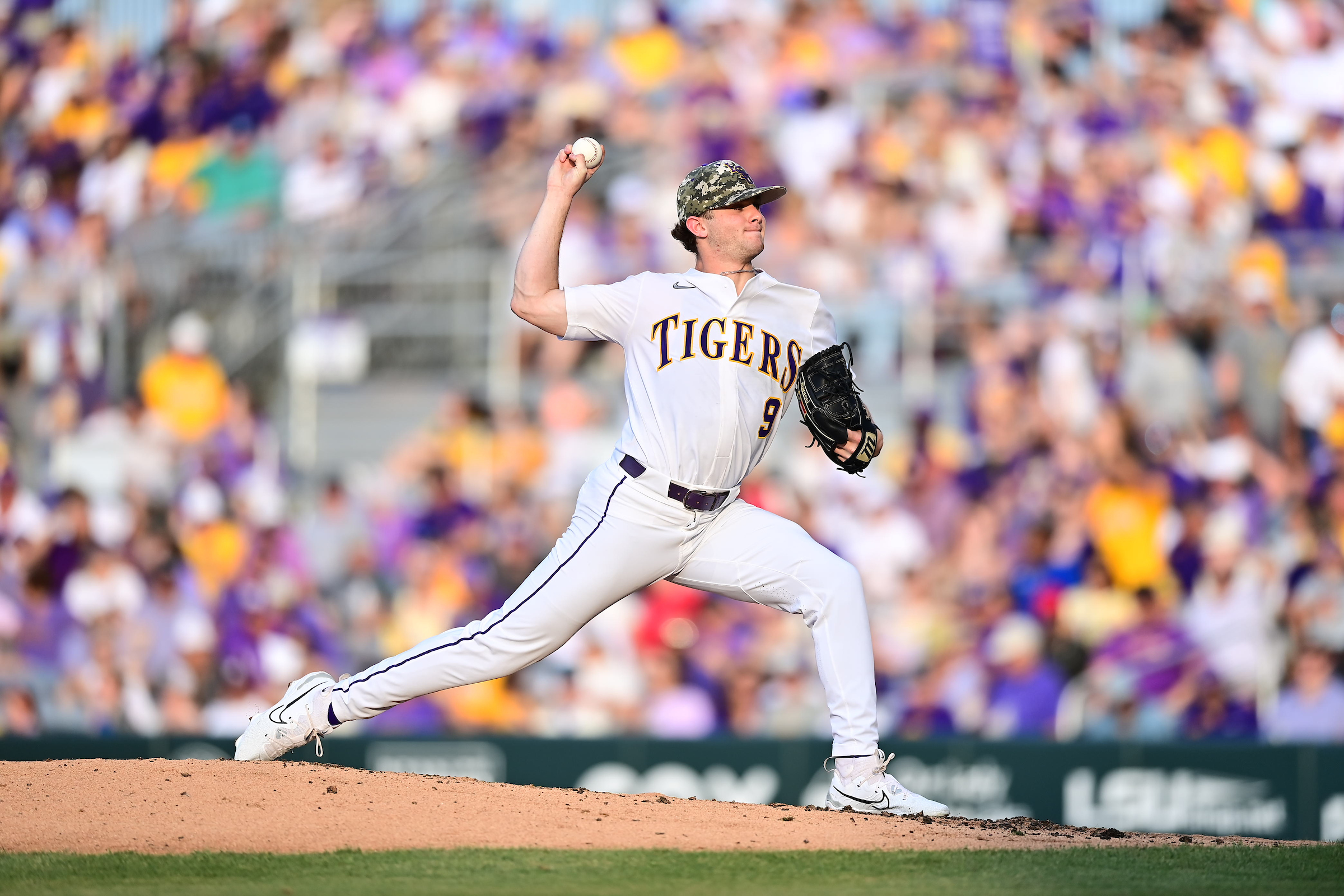 LSU baseball's worst nightmare was realized on Saturday night with its bullpen blowing a two-run lead in the eighth inning, giving up six runs on two home runs and Mississippi State rallied to beat the No. 2 Tigers, 9-4, and evened the series at Alex Box Stadium, Skip Bertman Field.
Bulldog reliever KC Hunt (2-2) earned the win after tossing 2.0 scoreless innings and allowing two hits on two punchouts. Tiger right-hander Thatcher Hurd (3-2) was charged with the loss after statistically throwing no innings but allowed five runs on three hits.
Game three of the series is Sunday at 1 pm.
LSU (39-11, 17-8 SEC) jumped out to an early 2-0 lead after four innings before Mississippi State (25-24, 7-19) tied it, 2-2, in the top of the seventh after Tigers' starter Ty Floyd was relieved by Nate Ackenhausen.
LSU led 4-2 heading into the eighth inning when the Bulldogs erupted for six runs and then added another run in the ninth.
"We had a chance to bust the game open early tonight, but we didn't do that," LSU coach Jay Johnson said. "We still had a two-run lead in the eighth, at home, and you feel good about it, but we just didn't execute. Mississippi State got some good swings, and it's a credit to them."


Tommy White (4-for-4) cracked a stand-up double to lead off the bottom of the second inning, his 20th double of the season. Designated hitter Cade Beloso then walked on a full count. After Travinski popped out to short on the first pitch for the first out of the inning. White and Beloso advanced on a ball that got away from Mississippi State catcher Luke Hancock.
Bulldogs' starter Cadon Smith walked right fielder Brayden Jobert to load the bases, then struck out first baseman Jared Jones on a full-count. But Smith then walked Jordan Thompson on a full count to drive in White from third for the first LSU run.
Smith regrouped to strike out Dugas on three pitches to get out of the second with minimal damage.
Travinski led off the bottom of the fourth with a bomb on a 2-0 belt-high fastball. Left fielder Dakota Jordan did not even move when Travinski connected on the pitch that made it 2-0. It was only the Tigers' third hit of the game. White had the other two to this point.
Hancock led off the fifth inning with a single and shortstop David Mershon drove him in with a one-out double to cut the Tigers' lead to 2-1.
Floyd finished with six complete innings (103 pitches), struck out a career-high 10 batters, and gave up one run on five hits and walked one and was relieved by Ackenhausen to start the seventh.
"Ty was great tonight," Johnson said. "What he demonstrated tonight will be a big boost to our team moving forward."
Hancock, the first batter Ackenhausen faced, tied the game 2-2 with a scorching home run to the top row of the right-center field bleachers. Ackenhausen struck out Ledbetter and Hines with two runners in scoring position to end the inning.
LSU recaptured a 4-2 lead in the seventh when Dugas and left fielder Tre' Morgan both got hit by pitches and Dylan Crews walked to load the bases. White singled to drive in Dugas and then Beloso grounded into a double play, but Morgan scored from third on the play for a 4-2 lead.
Hurd relieved Ackenhausen to start the eighth and Mississippi State scored six runs and took its first lead of the game and series, 8-4, on the strength of a pair of home runs from Kellum Clark and Colton Ledbetter. Clark hit a two-run, opposite-field home run off Hurd, while Ledbetter hit a three-run shot off Riley Cooper.
Thompson doubled down the left-field line with one out in the bottom of the eighth after Jones struck out. Dugas grounded out to short for the second out, advancing Thompson to third. But Morgan flew out to center field to end the LSU threat.
Mississippi State added a run in the top of the ninth to go up, 9-4, and LSU was not able to score in the bottom of the ninth.
yeah, if I was playing left field, I wouldn't turn around either … we all knew that was gone@haydenrt_ | SECN+ pic.twitter.com/7t5v75V5gA

— LSU Baseball (@LSUbaseball) May 14, 2023
Ty sends two down on strikes to get us started@tyfloyd2525 | SECN+ pic.twitter.com/bkRnE1FKuM

— LSU Baseball (@LSUbaseball) May 13, 2023