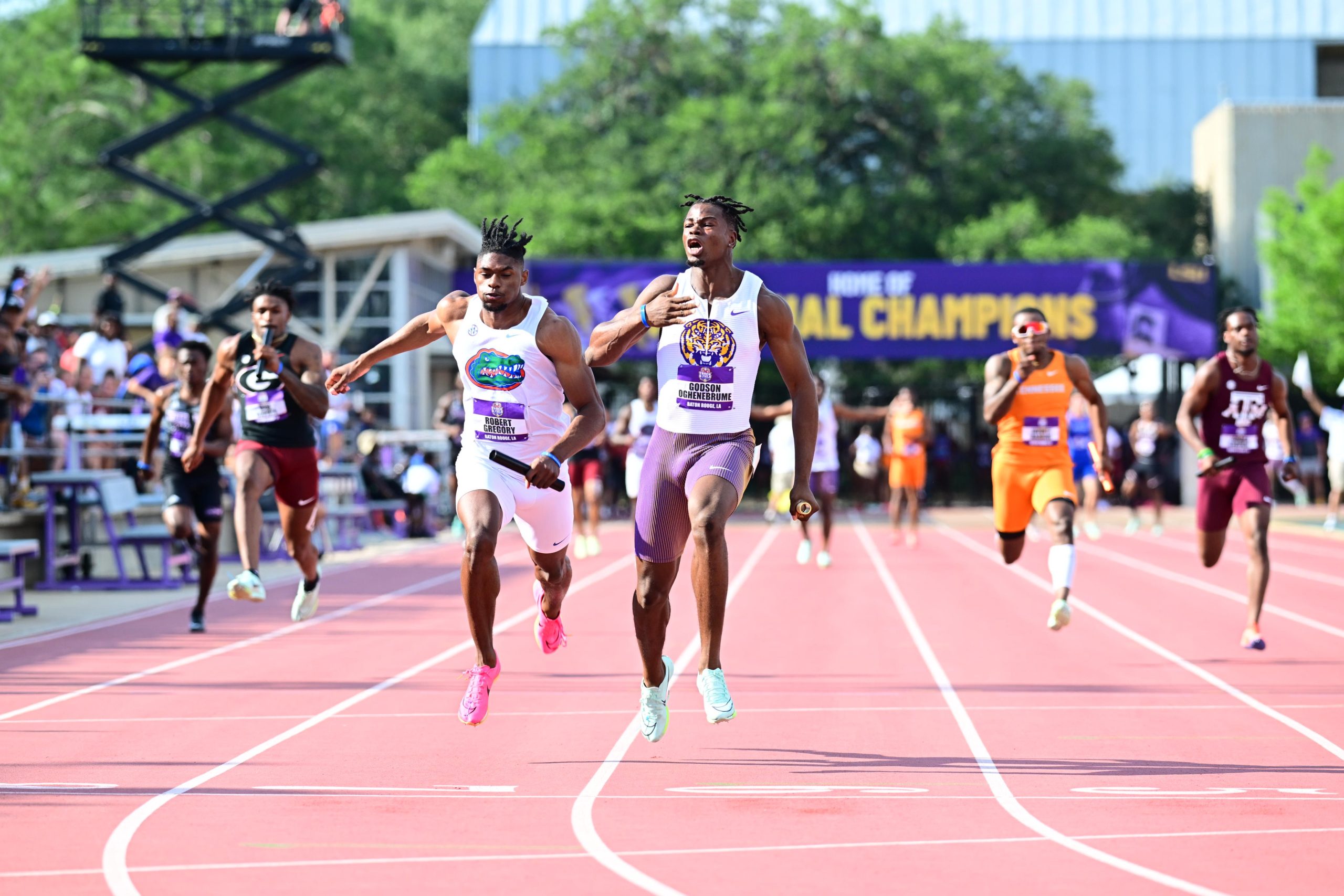 Led by a pair of victories from the nation's leader in the 4×100 relay and one of the members from that team, the LSU men finished second in the Southeastern Conference's Outdoor Championships which concluded Saturday at Bernie Moore Stadium.
The Tigers totaled 89 points to finish behind champion Arkansas (149) and ahead of third place Tennessee (87).
The quartet of Brandon Hicklin, Dorian Camel, Da'Marcus Fleming and Godson Oghenebrume were able to hold off Florida in a heated battle to win the 4×100 in a time of 37.90 seconds followed by the Gators at 37.93. The Tigers set a collegiate record that shaved .34 seconds off of the previous record, also held by LSU, set in 1998, and is the third top-10 time in LSU history produced by the squad.
"This is what we work for," Fleming said. "All year we just been getting the stick around the track and getting faster and faster every week, so it feels good to have that number (37.90) up there right now. Brandon always catches the guy in front of him, Dorian just got the stick and opened it up, I put at least two more meters ahead, and Godson closes it and brings it home."
LSU, which is ranked second in the world, set a school record in the process which was previously 38.24 in 1998 and a facility record which was 38.82 which stood since 2002.
Oghenebrume came back after anchoring the 4×100 group with another first place in the 100 meters in a time of 10.04 seconds for the fourth best time in school history.
Camel produced a total of 23 points, adding a third place in the 100 meters (10.19) while Oghenebrume had 20 points.
LSU's women had three first-place finishes in the 4×100 relay, 100 meters and 800 run.
Alia Armstrong teamed with Favour Ofili, Brianna Lyston and Thelma Davis to hold off Kentucky and win the 4×100 42.92 to 42.93 and Armstrong added a first in her specialty event – the 100 hurdles.
Michaela Rose made it look rather easy with a four-second victory in the 800 (1 minute, 59.73 seconds) meters.
"I wanted to get out more aggressive, but coach (Houston Franks) wanted told me to go for a different game plan just to secure the win," Rose said. "The plan was to be in front of everybody the whole time. I just came here to win, but beating the meet record is a blessing and I thank God for it."
Lorena Rangel-Batres was the runner-up in the 1500 meters (4:17.91).
LSU's women were seventh (57) in the team standings. Arkansas (134) led the way followed by Florida (112).
LSU's qualifiers will compete in the NCAA East Regionals on May 24-27 in Jacksonville, Fla.
Additional Point Scorers
Dorian Camel – 3rd place (6 points) – 100
Claudio Romero – 4th place (5 points) – Discus
Sean Burrell – 4th place (5 points) – 400 Hurdles
Davis Bove – 5th place (4 points) – 1500
Men's 4×400 – 5th place (4 points)
Matthew Sophia – 5th place (4 points) – 110 Hurdles
Apalos Edwards – 5th place (4 points) Triple Jump
Favour Ofili – 5th place (4 points) – 100
Alex Selles – 5th place (4 points) – 800
Beau Domingue – 6th place (3 points) – Pole Vault
Da'Marcus Fleming – 6th place (3 points) – 100
Dorian Camel – 6th place (3 points) – 200
Favour Ofili – 6th place (3 points) – 200
Women's 4×400 – 7th place (2 points)
Shani'a Bellamy – 8th place (1 point) – 400 Hurdles
Da'Marcus Fleming – 8th place (1 point) – 200
Jaden James – 8th place (1 point) – Discus Throw