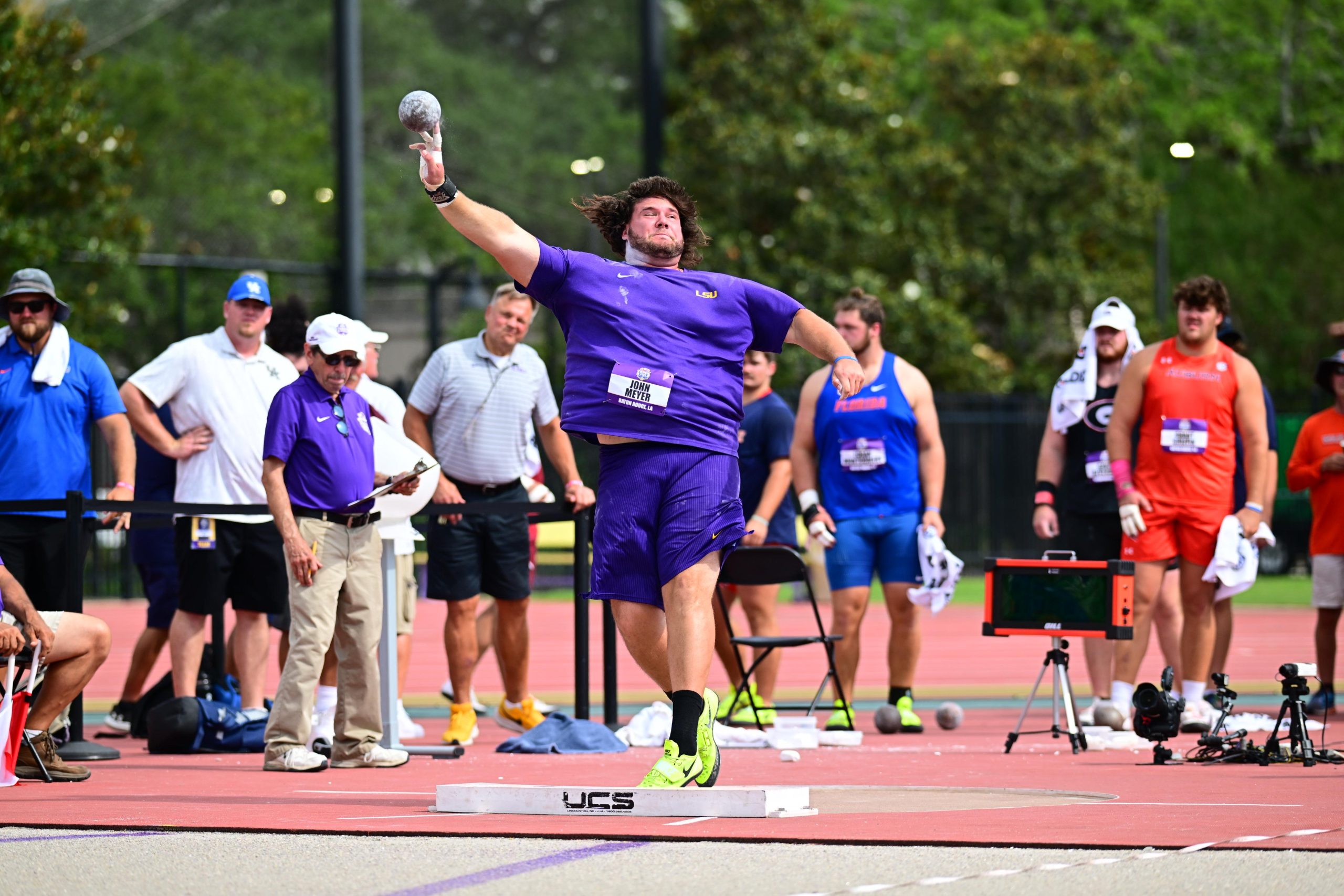 LSU's John Meyer and Brandon Hicklin combined for 12 points on the second day of the Southeastern Conference Outdoor Track & Field Championships at Bernie Moore Stadium.
Meyer tied his school record with a throw of 67 feet, 3 ½ inches to finish second in the shot put, while Hicklin was fifth in the long jump (25-10 ¼) during Friday's competition.
LSU's men are in seventh place in the team standings with 21 points through two days and trail first place Arkansas (57).
The LSU women are in 12th place with five points, trailing first place Arkansas' 61 points, but have seven women qualified in Saturday's finals which begin at 2 p.m. with field events and 5:05 with running events. The Tigers' men have nine competitors in action Saturday.
Morgan Smalls was fourth in the long jump (20-1 ½) to score points for LSU's women.
School record holder Alia Armstrong had the top qualifying time in the 100 hurdles with a wind-aided time of 12.31 seconds. Teammates Favour Ofili qualified in her second running event, the 100, with a second-place time of 11.35 in her heat, while Lorena Rangel-Batres qualified in the 1500 (4:21.23).
Three members of LSU's No. 1 4×100 relay team both qualified in the 200 meters with Da'Marcus Fleming and Godson Oghenebrume each winning their respective heats (10.16 and 10.18, respectively) and Dorian Camels was third in his heat (10.16).
Davis Bove won his heat of the 1500 (3:44.0) and Matthew Sophia qualified in the 110 hurdles (13.59) with the seventh fastest time.