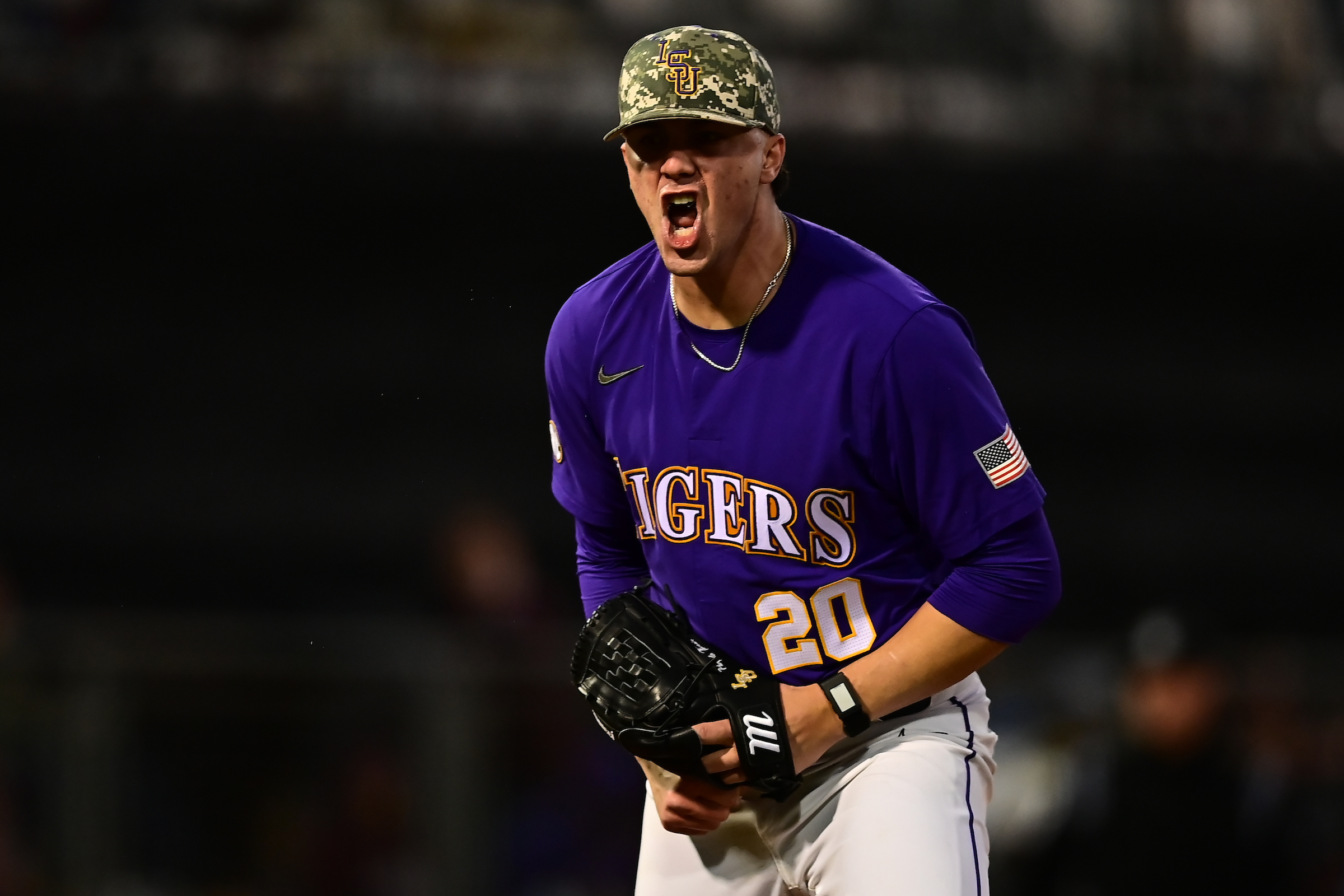 There's a new verb in college baseball's vernacular. You may not have heard it yet. But, you will.
Texas A&M learned about it first-hand on Friday night.
LSU "skened" Texas A&M and took advantage of the domination that is a skeneing to beat the Aggies, 9-0, in the Southeastern Conference opener at Blue Bell Park in Bryan-College Station.
The No. 1 Tigers jumped on the Aggies early, scoring four runs in the first three innings and then pushing across five runs in the ninth while riding starter Paul Skenes' dominate pitching performance for more than six innings.
Skenes (5-0), a junior transfer from Air Force, struck out 11 and gave up only four hits in 6.1 scoreless innings of work in his first-ever SEC game.
Tommy White, Tre' Morgan, Dylan Crews and Josh Pearson each had two hits for the Tigers, while White drove in three runs. Morgan and Crews each scored three runs for LSU.
"He could do it against a major league lineup right now and I believe that," LSU coach Jay Johnson said of Skenes.
Nathan Dettmer (1-2) absorbed the loss for the Aggies, allowing four runs on six hits in 6.0 innings with four walks and five strikeouts.
LSU (17-1, 1-0 SEC) won its 12th straight game, picked up its seventh shutout of the season and ended the Aggies' eight-game winning streak. The Tigers will play at Texas A&M (13-5, 0-1) again on Saturday at 2 p.m. The game will be broadcast on the LSU Sports Radio Network (98.1-FM) and streamed on SEC Network +.
"We want to be a team that can win any type of game," Johnson said. "When the wind is blowing in, or in a pitcher's duel or a slugfest. We executed those nine runs, and the way batting practice was going with the wind blowing in, four runs seemed like 12 tonight."
LSU took a 2-0 lead in the top of the first when Morgan singled to right with one out, and then Crews singled, sending Morgan to third. White walked to load the bases, and then Gavin Dugas hit a sacrifice fly, driving in Morgan, and then Pearson hit an RBI single scoring Crews.
With one out in the bottom of the first, Hunter Haas hit a two-seam fastball from Skenes down the third-base line for a stand-up double. Jack Moss flied out to left for the second out. Skenes struck out Austin Bost swinging to end the Aggies scoring threat. It was Skenes' second strike out.
LSU went three up, three down in the top of the second.
Aggies center fielder Jordan Thompson hit a two-out infield single when he reached first on a sharp grounder that White fielded at third as it drove him to his knee and then struggled on the throw. But Skenes struck out the next batter, Jace Laviolette, swinging to end the inning.
LSU scored two more runs in the top of the third on three hits. Morgan opened the inning with a single to left field, followed by a double to right from Crews that advanced Morgan to third and scored on a wild pitch from Dettmer. White singled through the left side of the infield to drive in Crews from third, making it 4-0, LSU.
Kasen Wells singled to left field with one out in the bottom of the third for the Aggies' third hit off of Skenes to that point. With a full count, Skenes forced Haas to hit a grounder to shortstop, and Thompson was able to force Wells out at a second but LSU had no chance to turn the double play. Moss then lined out to Skenes for the third out.
Skenes only needed 10 pitches in the fourth to put the Aggies down in order, striking out both Bost and Ryan Targac on three pitches before Kaeden Kent flied out to shallow left to end the inning.
Brady Neal walked with one out in the sixth and then advanced to second on a wild pitch. Thompson grounded out to third, and then with two outs, Neal tried to score from second on a passed ball that drifted down the third base line. Kent's throw home nailed Neal. The call was reviewed but Neal was ruled out.
Moss' two-out single in the bottom of the sixth ended a streak of 10 straight retired by Skenes. Moss took second on Skenes' second wild pitch of the season. With Skenes nearing 100 pitches, struck out Bost swinging, his eleventh strikeout, to end the inning.
Shane Sdao relieved Dettmer to start the seventh. Morgan walked with one out after Kling flew out to left for the first out, then Crews flew out to center. White flew out to right.
Nate Atkenhausen relieved Skenes with one out in the bottom of the seventh, gave up a walk after striking out one and then slammed the door shut with another strike out.
LSU, which scored five runs on two hits in the ninth, loaded the bases and White began clearing them by hitting a two-RBI single to right-center field scoring Paxton Kling, who had doubled and Morgan after he was hit by pitch. Crews, who is now batting .526 on the season, moved to third on White's hit and scored his third run of the game when Pearson walked after Dugas' hit by a pitch.
Christian Little picked up his second save of the season for LSU, pitching 1.1 innings, facing four batters, striking out one, allowing no hits and walking none.
Pearson started the game in left field, marking his first start since February 25. He responded with two hits and two RBI in the Tigers' win.
"I have a lot of trust in Josh, and I've seen him match up in these games against these types of pitchers," Johnson said. "Just because a guy hasn't been in there every day doesn't mean he's not an SEC type of college baseball player. I had a good feeling about the work that he'd been putting in the last couple of weeks."