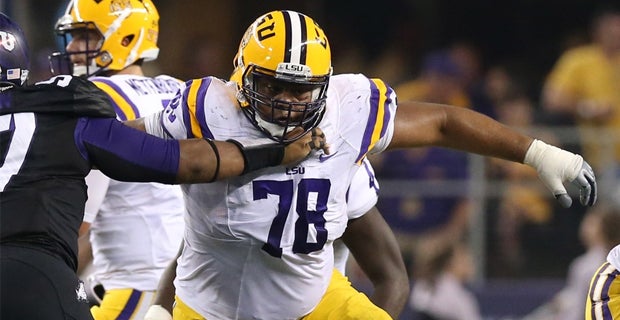 LSU was notified in March of "questionable issues" stemming from an audit into the alleged embezzlement from Our Lady of the Lakes Hospitals in Baton Rouge.
Sources confirmed at that time that one of the issues related to payments made from John Paul Funes, the former chief fundraiser of the OLOL foundation, to the father of former LSU offensive lineman Vadal Alexander.
Funes admitted in federal court Thursday that he embezzled more than $550,000 from the foundation. Court documents and media reports shed more light on the nature of the scandal's links to LSU.
According to documents, Funes sent about $180,000 to James Alexander, the father of Vadal. This figure was first reported by the Baton Rouge Business Report.
It is unclear when the transaction(s) in question occurred, or for what purpose.
Vadal Alexander was a four-year starter at LSU from 2012-2015. He was selected in the seventh road of the 2016 NFL draft by the Oakland Raiders.
Funes, 49, pleaded guilty as charged to wire fraud and money laundering. A date for his sentencing hearing has not yet been announced.
Funes admitted he embezzled more than $550,000 over a seven-year period, stealing gift cards meant for cancer patients, flying family and friends to LSU and New Orleans Saints football games and sending money to persons who did little to no work for the foundation he headed — much of which was funneled back to him.
That last part linked the story to the family of another former Tiger, Rohan Davey.
According to a report from the Baton Rouge Business Report, Davey confirmed that his Florida-based mother and sister referenced in court documents as having received money from Funes.
The two individuals collectively received 18 checks from Funes totaling $107,000, some $63,000 of which they later "funneled back" to Funes, according to the report.
Davey was a standout quarterback at LSU from 1998-2001. It should be noted that Funes did not begin working at the foundation until years after Davey's college career ended.
The former starting quarterback has publicly denied any wrongdoing or knowledge of the scheme involving his family.
"The article makes it seem that I'm aware of all this stuff and that's not true," Davey said during an interview on ESPN 104.5 in Baton Rouge.