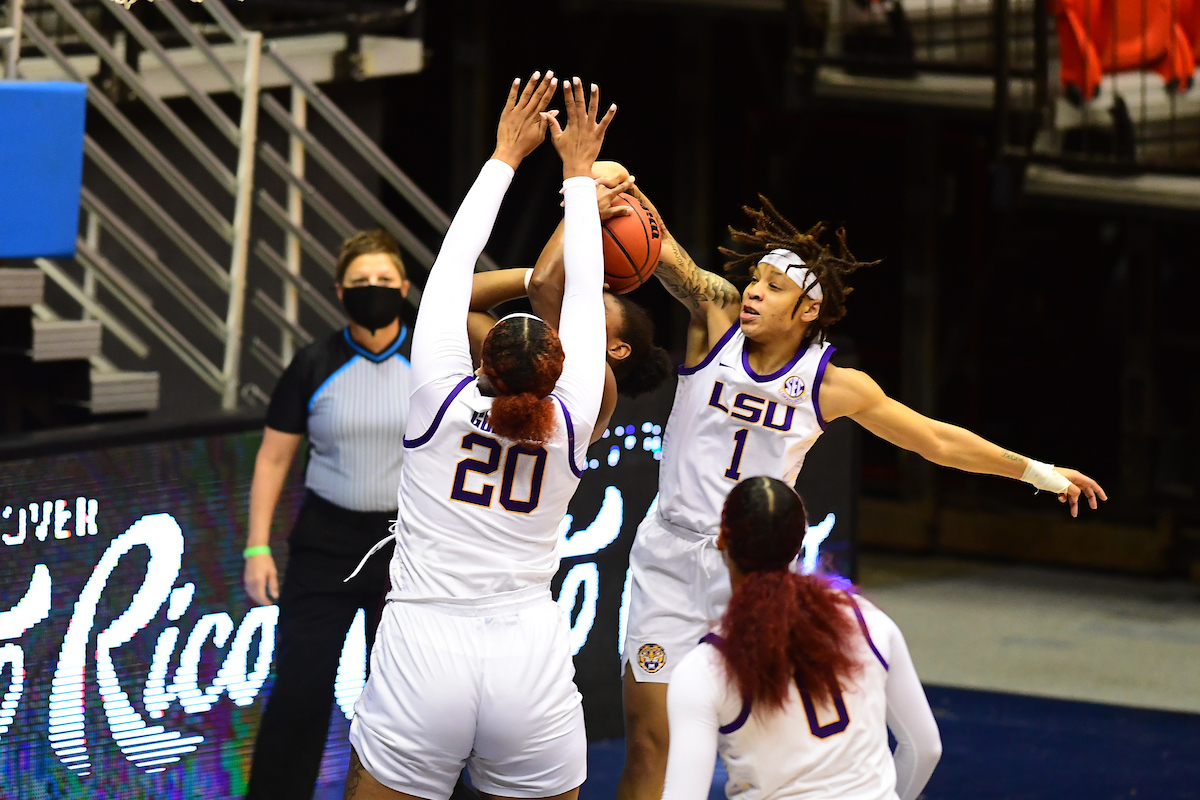 Given their recent resume' of two straight Sweet 16 appearances in the NCAA Tournament, LSU women's basketball coach Kim Mulkey held Missouri State as a team that would serve as an early litmus test for her program.
LSU closed out its two-day stay in the San Juan Shootout with Mulkey's first signature Tigers' win, making a nine-point halftime lead stand behind All-SEC guard Khayla Pointer's 25 points and a solid team defensive effort for a 66-58 victory at Roberto Clemente Coliseum.
"This game is a big win for our program headed in the right direction," Mulkey said. "That team is darn good. That team beat Maryland last year, they beat Florida Gulf Coast. That team's probably going to win their league again. I'm just so proud of the girls for the way they competed."
Pointer enjoyed her second straight 20-plus point output and pulled down six rebounds for LSU (5-1) which pulled away over the last three minutes of play. Texas A&M transfer Alexis Morris added 13 points, including a key 3-pointer with 3:22 remaining, that gave the Tigers a 60-52 lead.
Morris was 0 of 14 coming into the game from 3-point range but took a pass from Hannah Gusters and with the shot clock winding down buried her attempt.
"I knew she hadn't made one," Mulkey said. "But I tell them you've got keep shooting. You can't ever be gun shy. Never lose your confidence, just keep shooting."
LSU also got help from graduate student Autumn Newby with six points and team-high 10 rebounds and Ryann Payne added eight points and five rebounds.
Mulkey also praised the defensive efforts of Newby against Missouri State's Jasmine Franklin, a two-time Missouri Valley Conference Player of the Year, while Payne and Jailin Cherry made life difficult from double-digit scorer Brice Calip.
Franklin wound up with 13 points and 12 rebounds and Calip finished with nine.
The Tigers shot 42.1 percent from the field, but were outrebounded 40-37 by the Bears, who shot 36.1 percent.
Missouri State (4-2), which received votes in last week's ESPN/Coaches Top 25, was led by guard Sydney Wilson's 19 points.
"We knew and respected how good they were," Mulkey said. "We battled and that's what we're going to have to do night in and night out."
Missouri State went on a 10-2 out of the halftime locker room with Franklin scoring consecutive layups with the Bears getting to within 39-36 at the 6:59 mark.
The game was then tied twice over a two-minute stretch when Morris' baseline drive snapped a 42-42 deadlock and gave LSU the lead for good.
The Tigers opened the fourth quarter on a 7-0 run with Pointer scoring on back-to-back layups for a 55-45 lead with six minutes left.
"I told KP (Pointer) this is when you're big time," Mulkey said. "It's not the triple-doubles or double-doubles. Those are lifetime memories. It's making big shots. Making the right pass when you're in a nip and tuck game. That's what separates you from being good and great."
A 3-pointer from Calip with 4:42 remaining reduced LSU's lead to five points (57-52) when Morris dropped in the dagger with her 3-pointer from the wing. The Tigers held the Bears scoreless for more than four minutes until Wilson's second-chance basket with 29 seconds left.
LSU, which finished the first quarter on a 12-4 run for a 20-18 lead, limited Missouri State to five points through nine minutes, opening as much as an 11-point (35-23) advantage with 1:20 showing on Porter's putback, her sixth point of the quarter.
The Tigers put together a 13-4 run midway through the quarter when Cherry converted a steal into a layup and 33-22 lead at the 3:23 mark.
"If you can defend and you can rebound against teams you're not supposed to beat," Mulkey said, "you stand a chance and I think you saw that today."
LSU returns to action at home Dec. 2 in the SEC/Big 12 Challenge against Iowa State at 8 p.m.