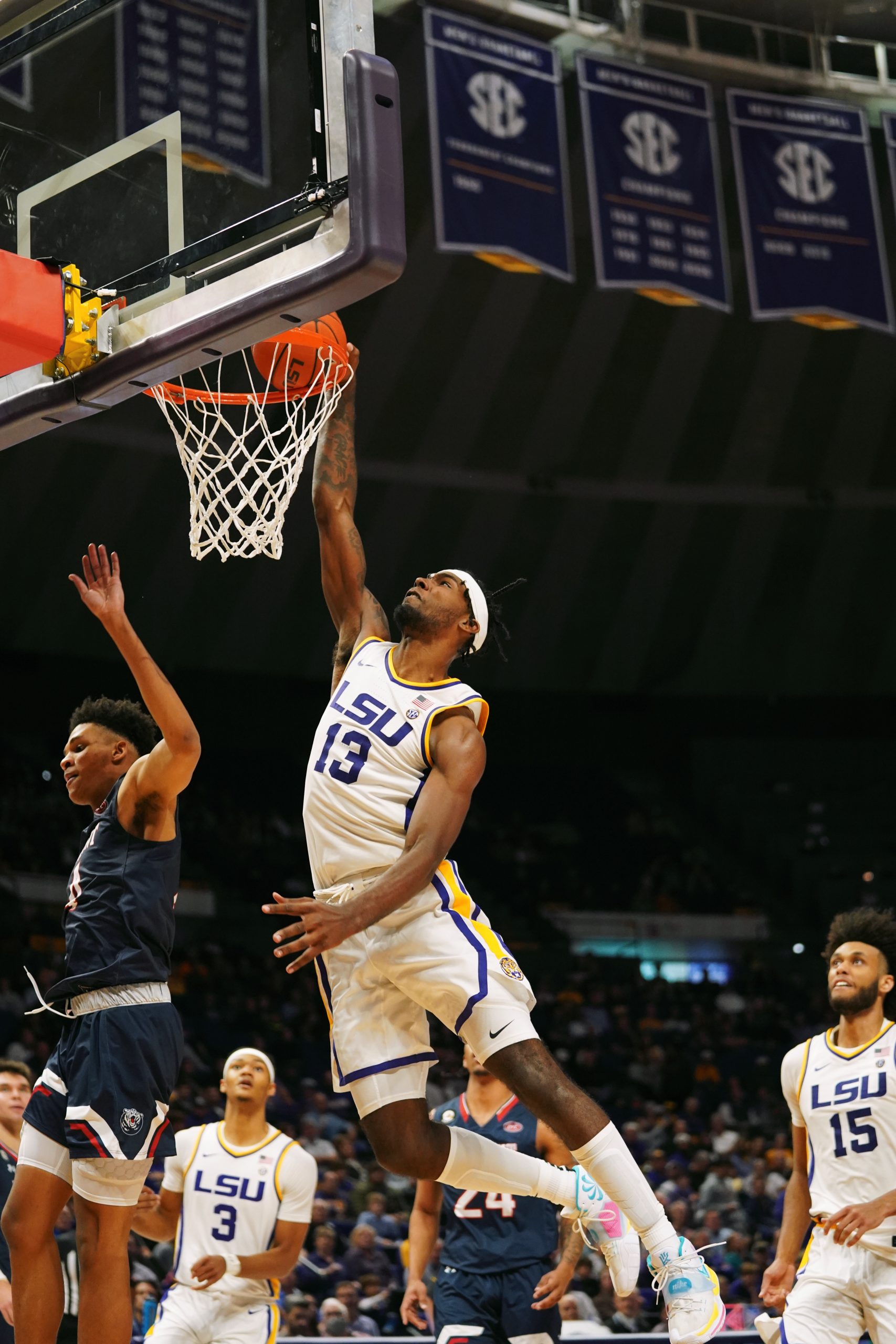 Just about done in by a wily 6-foot point guard and despite not scoring a field goal in almost the last four minutes of the game, unbeaten LSU used free throws, defense and offensive rebounding to edge scrappy Penn State 68-63 in overtime Friday night in the Emerald Classic in Niceville, Fla.
The Tigers (6-0) scored 8 of its 10 overtime points from the free throw line after Penn State forced OT when Seth Lundy flipped in a follow shot for a 58-58 tie with 0.6 seconds left.
LSU scored the first six points of the extra five-minute period before Penn State worked itself back to just a three-point deficit trailing 66-63 with a shot at a tie with 7 seconds left.
But Jaheam Cornwell missed a corner 3-pointer with LSU defender Eric Gaines running at him. Tigers' forward Tari Eason rebounded, was fouled with 4.3 seconds left and hit both free throws to salt away the win.
Eason led LSU with a game-high 20 points, fueled by 10 of 12 free throws. Point guard Xavier Pinson, who hit a 3-pointer with 35 seconds left in regulation for a 2-point Tigers' lead and another trey in overtime, added 15 points.
LSU will play the winner of Friday's second Emerald Classic game between Wake Forest and Oregon State in Saturday's finals at 6 p.m.
"That's not the type of game in the past – when we don't make shots – that we've typically been able to win," LSU coach Will Wade said after Friday's victory. "But we did what we do. We annihilated them at the free throw line (outscoring PSU 16 to 3). We killed them (scoring) in the paint (a 40-22 Tigers' domination). We did a great job on the offensive glass (17 offensive rebounds leading to 15 second-chance points).
"We didn't play our best tonight. Our defense and our rebounding (a 42-35 LSU advantage) bailed us out. We haven't been able to say that a lot around here."
Penn State led at the half, 29-26, and much of LSU's shortcomings were self-inflicted.
The Tigers tried too hard to speed the pace of the game to the point they took too many shots too quickly, especially from 3-point range where LSU was 2 of 14.
LSU had first-half stretches when it missed 7, 5 and 6 shots in-a-row and misfired on 9 of its last 11.
Penn State, on the other hand, hit 6 of 20 3's because it was willing to make an extra pass or two to find completely wide-open shooters.
The Nittany Lions built a pair of 5-point leads in the first 3½ minutes of the second half, despite LSU doing a better job of being more patient in its halfcourt offense.
An 8-2 LSU scoring burst, starting and ending with baskets by Gaines, gave the Tigers a 40-39 lead with 12:47 left to play early in the second half.
The teams took turns trading mini-runs, including a 7-2 LSU spurt to boost the Tigers to a 5-point advantage at 54-49 with 3:19 left.
From that point, Penn State guard Sam Sessoms scored all of the Nittany Lions' points in a 7-1 run that gave PSU a 56-55 lead with 55 seconds left. Sessoms finished with 13 points and 10 rebounds.
Out of a timeout, Pinson calmly drilled a 3-pointer that could have been the game-winner if LSU could have tracked down a forced Penn State 3-point miss in a wild scramble just before the final buzzer sounded to end regulation.
PSU's Myles Dread's leaning 3 from straight on fell short but just cleared the hands of LSU forward Darius Days. PSU's Jared Pickett grabbed the miss, flipped a missed follow shot and Lundy grabbed it and banked in the game-tying basket.
Yet in overtime, LSU's defense and Eason's offense took over, giving the Tigers a chance Saturday to win an early season tournament for the first time in 15 years.
"I think our guys really followed the game plan to a `t'," said Penn State coach Micah Shrewsberry, whose team fell to 3-2. "We knew it would be a challenge on the glass, knew they're (LSU) gonna rebound like this.
"They're gonna rebound like this tomorrow. They're gonna rebound like this when SEC play starts. This is who they are. It's a huge part of how they play."