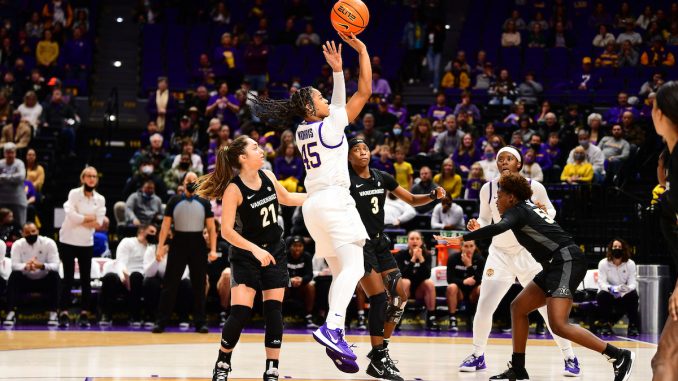 LSU's first year women's basketball coach Kim Mulkey's still has to pinch herself.
The No. 12 Tigers go into the first of two bye weeks on the Southeastern Conference schedule with an overall record of 17-2 and 5-1 in league play following Sunday's 82-64 victory over Vanderbilt at the Pete Maravich Assembly Center.
"Who would think that we would be where we are right now," Mulkey asked. "I certainly didn't because I didn't know these kids until I got on that floor with them in October. What a roll we're on."
Mulkey, who won three national championships in 21 seasons at Baylor, returned to her native Louisiana where she inherited seven players from a team that finished 9-13 and was eighth in the SEC.
LSU continued its resurgence under Mulkey, turning a seven-point halftime lead (43-36) into a 66-45 advantage on the strength of 71.4% shooting in the third quarter.
The Tigers rattled off the first eight points of the quarter, four from Khayla Pointer, and put together a 13-2 run over the last 4:40 and outscored the Commodores (10-8, 1-3 in SEC) 23-9 overall.
LSU, which shot 58.3% (35 of 60) for the game, twice increased its lead to as many as 27 points, the latter coming on a 3-pointer from Sarah Shematsi with 2:06 left.
Alexis Morris scored 18 of her 20 points in the first half with Faustine Aifuwa matching her career-high of 20 points on 10 of 12 shooting. Pointer scored 12 of her 17 points in the second half and Jailin Cherry had 12 points, narrowly missing out on a triple-double with nine rebounds and eight assists.
Pointer also grabbed seven rebounds, handed out seven assists and had four steals.
"I know I'm a little partial but I'm still like we have three or four of the best guards in the country," said Mulkey, adding reserve Ryann Payne into the group. "They're quick. They can shoot the 3-ball, they can shoot mid-range, they defend you. When our posts do what Faustine did today, and we have multiple ones doing that, it just makes us harder to defend."
LSU played its first game without graduate transfer Autumn Newby because of a strained Achilles she suffered in Thursday's overtime win over Missouri. She was 10th in the SEC in rebounding with 7.7 per game.
Senior Awa Trasi started in her place and scored four points with seven rebounds in 24 minutes.
The Tigers outrebounded the Commodores 43-18 and outscored them 48-20 in the paint.
"I'm playing four guards sometimes out there today," Mulkey said. "I just told him you got to battle and rebound. You don't win many games when they only get 18 rebounds. But the reason we won is because we just shot the ball really well."
That was theme that took hold in the first half where LSU, which only trailed for 27 seconds in the game, took the lead for good at 6-5 on Pointer's steal and driving layup. The Tigers built their first double-digit lead at the 6:13 mark when Aifuwa, who was trailing on the break, finished a drive in the lane on a feed from Pointer.
Morris capped a torrid first half, making 8 of 10 shots that included a 15-foot jumper, snowbird layup and a free throw that made it 39-33 with just under two minutes left before halftime.
"I'm just telling you collectively they're as good as anybody in the country," Mulkey said of her guard trio. "They're quick and they can shoot it and they can score it."