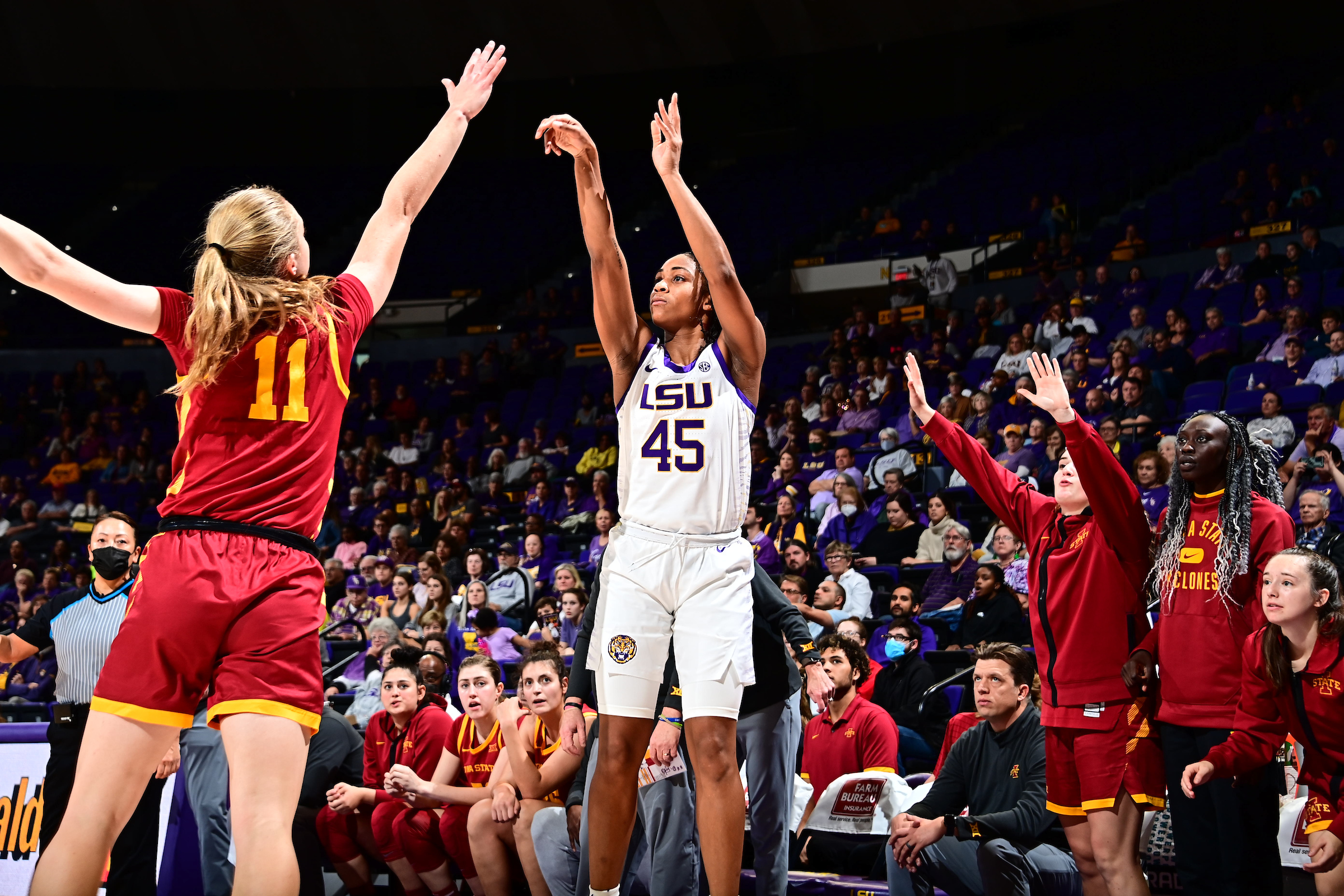 LSU senior guard Alexis Morris must have felt like it was old times.
The former member of the Big 12 Conference All-Freshman team while at Baylor, Morris erupted for a career-high 25 points and Khayla Pointer added 20, leading LSU to 69-60 upset victory Thursday over No. 14 and previously undefeated Iowa State in the SEC/Big 12 Challenge, the first ranked opponent the Tigers have faced this season.
"I give credit to my teammates and coaches," Morris said. "I just let the game come to me."
LSU (6-1) won its fifth straight game and heads into an 11-day break for exams. It was the first non-conference home win over a ranked team since 2014.
Morris scored 15 of her 25 points in the first half and was 5 of 7 from 3-point range overall after having made only 1 of 15 coming into the game.
Pointer scored 10 points in each half, going 9 of 19 from the field with six rebounds, seven assists and no turnovers in 40 minutes of play.
"That's a great guard combination," Iowa State head coach Bill Fennelly said.
Morris spent her first season at Baylor where she scored a then career-best 19 points against Texas in the Big 12 Conference championship in 2018. She was kicked off the team by Mulkey for repeated team rules violations, subsequently transferred to Rutgers and then last year to Texas A&M where she scored a season-high 18 points.
"We beat a very good team," LSU women's coach Kim Mulkey said. "I can't tell you how must respect I have for Bill Fennelly. We beat a young, but experienced team. Great crowd. This is another one of those little milestones help us rebuilding the program."
LSU fended off several challenges from Iowa State (7-1) in the final quarter where the Cyclones got as close as 56-53 with 8:48 to play on a 3-point basket from Ashley Joens who topped the Cyclones with 24 points.
The Tigers rattled off six consecutive points with a basket from Pointer, extending her team's lead to 62-53 with 6:32 showing. The margin never dwindled below six points and the Cyclones missed their last five shots and didn't score a point over the last 2:37.
With its final possession and the clock under 30 seconds to play LSU held the ball out on the perimeter to a thunderous chant of L-S-U from a crowd of 5,810 that had risen to its feet.
Iowa State posed quite a test on offense with the nation's top-ranked team in 3-pointers made (12.4) per game and the 14th best scoring offense (82.6). The Cyclones were held to a season low in points scored and were limited to 39 percent shooting (9 of 23) from beyond the arc.
"They did everything we asked them to do on the perimeter," Mulkey said of her team's defense. "We switched on ball screens, we switched on handoffs. I thought our coaches did a good job with matchups."
Pointer went on a personal 6-0 run that increased LSU's lead to 54-44 and a driving layup from Ryann Payne, who also had a team-high five steals, made it 56-44 at the 1:47 mark of the third quarter.
LSU overcame the loss of guard Jailin Cherry to a left knee injury and finished the second quarter with a pair of baskets for a 38-32 halftime.
Cherry was going in for an uncontested layup with 1:58 left and missed, landing awkwardly and in obvious pain. She was assisted back to the locker room, but was later cleared for action in the fourth quarter but didn't play.
Pointer worked her way inside of ISU's defense for a short jumper with 34 seconds to go. With the Cyclones trying to hold the ball for one final shot, Faustine Aifuwa knocked the ball away and passed ahead to Payne who beat the buzzer with a layup.
The Tigers also didn't allow the Cyclones to score in the last 3:04 of the quarter and didn't trail after the 5-minute mark of the second quarter.
"We just knew we had to stick together, stick to our game plan and stay calm," Pointer said. "It's a game of 40 minutes. They make their run; we make our run and we came out on top."