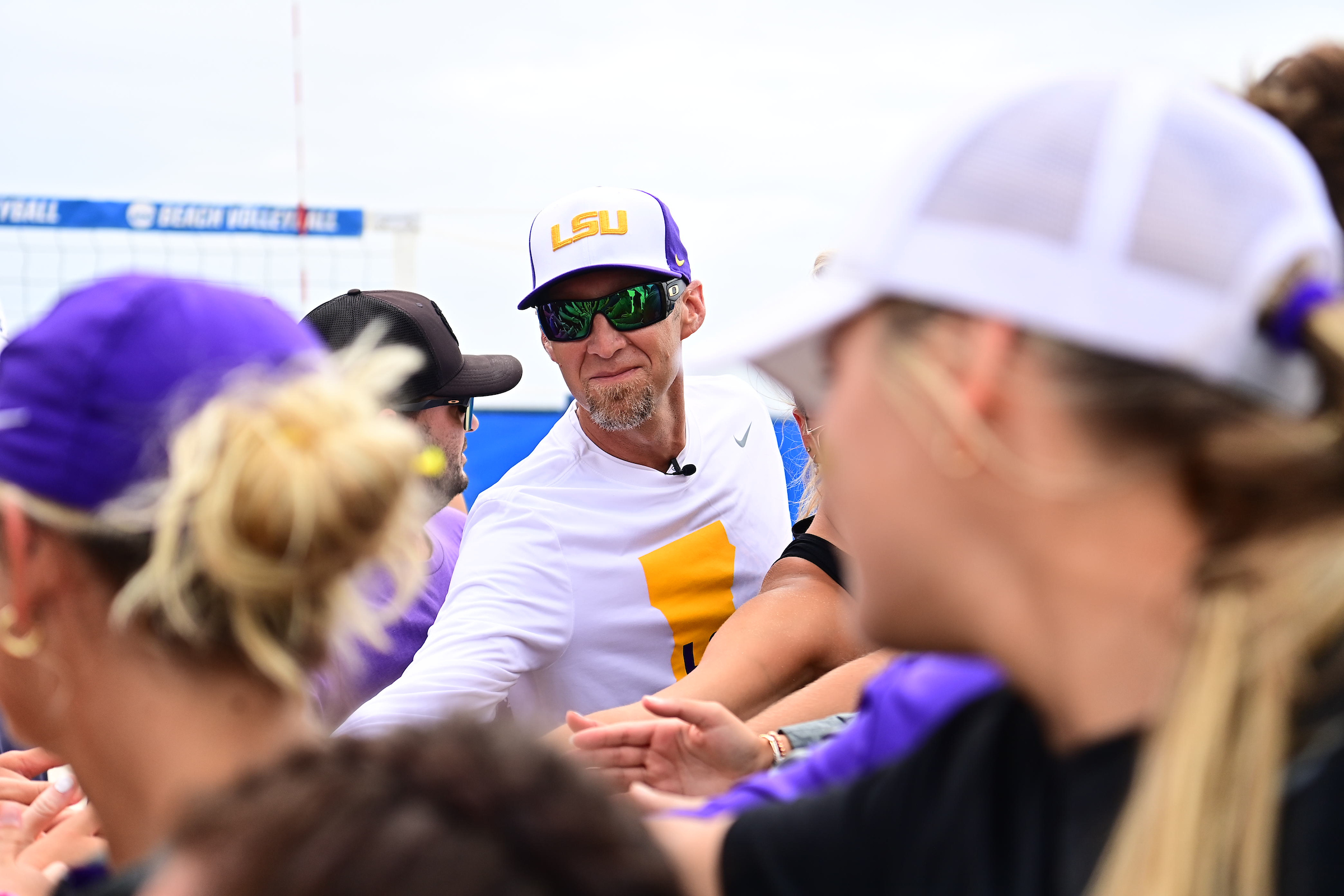 With so many new faces and untested players LSU beach volleyball coach Russell didn't have a road map to follow this season.
Although the Sandy Tigs didn't achieve a program first of hoisting a national championship, Brock may have gotten the next best thing when his team finished the 2023 season with a 27-13 overall record and No. 6 national ranking.
"We had a lot of uncertainty heading into the year and a lot of inexperience and to be able to mold that team, and they worked really hard, to be in a position to compete for a national championship and a conference championship," Brock said. "That's what we're trying to do every year.
"You want to have your last match be a win but only one team gets to do that, and it wasn't us this year," Brock added. "What we were able to accomplish was a success and I'm really proud of the work the team, our coaches and support staff put in to get us in position to give it a really good run at the end of the season."
Graduate student Kylie DeBerg and sophomore Parker Bracken represented the apex of the level of experience LSU was putting on the sand this season with DeBerg having played before on Court 2 and Bracken on Courts 1-2.
To make the Tigers competitive at a national level once again Brock and his staff had to mold a lineup that had either gained experience playing at Court 3 and below or were making their debuts all together.
The result was an LSU team that steadily improved each week and by the end of the season, was battling their annual rivals for superiority in the Coastal Collegiate Sports Association and NCAA Tournament.
LSU won twice at the CCSA Tournament, including a 3-1 victory over fourth-ranked Florida State, before being knocked out in the semifinals by TCU, 4-1.
The Tigers, who registered six wins over Top 25 teams, returned to Gulf Shores, Alabama – the site of the NCAA Championships – and eliminated No. 12 Florida Atlantic (3-2) before bowing out to Florida State (3-0).
In that final match, LSU had three matches extended to three sets, while two others split sets but didn't finish when the Seminoles clinched the match.
National champion USC finished No. 1 followed by UCLA, TCU, Florida State and Loyola Marymount.
"You have to give yourself the chance in those moments to catch fire at the right time and to win a couple of extra points and you're in the final and maybe you pull off the championship," Brock said. "We definitely put ourselves in position to have a shot to be standing at the end."
The five brand-new teams LSU assembled this season flourished throughout but none better than the No. 1 pairing of DeBerg and junior Ellie Shank. They earned AVCA first team All-America honors, the fourth for the program, with a 23-12 record that included six wins over Top 20 teams.
"Kylie's barely a year into her beach career and Ellie hadn't played above the (No. 4) fours until last year," Brock said. "That's a huge indication of the progress that was made and the hard work that was put in."
Senior Grace Seits and Bracken were 24-10 overall and 21-9 on Court 2, junior Reilly Allred and graduate student Hannah Brister went 18-10 (19-10 overall) on Court 3, sophomore Ella Larkin and senior Laura Boos had a 24-6 record (29-4 overall) on Court 4 and graduate student Melia Linder and junior Amber Haynes were 10-9 overall with a 6-9 mark on Court 5. Haynes was also 6-2 on Court 5 with sophomore Cassidy Chambers.
Boos and Larkin earned the AVCA 'Top Flight' award for being able to win 75% of their matches on the same court and had wins over Top 20 teams.
"Our goals are never to finish fifth in nationals," Brock said. "That's not the only indication of the success of the season. We know while we fell short of the ultimate goal, our girls were able to walk off the sand with their heads held high against the teams they competed against on the national stage.
"The final ranking is pretty incredible," Brock added. "We're grateful for that. We're not satisfied but any stretch, but we're really excited about the product we were able to put out. The goal is to make our athletic program proud, make our city proud, make our state proud of the product we're putting out there. That's a high standard in the athletic department, especially on the women's sports side."