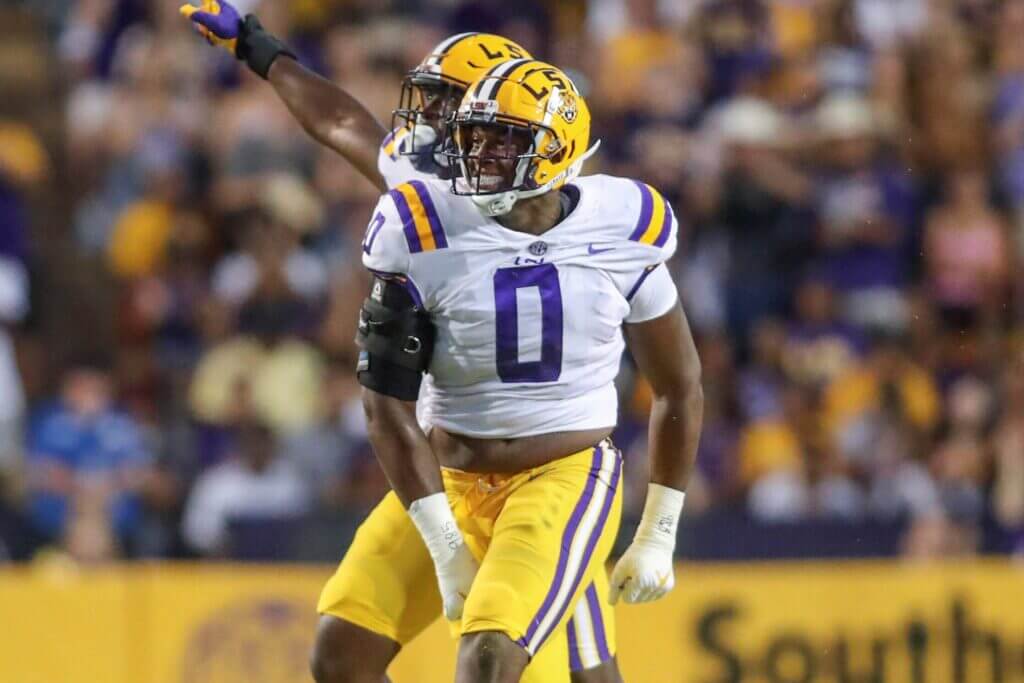 LSU football had herald defensive tackle Maason Smith for one series of the 2022 season. The nation's top-ranked defensive tackle out of Terrebonne High injured himself in the first quarter of the season opener with Florida State celebrating a tackle for loss.
Smith faced ACL surgery and a long road to recovery which the 6-foot-6, 310-pounder said Sunday he's reached, announcing on social media that he's been cleared to return to football activities.
"When you start to move the center to him or use a (running) back inside, now you're going to leave our edge players one-on-one and we'll have a really good, balanced pass rush," LSU football coach Brian Kelly said of Smith before spring practice. "He brings that presence, which we didn't have last year."
Smith had 19 tackles with five stops behind the line of scrimmage in nine games in 2021, earning Freshman All-America honors from the Football Writers Association of America. He was also selected to the All-SEC Freshman team. After surgery and rehabilitation, he took part in individual drills near the end of this past spring practice.
LSU returns third team All-America selection Mekhi Wingo, who finished eighth in tackles (47) last season, junior defensive end Sai'vion Jones (23 tackles) and junior defensive tackle Jacobian Guillory (14 tackles) from last year's team.
The Tigers also signed defensive linemen Paris Shand of Arizona, Jaylen Lee of Florida and Justin Jefferson from the transfer portal and are expecting further development from redshirt freshmen Tygee Hill, Fitzgerald West and Quency Wiggins and incoming freshman Jaxon Howard.
LSU defensive analyst headed to Tulane
Gerald Chatman, who spent the 2022 season on Kelly's staff as a defensive analyst, is leaving the Tigers to rejoin Tulane as a full-time defensive line coach, On3Sports reported.
Chatman was previously at Tulane when he left the Green Wave before spring practice to become a defensive coach at Colorado. He was promoted to co-defensive coordinator in October when the Buffaloes fired Karl Dorrell, but headed to join Kelly at LSU left once new coach Deion Sanders arrived and didn't retain him on staff.
Chatman, who was first at LSU as an analyst under then football coach Ed Orgeron, was a defensive analyst under Kelly and was promoted to interim defensive line coach in the spring when Jamar Cain left to take a coaching position position on the staff of the Denver Broncos.
Kelly said that Chatman was a candidate for the defensive line coaching position but instead hired Jimmy Lindsey of South Carolina.
Reserve kicker enters transfer portal
Redshirt junior placekicker Ezekeal Mata, a walk-on, announced on social media that he was entering the NCAA's transfer portal.
"I was given nothing but great memories that I will remember for the rest of my life but for now a new chapter must begin," Mata said on his Twitter page.
Fellow walk-on kicker Damian Ramos beat out Mata and Nathan Dibert for LSU's starter kicking field goals and extra points, while Dibert took over on kickoffs.
Ramos led LSU in scoring with 85 points which included 55 of 57 extra points and 10 of 14 field goal attempts. Mata, a native of San Marco, California who was at LSU for two years, made his only extra point last season in the Tigers' 63-7 Citrus Bowl win over Purdue.