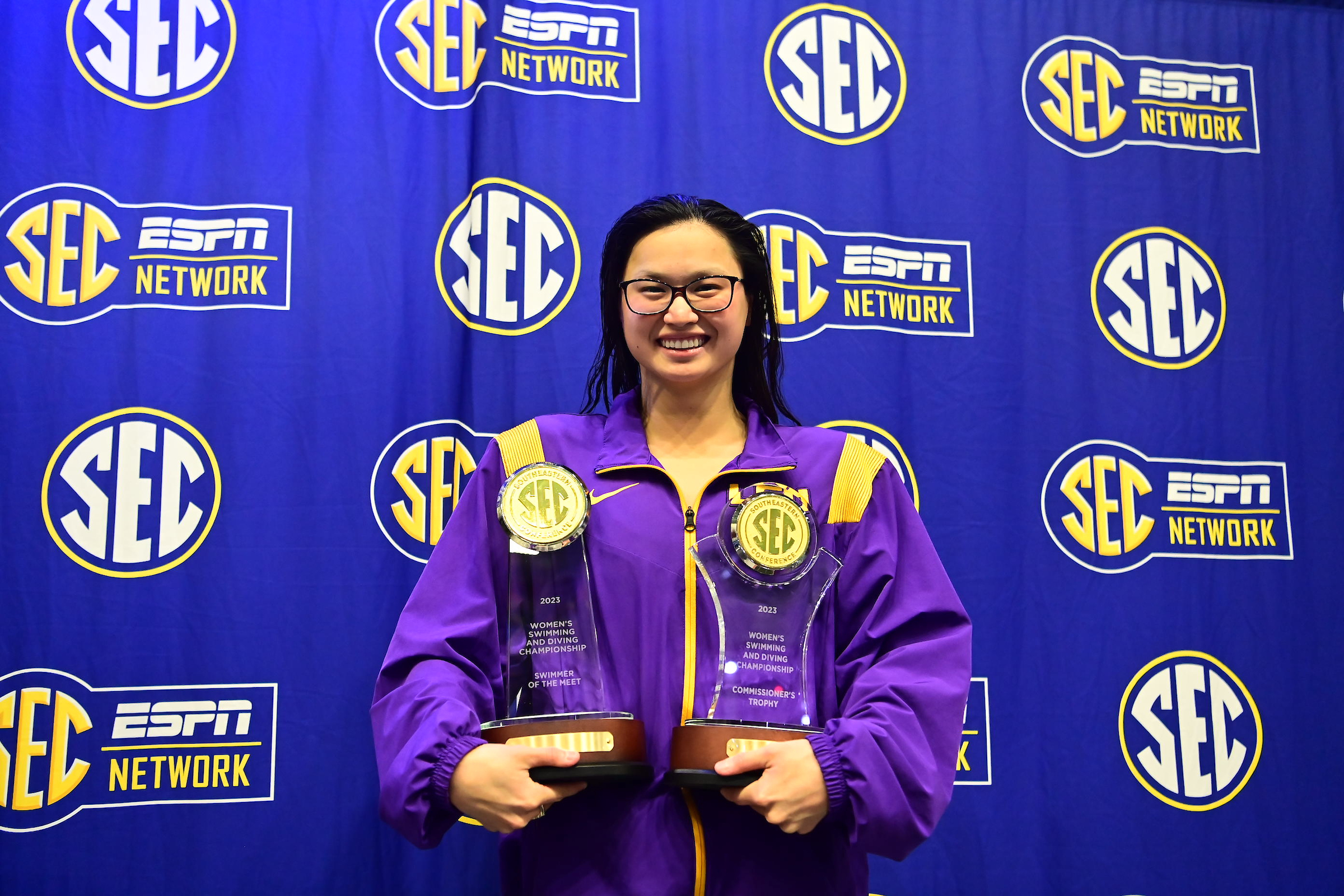 The LSU swimming and diving team capped a memorable performance at the SEC Championships with three more gold medals Saturday at Texas A&M's Red Center Natatorium.
That finish helped to push the Tigers' gold medal count to a record five for the meet and eight overall, helping the team to fifth place in the team standings, the highest finish since the 2014-15 season. The men finished in a tie for 10th with 337 points.
Maggie McNeil won the Commissioner's Trophy for piling up 96 points, becoming the school's first such recipient since 1997. She was also selected Female Swimmer of the Meet.
MacNeil was part of the gold medal 400-free relay, joining forces with Katarina Milutinovich, MacNeil, Michaela de Villiers, and Megan Barnes. MacNeil's 100-free split in the 400-free relay (45.26) is the fastest split in history. With her first-place performance in the 100-free, MacNeil became a three-time individual SEC Champion with previous wins coming in the 50-free and 100-fly. Her time of 46.27 was a facility record.
LSU came into the fifth and final day of the SEC meet with eight medals – five gold and three bronze. During the first two finals of the day, Varga and MacNeil extended the number of gold medals to a program record of seven with wins in the 200-yard butterfly and 100-yard freestyle.
Ella Varga, a freshman, was seeded No. 3 going into the 200-back competition but lowered her school record to 1:51.74 to win the event.
For the men, Olympian Brooks Curry was fifth in A final in the 100 free in a time of 41.88 seconds.
LSU will now prepare for the NCAA Championships with the diving portion of the meet scheduled March 6-9 followed by the swimming events March 15-18.