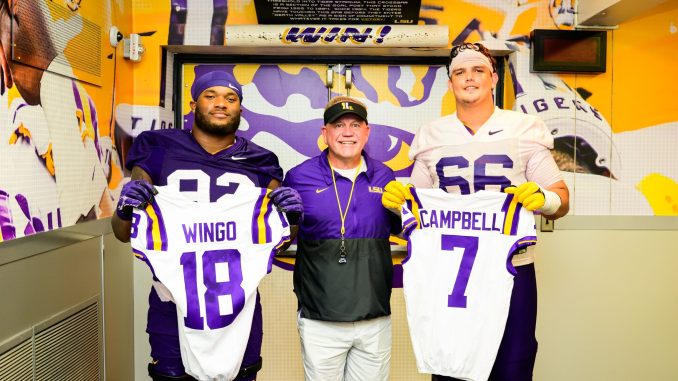 Linemen ruled the day when LSU kept its tradition alive by handing out jersey numbers 18 and 7.
LSU released Saturday that junior defensive tackle Mekhi Wingo, a third team AP All-American a year ago, will wear No. 18 during the 2023 season, while sophomore offensive tackle Will Campbell, a first team Freshman All-American, will wear No. 7 second-year coach Brian Kelly announced.
"Traits of excellence, spirit and talent" LSU's said in its release of Wingo.
The 6-foot-1, 295-pound Wingo, a transfer from Missouri, impacted LSU's defensive line from the time Tigers lost highly touted defensive tackle Maason Smith to a torn ACL in the 2022 season opener against Florida State. The native of St. Louis, Missouri played in 13 games, collected 47 tackles with six tackles for loss for minus-34 yards, and three sacks for minus-29 yards.
"The number 18 has great historical significance with our program," Kelly said in a university release. "It's a number that has national championship significance with Matt Mauck wearing it in 2003 and leading LSU to its first national title since 1958. He passed it on to Jacob Hester who won a national championship in 2007.
Wingo, a second team All-SEC selection in '22 and first team preseason All-SEC choice this season, becomes the third defensive lineman to have the honor bestowed on him. Defensive end BJ Ojulari (2022) and Christian LaCouture ('17) also wore the number for the Tigers.
"This means a lot to me and I want to thank BJ (Ojulari) for showing me how to properly wear this number," Wingo told the team after practice. "I'm going to play my heart out and represent this number and all those who have worn it before me the right way."
The 6-6, 325 Campbell, who will continue wearing No. 66 with a No. 7 patch on his jersey to adhere to NCAA rules for offensive linemen, was also selected to the All-SEC Coaches' preseason first team this season. He's the first offensive lineman to receive such an honor that's typically gone to a skill positioned player from Louisiana.
"Best player from the state of Louisiana will carry on the legacy," LSU wrote of Campbell.
Campbell, a native of Monroe, was LSU's opening day starter at left tackle and wound up making 13 starters and participating in 882 snaps and another 75 snaps on special teams. He was guilty of one penalty and allowed three sacks the entire season.
"The (number) 7 has an interesting history that starts with Patrick Peterson," Kelly said when presenting Campbell his jersey. "He was an outstanding player. Prolific playmakers have worn (number) 7. I wanted to take a spin and make it about Louisiana. That's my spin. This year we wanted to highlight the group that doesn't get much notoriety. We went with Louisiana bred Will Campbell. I like the significance of the left tackle because he is a playmaker who must protect the quarterback every play."
Campbell thanked Kelly, the staff and his teammates after being presented his No. 7 jersey.