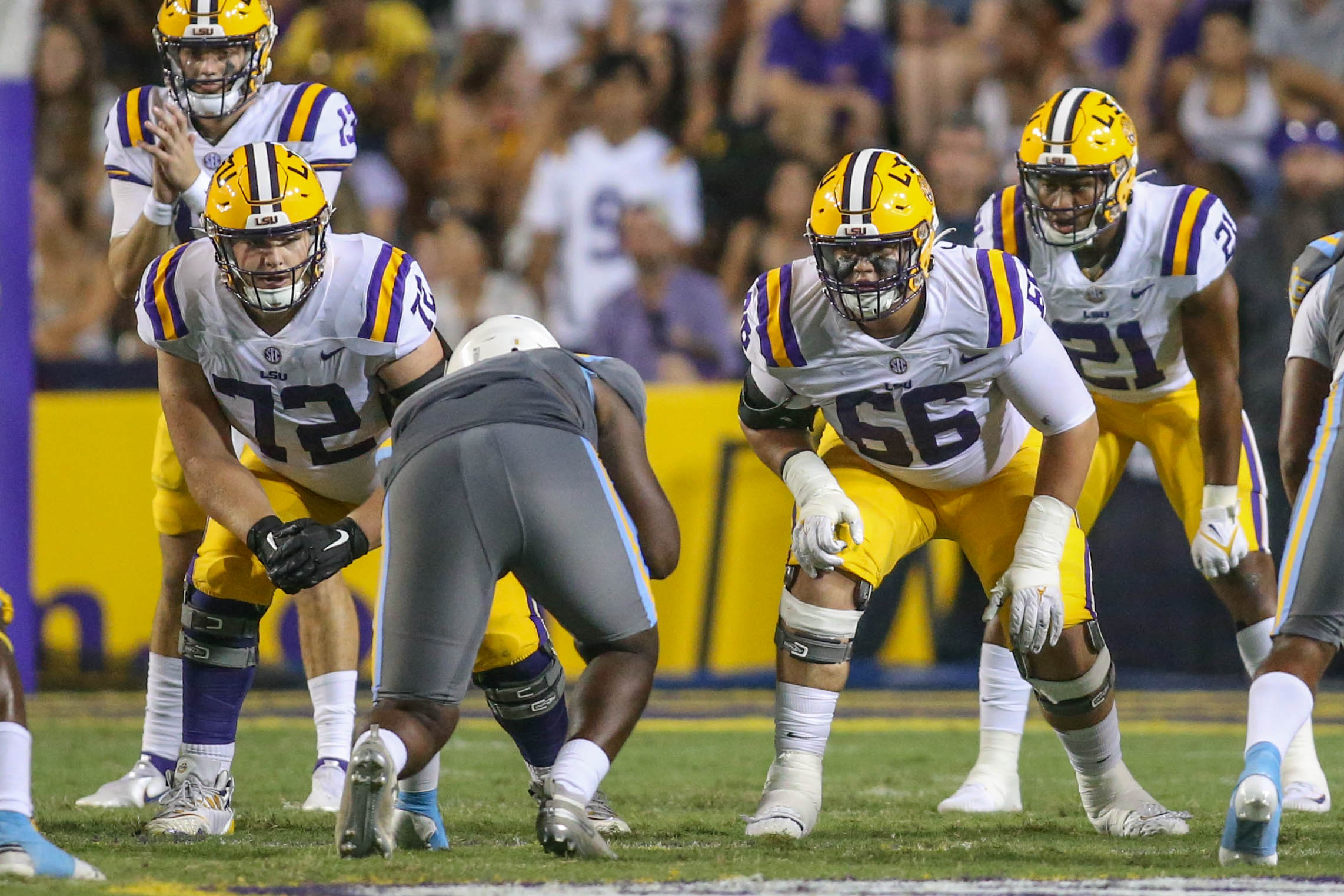 LSU will more than likely start a fourth different offensive line in five weeks when the Tigers visit Auburn for Saturday's 6 p.m. kickoff at Jordan-Hare Stadium.
The game will be televised by ESPN and broadcast locally by 98.1-FM.
First-year coach Brian Kelly confirmed on Wednesday's SEC Coaches' Teleconference that sophomore left guard Garrett Dellinger had surgery Tuesday to repair a broken hand suffered in last Saturday's 38-0 win over New Mexico and would be doubtful to play against Auburn.
"It appears as though it's going to be tight for him to make the game," Kelly said. "At first thought we thought we could get him ready. But there was a screw and a plate that needed to go in there. I would say he's doubtful for Saturday."
Dellinger's absence opens the door for transfer Miles Frazier, who started the season at left guard, to return to that position after he moved to the starter at right tackle after LSU's 24-23 loss to Florida State. That would open the door for Anthony Bradford, who started the first two games at right guard, to return that spot and fill in Frazier's vacated spot.

LSU's starting offensive line for the past two games consisted of true freshmen Will Campbell and Emery Jones Jr. at left and right tackles, respectively, with Charles Turner at center and Dellinger and Frazier at the two guard positions.

Dellinger officially moved to center during the spring but was held out of full contact drills because of shoulder surgery. He emerged as the team's starting center in the opener against Florida State but was moved to left guard where he started for the past three weeks.
Here's what else Kelly had to say:
Opening statement:
"Certainly, first challenge for us in the SEC, as it relates to being on the road. Playing the team with the caliber of talent that Auburn has will present a challenge in itself. But anytime you go on the road, those challenges of being in a hostile environment for the first time certainly will be a challenge for our team and just all the logistics will be a first time for us. Going on the road is a challenge in the SEC itself. The opportunity exists for us to continue to play consistent football. We'll have to make sure that we're not distracted by travel and a very pro-Jordan-Hare stadium. That's why you play these games in the SEC. I know our guys are excited about it. You could tell by the way we practice yesterday, there's an anticipation of playing in these kinds of games. So excited about the opportunity. I have a great deal of respect for Coach (Brian) Harsin and his football team and we're looking forward to the challenge."

On improvement of quarterback Jayden Daniels since opening loss
"Just more comfortable with the offense itself. He was in a totally different offensive structure. He was in direct snap, much more Pro-style offense. This was a totally different offensive structure for him. So just becoming more comfortable with the offense itself. He's become more decisive because he clearly understands the offense much better and when you're decisive, the ball comes out more efficiently. And really, that's just what we're seeing. We knew that talent was there. We're just seeing a more decisive quarterback."

On team's recent improved play
"I just think this is a group of players that are learning to play together. We brought in 13-15 transfers, so a huge influx of new players playing and freshmen. That takes time and we've been really coming together both on offense defense and special teams, learning a new system and obviously from my perspective, you've got a new head coach with new standards. All of those things coming together just has taken a little time and we're making some progress."

On play of defense last six quarters
"We've gotten better communication, better tackling. I have great respect for New Mexico, but that was not one of the top offensive teams that we've seen. Our expectations were to play really good defense against New Mexico. But the back end of that, (the last) two quarters against Mississippi State if I could comment on those were played fast, played physical and really with great communication. We lacked a lot of that in our opener, and a lot of that had to do with new players working together, trying to get comfortable with each other. We didn't tackle very well and of course their quarterback had a lot to do with that as well. But those are kind of the little pieces of why we're playing better defense."

On defense's ability to disguise coverages
"I would say more importantly, it's about not giving any offense consistent looks because if they know what they're getting, each and every play, there's a comfort level for the quarterback. Just mixing things up is more important. If they don't know where a particular pressure's coming from, or a stunt. What this is about more than anything else is (defensive coordinator) Matt's (House) ability to really change things up and not give the quarterback the same look, play after play. And I think he's done a really good job. A lot of that is the experience he's had being an SEC coordinator, the experience he's had as a coordinator himself. He knows keeping a quarterback off balance and not giving him consistent reads is really part of the success of really good defense."

Had you had experience running this defensive system
"It's something that was important for me in the hiring process, just because at times it's very difficult to discern. Who's rushing, who's dropping, where's the pressure coming from? Makes it from my perspective, working with the quarterbacks, a much more difficult defense to hone in on."

On immediate impact of transfers
"I think each one is a little bit different. Certainly, this is the first time that I've had to build a program with the transfer portal. Last time I was building a program in 2010, that wasn't available to me. Doing it for the first time, it's assessing your program and the needs that you have to compete immediately in the SEC. I think what the transfer portal does is give you an eye towards competing immediately, instead of saying, 'Alright, look, we're going to take our lumps, we're going to build it with freshmen, it's going to take some time'. This for us, has been a blend of both. We're starting three true freshmen on offense, but we've infused our defense with a number of veteran transfers that have played a number of SEC games."

On the long-term effects on coaches who rely on transfers
"I really do think each situation has to be evaluated for what it is. I think you look at your personnel, you evaluate your personnel, and you find out are you playing young players, had an exodus of a number of veteran players? What is the state of the program relative to where you are? This was a balancing act for us in terms of we felt like we needed to play a lot of young players, but there was great interest in some players coming back to Louisiana that were from this state. We felt like we needed to do that on defense. I really do think each one is going to be evaluated individually. And I think that's where your athletic director has to involved and understand what the situation is as you as you kind of enter into those decisions."