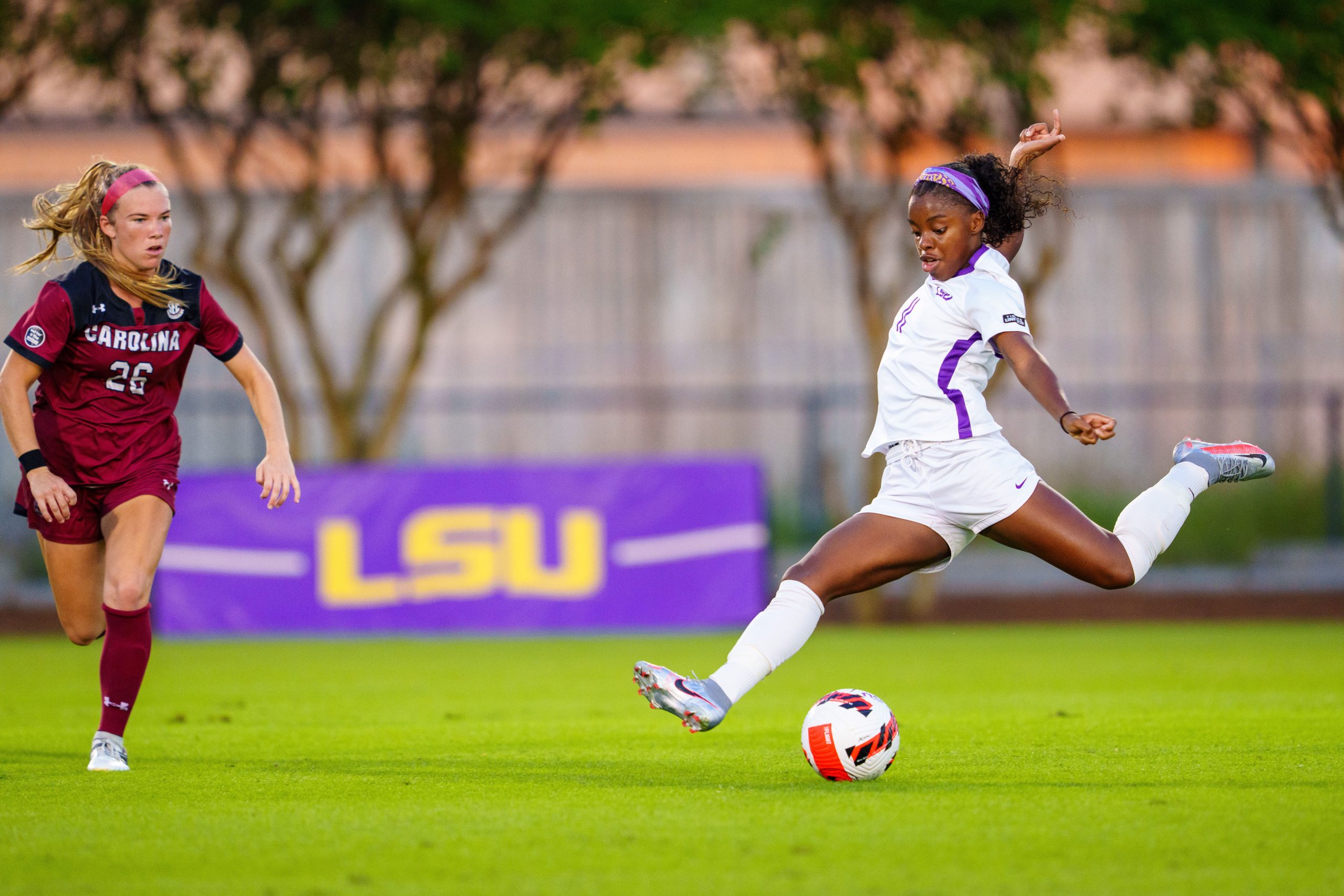 LSU's 26-year-old soccer program had never experienced anything like the 30-day span between Aug. 19-Sept. 17 with eight straight wins, rocketing to a No. 5 ranking.
Never had it endured anything like the 18-day duration that followed between Sept. 23-Oct. 10, with five consecutive losses to drop out of the national polls.
The 180-degree midseason turn threatened to unravel everything the team had worked for when LSU regained their footing with a 3-1 finish to the regular season, punctuated by a 4-2 upset win over then fourth-ranked Arkansas, a team that advanced to the NCAA's Final Eight.
The Tigers went 1-1 at the SEC Championships, falling 2-1 to Arkansas, before earning an at-large bid into the NCAA Tournament for the seventh time in school history where they fell Nov. 14 at Memphis, 3-0.
"If anybody would have said we would have been ranked in the Top 5 in the country at one point and break our school win streak (10) and scored the number of goals (40) we scored," said second-year LSU soccer coach Sian Hudson, whose team finished 11-8-1. "We beat four Top 25 teams, made the NCAA Tournament I think we would have jumped at that."
Even Hudson acknowledged that her team's rapid start to the season, featuring wins over three ranked teams in South Florida, Central Florida and Arizona State, heightened expectations for a team trying to manage its own success amid the adversity Hurricane Ida caused in south Louisiana.
"We may have peaked a little too soon," she said. "We had to go through a bit of a midseason re-evaluation of sort of where we were at and the way we responded toward the end of the SEC season."
Before the start of LSU's slide the Tigers win streak was framed by one of the program's greatest moments where in a 2-0 win over Mississippi State in the SEC opener, they drew a school-record crowd of 3,021 – an example of the progress Hudson and her team had made in Baton Rouge's rabid soccer community.
"The crowd at Mississippi State was one of my favorite moments to the year, maybe my whole career," Hudson said. "The excitement for soccer here is a memory that will stay with me forever."
LSU's unlikely ebb and flow began with a 2-0 loss at Ole Miss on Sept. 23 and continued through Oct. 10 with a 1-0 loss to Auburn in overtime. The Tigers were outscored 10-2 during that five-game span, a stretch that threatened to negate everything the team had worked so hard for and accomplished to that point.
To reverse her team's fortunes in a scoreless game Oct. 14 at Kentucky, Hudson went the unconventional route on a penalty kick attempt late in the second half, pulling Mollee Swift out of goal to bury a left-footed shot in a 1-0 victory.
That led to a 3-1 finish in the regular season with LSU registering wins over a pair of teams, South Carolina (4-0) and Arkansas (4-2), that advanced the quarterfinals of the NCAA Tournament, to qualify for the SEC's postseason event.
"There were really big moments in the season," said Hudson, 19-16-4 in her second season.
None more defining than LSU's regular-season finale against Arkansas where the Tigers shook off an early 1-0 deficit, built a 3-1 lead and added a late goal from Tinaya Alexander to polish off a must-win for the Tigers to move forward.
LSU advanced to the second round of the SEC Tournament with a 5-4 win over Georgia in a penalty kicks shootout with Jordan Johnson delivering the winning shot, sending the Tigers to a rematch with the Razorbacks who took a 2-1 victory.
"There was a stretch where we struggled to score goals and lacked a bit of confidence in front of the goal," Hudson said. "On our day we were clinical in front of goal. All in all, when I first got here a lot of people were asking for goals. We want excitement. We want goals."
LSU's furious finish that included its fourth win over a ranked opponent (Arkansas), which established another program milestone was enough for the Tigers to earn the program's seventh bid to the NCAA Tournament or first since 2018.
It was a memorable occasion for the team which gathered in the Champions Club at Alex Box Stadium to watch the televised proceedings amid a large group of supporters and school's athletic support personnel led by athletic director Scott Woodward.
Halfway into the 64-team bracket LSU was rewarded for an overall solid resume' and sent them to Memphis, an NCAA regular that used its experience to break open a scoreless tie at halftime with three second-half goals to eliminate the Tigers.
"I truly think we were able to accomplish a lot of really good things this year," Hudson said. "While it didn't end in the manner we had hoped there were several unbelievable games were able to win and set some new heights for the program. All in all, it was a successful season although it didn't always feel that way because of the highs and lows."
Among the highs, LSU established the following single-season program milestones:
12th 10-plus win season, the first in five years.
8 shutouts, tied for seventh
25 goals against, tied for seventh
11 wins for GK Mollee Swift, tied for seventh
40 goals scored, tied for ninth
There were also personal achievements from senior midfielder Chiara Ritchie-Williams who leaves as the school's career leader in games played (97) and started (94) and minutes played (8,501).
Alexander finished as LSU's leader in goals (9), assists (6) and total points (24), earning first team All-Southeastern Conference honors. Alexander, tied for career assists with 22, was also the team's lone selection to the United States Coaches Southeast All-Region team.
Swift also moved up the school's career list after her second season where she ranks: second in wins (34), tied for third in shutouts (17) and sixth in saves (206).
With the loss of a 10-member senior class, plus the potential loss of Alexander and Wasila Diwura-Soale to the professional soccer draft, Hudson was thankful for the example the seniors set in trying to establish LSU as a program that regularly plays in the SEC and NCAA Tournaments with an eye toward deeper runs in the postseason.
"In time we'll look back and say that was a full body of work of improvement and progress across all areas of the program," Hudson said. "I'm proud of the total effort of the team and staff. The message to the (returning) players was we've shown what we're capable of on our day. To be great we have to have a consistency across the board to be able to do that week in and week out.
"I think the future's bright," Hudson said. "We're in a situation where we've got a really good (recruiting) class coming in that we're excited about. We'll see if a couple of our players end up going on and getting professional opportunities, which I think would be another great thing for the program."