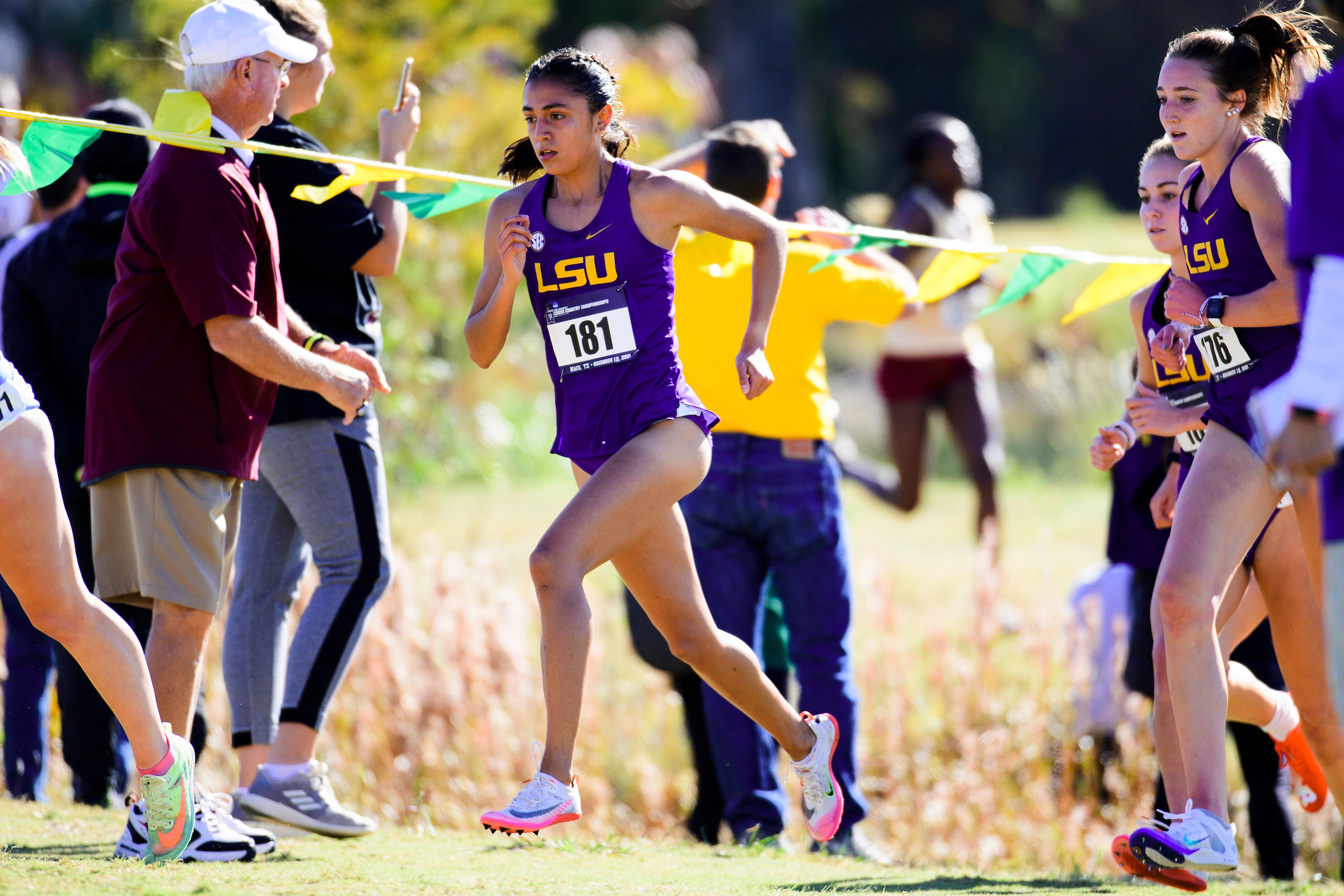 Four meets and less than two months later LSU's regular season for cross country reaches the finish line Friday.
Both the men's and women's teams take part in the 2022 Southeastern Conference Cross Country Championships at the University of Mississippi's Golf Course.
The women will run a 6K distance beginning at 10:08 a.m. followed by the men running 8K at 10:50 a.m.
The event will be televised by the SEC Network.
"I think we've got a chance to do really well," LSU cross country coach Houston Franks said of his women's team. "Like for many years, there's a couple of teams that have separated themselves a little bit, and then there's going to be a big logjam in the middle anywhere from fourth to 10th. It's going to be really tight. It's going to be who executes is who's going to do well. I think that will set us up really well going into the (Nov. 11 South Central) regional meet, trying to quality for nationals from there."
LSU's women, led by sophomores Lorena Rangel and Michaela Rose, won three of the four meets entered with their regular group of runners. The Tigers were 17th at Texas A&M after resting their top six runners.
Rangel won the LSU Invitational, was second in the UNO Opener and third at Florida State with a best time of 17 minutes, 16.6 seconds at Florida State over the 5K course. She was second to Rose (17:16.6) at Florida State, while the duo went 1-3 at the LSU meet with Rose running 17:27.10.
Neither have competed this season at 6K.
"When you boil it down it's 3-3 ½ minutes of a longer race," Franks said of the distance. "It's not game changing. It can be tougher, but I think we've prepared well for it. We talked to all the ones that we rested. How comfortable they were with it and they were fine. It will be the first 6K for Cindy (Bourdier), Michaela and Ella (Chesnut). I think we'll be fine. We just have the manage the first part of the race, be smart."
Chestnut, a freshman from Vandebilt Catholic, has a best of 17:25.7 which was good enough for fifth at Florida State. Senior Adele Broussard, a former Episcopal High standout, was 13th (17:25.5) at Florida State and Bourdier, a graduate student, 16th (17:57.6) at the same event.
Alabama is the highest ranked team at No. 7 in the field with Arkansas, winners of the last nine SEC titles, is ranked No. 21.
"Lorena and Michaela are going to be in the top five," Franks said. "We've got 10-11 people that could be in there and that's kind of the beauty of our team this year. We've got some depth that we haven't had in the past. We've got a lot of people that on any given day could be in the top five."
With LSU opting to redshirt its top runner this season, Davis Bove, that's opened the door for senior Jackson Martingayle to become the team's top runner. The native of Virginia Beach, Virginia has been the Tigers top finisher in all four meets this season, including a 24:22.0 which placed him 26th at Texas A&M over 8K.
He won the LSU Invitational over 6K with a time of 18:09.0.
"Jackson has had a wonderful fall and Will (Dart) as well," Franks said. "I think we'll be OK at 8K. We have a lot of middle-distance guys. We're as prepared as we can be for it. The 8K's not going to be a problem for us, just the execution of the race. We've got to do a good job of working together, keeping our group together in the middle of the race better."
LSU has surrounded Martingayle with more of a Louisiana-dominated lineup that's included Dart, a junior from Shreveport, sophomore Evan Pardo of Covington, senior Cade Martin of New Orleans and sophomore Jack Wallace of New Orleans. Sophomore Dylan Nimmers of Ruston has also played a role in this year's lineup along with freshman Tyler Stevens of Lancaster, Pennsylvania.
Over 8K, the Tigers were fifth at Florida State where Martingayle finished ninth and the Tigers were 19th at Texas A&M where Martingayle was 26th.
No. 17 Tennessee leads the men's division followed by No. 22 Alabama. Unranked Arkansas has won the last two conference titles and 10 of the last 12.
"One thing that we haven't done as well as we can is that we've been a little inconsistent," Franks said. "Not as a team, but individually. The one thing that separates good cross country teams from really good country teams is when guys are having bad days. Our good's been good enough, but we've got to get better at having the best bad day we can have.
"It's kind of like the quarterback that's having a bad day," Franks added. "You've still got to make some good throws occasionally. You just can't lay down. You can almost guarantee someone's not going to feel great. We don't have a lot of depth. We've got to have all hands on deck and be the best they can whatever that may be that day."