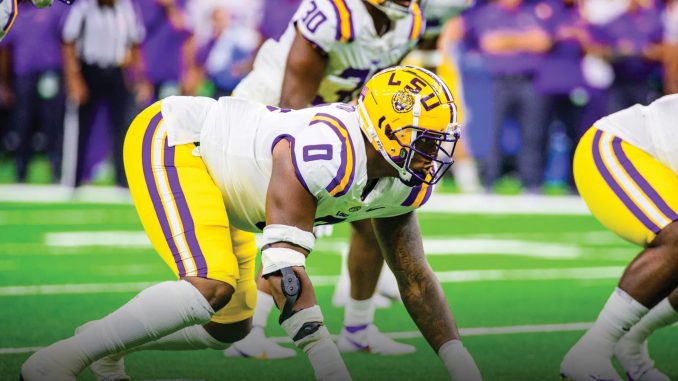 LSU redshirt sophomore defensive tackle Maason Smith learned a valuable lesson through his own personal tragedy last year.
Just when the thoughts of getting his massive hands around some of the nation's prestigious defensive honors – the Lombardi and Bronko Nagurski awards – this season, Smith's mind reverted to the first quarter of the 2022 season opener against Florida State.
Smith, the state's top player out of Terrebonne High in 2020, got a test run in his true freshman season at LSU in 2021. Because of injuries, he was limited to 19 tackles in nine games with four starts and still earned Freshman All-America honors.
With the start of '22 season and with LSU facing Florida State in the Caeser's Superdome, head coach Brian Kelly looked forward to unleashing Smith's massive talents before a national televised audience.
They got exactly one series of action before Smith crumbled to the Superdome turf with a knee injury suffered while celebrating a tackle by teammate Major Burns.
"I'm running like I'd been doing my whole life," Smith said during July's After Further Review. "If you go back to my high school film, I jump in practice all the time. I'm not some big, sloppy dude. I never had anything happen, so I didn't really think about it. But when I came down, I felt like my knee shifted back and forth. I knew something was wrong."
Just not the extent of the injury. By the time the 6-foot-6, 315-pound Smith made his way to the team's medical tent for observation, he was later informed of the torn ACL and meniscus.
"I always thought to myself that I would never be one of those guys to tear my ACL or anything like that," Smith said. "It was my first major injury."
LSU limped out of the Superdome with a 24-23 setback – the result of a blocked extra point on the final play of the game.
While the Tigers still had the rest of the season to rebound, Smith didn't. His season was officially over after three plays, and an expected lengthy rehabilitation process loomed for the former five-star prospect from Houma.
The loss of Smith meant more than a guy who could stuff running backs and chase down quarterbacks, but it was the emotional lift he could provide with his presence to the entire unit.

The Tigers moved on, though, and in Kelly's first season went 10-4, won the SEC Western Division, played in the SEC Championship Game and defeated throttled Purdue, 63-7, in the Citrus Bowl.
Smith was along for most of the ride, standing in his distinctive No. 0 jersey on the team's sideline, offering encouragement to his teammates and suggestions to fellow defensive linemen.
"I was living the season through them," Smith said. "There were definitely times when it would be hard for me to watch or go to practice or something like that."
The often-prescribed year-long process, that bridges surgery with the painstaking rehabilitation process, seemingly raced by without setback.
Smith found himself ahead of schedule in his comeback to the playing field. He began light jogging and straight-line running where he selfishly felt ready to play in the Texas A&M game – 12 weeks after the ACL tear.
Kelly never gave into the temptation of having his best defensive lineman out on the field in 2022 and Smith remained a hearty teammate on the sideline. He accompanied the team to Orlando for the Citrus Bowl and enjoyed the trappings that come for players during bowl week.
He remained sidelined during spring practice but was dressed in uniform for the team's spring game. The closest he got to the field was non-contact drills during warmups.
Smith gained 100% clearance to return to all football activities this summer, further fueling his desire to return for the 2023 season against a familiar opponent. The Tigers face a Sept. 3 rematch with Florida State at 6:30 p.m. at Camping World Stadium in Orlando.
"I just feel like we shouldn't have lost the game at all," Smith said. "I just feel like with the circumstances, all the bad plays that we made, and we still lost by one. It shows you something. I really don't have to say anything else. We definitely want to win the game just because we feel like it was stolen from us the year before. We've never forgotten. I'm ready to find myself."
Smith tries not to get ahead of himself.
He looks forward to rejoining his teammates and being a dominant force on what some national observers believe is one of the nation's top defensive units.
There are also some early 2024 mock drafts that have NFL teams selecting Smith in the first round. He also entertains the thought of winning two of college football's top defensive awards – the Lombardi and Nagurski.
"I definitely want to win some trophies, but that's out of my hand," he said. "I hadn't thought about stuff like that, but I'm just really ready to maximize my full potential and show what I could do. That's all I'm worried about. I'm just ready to maximize my potential."