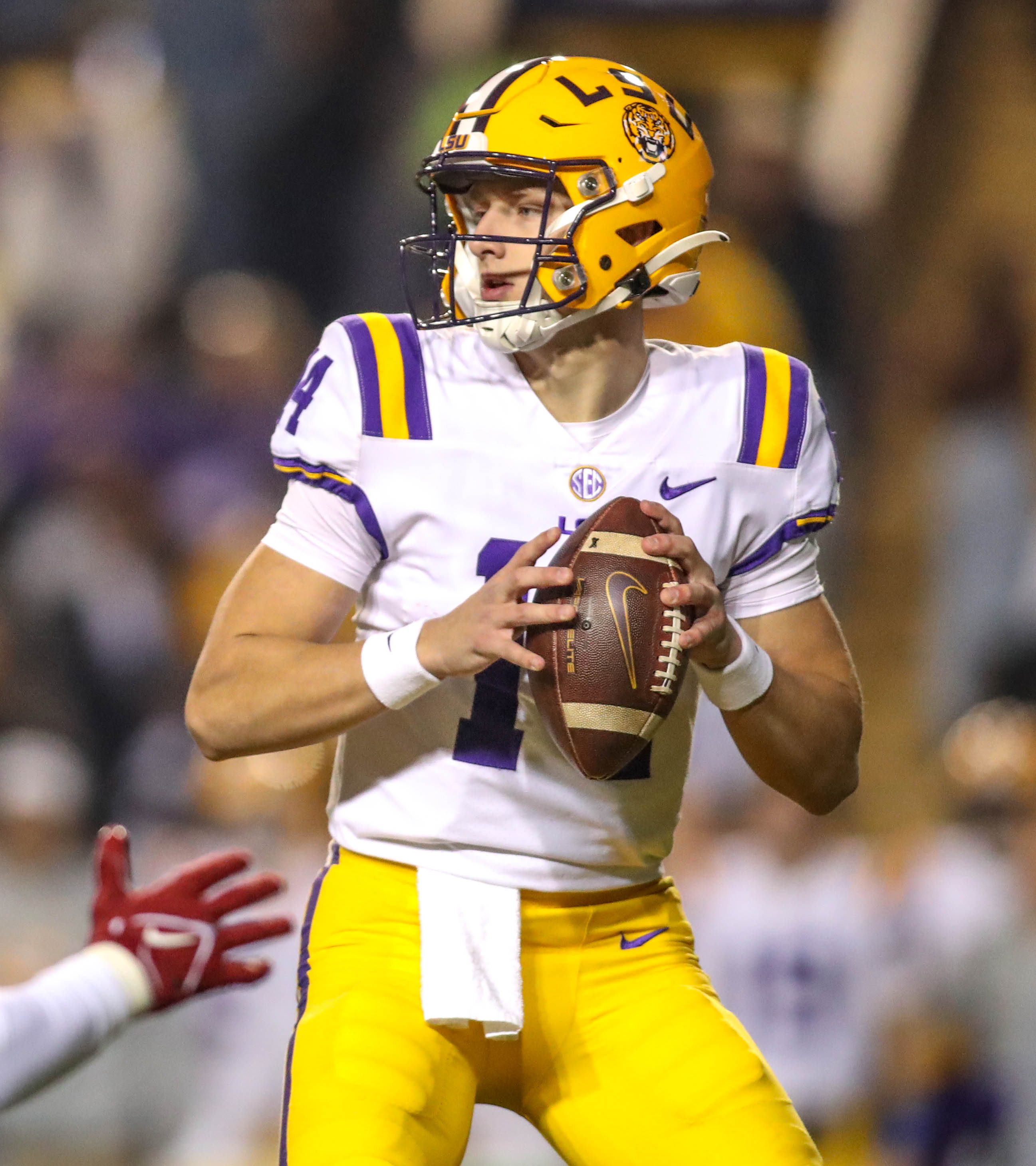 The streak of LSU's Max Johnson consecutive starts at quarterback will reach 13 straight when the Tigers (4-6) host UL-Monroe (4-5) at 8 p.m. Saturday in Tiger Stadium.
Johnson, who was benched after the first two series in last Saturday's 16-13 overtime loss to Arkansas, will be back in his familiar role as the team's starter for the rest of the season. He completed just 3-of-6 passes for 21 yards when he went to bench in favor of backup Garrett Nussmeier and didn't return again.
"I like Garrett, I think he's a good player," LSU head football coach Ed Orgeron said. "I like Max. I feel he's a good player. I don't feel Garrett beat Max out. I don't believe Max deserves to be benched. I gave him a chance to beat him out.
"I think he's (Nussmeier) a very good player; that play he made on the touchdown (to Jack Bech) was a phenomenal play. We're minus-three in turnover ratio, we only scored (one touchdown) seven points. So Max is still our starter. It's going to be up to Garrett and his father (Doug) if they want to redshirt. Or if they want to play in a backup role and perhaps go into a game and if he plays better, keep him in. If I were him, I'd redshirt. There's only two games left but that's not my decision."
Nussmeier saw the first extensive action of his college career against No. 25 Arkansas, quarterbacking LSU on 11 straight offensive series in regulation play and possession in overtime where he was picked off on the Tigers' fifth play on second-and-eight from the 9-yard-line.
Nussmeier completed 18-of-31 passes for 179 yards, connecting with Bech on a 29-yard TD pass for a 10-3 lead in the second quarter when he completed 6-of-9 pass attempts. He was also picked off in the third quarter at Arkansas' 37 at the 4:44 mark and was sacked twice in the game.
Orgeron commended Johnson for the way he handled Saturday's game.
"He didn't say a word," Orgeron said. "He handled it like a champ. He said, 'Yes sir'. Nothing else has been said."
Here's what else Orgeron had to say:
Opening statement
"I watched the film this morning with the coaches, and we've got to put our players in better positions. We've got to call better plays; we've got to execute. It's the same old story. I'm not going to back off of that. Some of our players were frustrated after the game and I don't blame them. They're fighting and we've got to take the responsibility and be accountable to put them in better positions to make plays."
On ULM
"We're going to respect every opponent and get ready to play those guys. I'm glad the game's at 8 o'clock. The fans get to get ready, and I get to go watch my son's last game at McNeese (at noon). It's Senior Day and parents get to walk them on the field and I'm thankful to God that I get to do that and come back and coach our team."
On TV report from game Jake Peetz left practice one day last week
"That's the first I've heard of that. It didn't happen on my watch. It might have been after practice. I didn't see anything like that. That's first I hear of that. If it is (true) it's unacceptable. I don't know that happened."
On the upside Nussmeier going through practice as the starter
"It could be. I don't think it would have made a difference. They've been sharing snaps the whole time. You could look at whether it would have been a benefit for Max to get all of the snaps."
On turnaround in the defense being a switch to the 3-4 scheme
"We're putting more people on the line of scrimmage. We have some very good outside linebackers. We're really playing a '52' defense. It looks like Bear, but it also can be Cover 8. We can bring anybody that we want. We're doing a lot of zero blitzing which I had never done since I've been the head coach. I'm from Pete Carroll's family, we don't zero blitz. We always have someone in the post, but we weren't getting enough (pressure) on third down. Daronte (Jones) and Corey (Raymond) are doing a great job with the back end (secondary) not getting burned deep. The thing you worry about in zero blitz is if you miss an assignment, it's touchdown. Our guys are executing it well. We've gotten out of the classroom and are on the field more with walk throughs. That all started when I walked the Alabama offense. I didn't think we could stay there in a 4-3 and duke it out with them the whole game and it worked. We've got a lot of stuff to build off of it. I wish if I could have done anything, I wish I would have started this four years ago."
On the hiring of Jake Peetz this season
"The one thing I did was trust Joe Brady. I wanted his offense, I wanted somebody that could run it. I knew there would be a learning curve. That's why I hired DJ (Mangus). He's in charge of third down. Those guys are new. There's a big learning curve. Was it a mistake or not? I won't say it was a mistake, but they need to do a better job and they know that. I think they're outstanding men. It's not like they're not working. Their experience level may not have been what I needed for this job."
On the play of BJ Ojulari and Mike Jones Jr.
"I told Mike we finally found his spot. He was a nickel, playing on the slot. He came to LSU, and he wanted to play in the middle that plays on a guard. We found a place in between at outside linebacker and I really think we've found him a spot. I really like him there. There's some technique things we can fix. He's excited about it, he's playing well. If gives him a chance to play. It gives us a chance to not only play nickel, to have three linebackers in the game because Micah (Baskerville) can stay in there, Damone (Clark) can stay in there and now he's on the line of scrimmage. We kind of lucked into that but we've found him a spot."
On injury update on offensive left tackle Cam Wire
"I don't think he's going to play the rest of the season."
On the play of cornerback Dwight McGlothern
"I think Dwight's going to be one of the outstanding corners at LSU. I think he has a chance to be a high draft pick. He's very savvy. He's a great young man. He's got a great personality. He's a tall corner that can run. He's got great feet and he wants to learn."
On the lack of receiver to replace productivity of Kayshon Boutte
"Whether it be schematically, whether it be what position they're playing, it could be the player, we have not found a legitimate replacement besides Jack Bech. If you look at our most dominate receiver right now it's Jack Bech. Kayshon's a very special player. Not a lot of them come around. Besides Jack Bech, we haven't found a lead dog to take his place."
On message to team after Saturday's loss
"We've got to get off the canvas. I didn't get off the canvas yesterday. I was the same way. Today I'm better. It just takes more time. We've got a 24-hour rule. Somebody says, `Well, what have you got to lose?' It's a game. We play to win the game. That's important to us. I want these guys to finish strong. Life will give you a bunch of stuff and you've got to keep on fighting. If you keep on fighting now, you'll keep on fighting then and you'll be able to teach your children to keep on fighting. If you stop now, you'll stop then. It's no secret."
On the future with the freshman class playing big role because of injuries
"I think it's positive. You're building depth. Those guys are getting a lot of valuable reps. You've have to look at the guys that will declare for the (NFL) draft, you have to look at the transfer portal, you have to look at academics. I'm hard on the guys to finish strong in the classroom because I'll be gone in a couple of weeks if we don't go to a bowl."
On improvement of Trey Palmer on punt returns
"It's something I wish we could do a better job of in the return game, to get more of a result. The spread punt has changed a lot of things. There's not a lot of big returns in college football anymore because of the spread punt. There's not a lot of blocks because of the spread punt. Trey has done a good job for us and gained some valuable yards for us. We've changed some techniques to give him some room."
On the growth of Daronte Jones as defensive coordinator
"I'm proud of him. During open date I said we're doing this, this and this. He said, 'UYes sir'. He put it in and didn't blink. He's got a feel for it."
On the genesis of the added blitzes on defense
"I told the guys we had to change going into Alabama week. I was looking at the front since it's my expertise. It's hard to stop the run in a 4-3. You've got to do different things. I've used some defenses that would better against the run where they would have to change their blocking schemes. While I doing that other people were researching that and coach (Kevin) Coyle came up to me on a Friday morning during the open date, he said he had these blitzes and that he knew they would hit home, but they had to zero. I said run them. We came in that weekend, and we put them in, we ran them all week and they've been working for us."
On graduate student offensive linemen Liam Shanahan, Austin Deculus and Ed Ingram
"I think Liam had two sprained ankles last week. Big Austin, every day there might be something wrong with him, but I think he's played more games than anybody here. Ed Ingram had to miss the last game because of a concussion. We're stretched as a unit. Those three are like brothers so I'm proud of those guys. I'm glad they came back. The season didn't turn out like they wanted to but they're still fighting. That says a lot. "
On keeping current recruiting class together
"I call all the players, one call a week. Austin (Thomas) has his personnel people texting them all the time. Saturday morning, we had a great call. Everyone I've told is that LSU's the place for them. I believe it's the place for them even though they're not committed. All the guys we've recruited, I told them the same story. They know it's true. What they do after I leave is up to them. I do think it will be in good hands. Austin's in there. I'm assuming there are some coaches that will be staying. Hopefully they take the lead which I'm sure they will. Hopefully they get a coach in place right away so they can start recruiting."
On coaching against ULM's Terry Bowden
"I know him. I went up against his daddy (Bobby) with Florida State and Miami. He looks good. He's older than me. He's a good man. Pete Jenkins worked for him, had a lot of good things to say about him. I watched him at Auburn when he had all of those good years. Lot of respect for him. The thing I'm really appreciative, he came in the first year and we kept all of our coaches at the schools in Louisiana together for the (summer) camps. Monroe is a city for the enemy (Alabama). We've got to keep them out and he did a good job of not letting them in there."
On the closeness of the freshman class
"Probably the highest character freshman class we've had. Jack Marucci, I don't know how he grades character, he said this was the highest character (class) we've brought in. We feel we have a high character class and that shows. Those guys are close. Now a days everybody knows each other through recruiting through the internet, they become friends before they get here. Those guys really like Garrett. He's kind of like the team favorite. He's a leader. We put him on the leadership committee as a freshman, so he has all of those qualities."
On the offense's mindset after two poor performances
"I think they're pissed. I don't blame them. Just tell the truth. We've got to take responsibility. We've got to put them in a better position. That's the only way we keep this team together, you've got to tell the truth. There's a lot of times where they need to be put in better situations. I'm responsible for that. Somebody's going to write that put somebody underneath the bus. There ain't no bus over where I live. I just tell the truth and that's the truth. We should have put them in better positions."