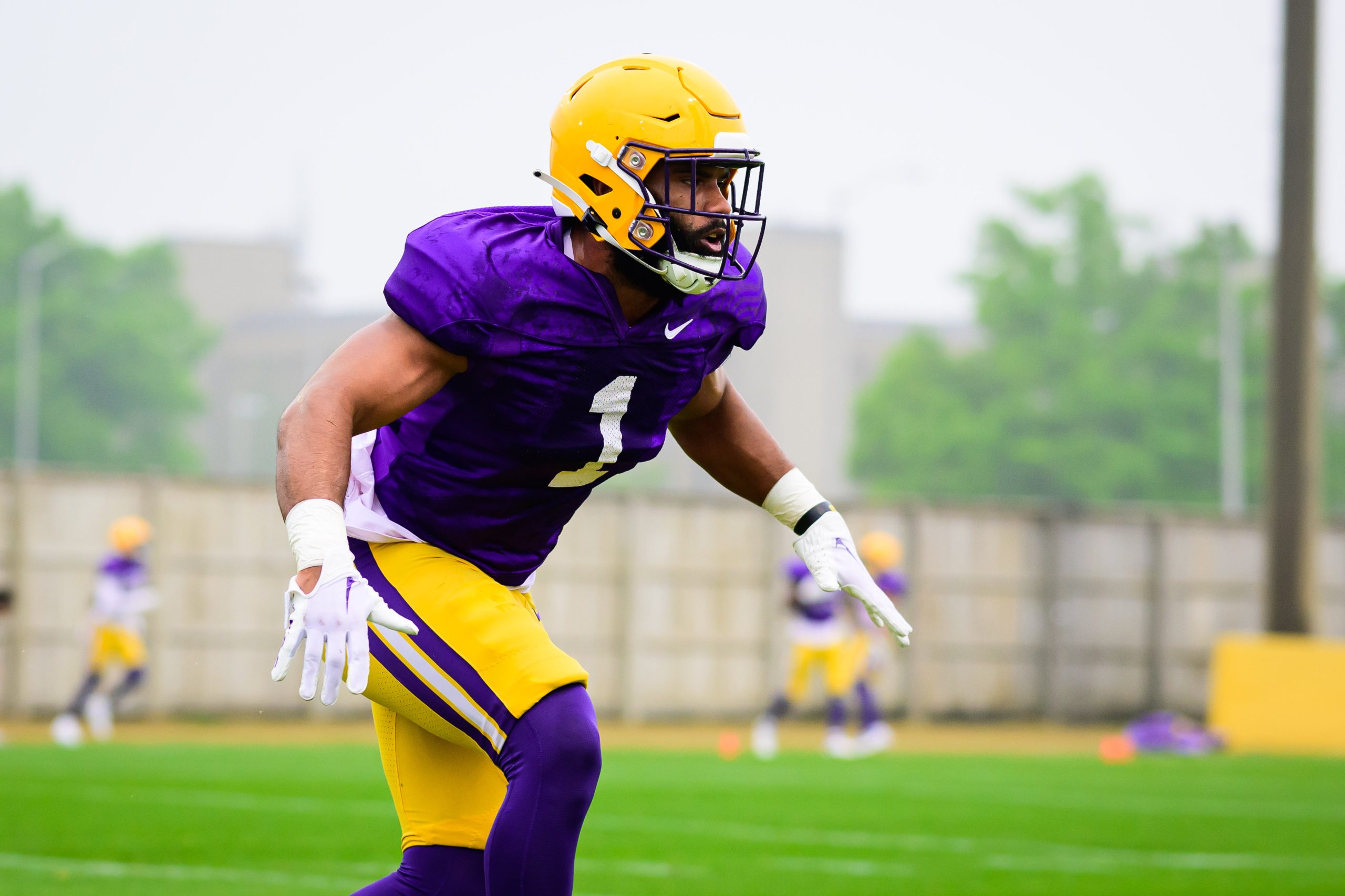 Linebacker Omar Speights was part of Oregon State's first 10-win season in 16 years which the Beavers concluded with a 30-3 win over Florida in the Las Vegas Bowl.
That was the highwater mark of a four-year career with the Beavers where Speights, a 6-foot-1, 235-pound first team All-Pac 12 performer, left as the school's ninth leading career tackler.
Speights entered the NCAA's transfer portal on Jan. 12 in search of something more fulfilling that would be derived from playing in one of the nation's most competitive conferences such as the SEC that could lead to the ultimate dream of winning a national championship.
After two official visits, Speights believed he found such a place in LSU where he signed Jan. 19 over Alabama. He's since moved into a starting role at middle linebacker for the Tigers who will conduct their annual spring game at 1:00 p.m. Saturday in Tiger Stadium.
"My big decision maker was that I wanted to go somewhere that had an opportunity to win a national championship and I felt (head) coach (Brian) Kelly was on the verge of doing that here," Speights said after last Saturday's spring practice. "Ultimately, my decision to come here, it just felt like home. They made it feel like it was a place that I was wanted. That was the ultimate factor."
LSU was in the market for help at linebacker with the graduation of senior leading tackler Micah Baskerville, the departure of Mike Jones Jr. to the NFL Draft and freshman DeMario Tolan, who transferred to Auburn.
The Tigers had promising returnees in Greg Penn III (78 tackles, 6 TFLs, 3 quarterback hurries) and West Weeks (28 tackles, 3 TFLs, forced fumble) in the fold, but lacked an experienced player the caliber of Speights when he opted to enter the transfer portal.

Speights started in 38 of 45 games at Oregon State and wound up with 308 tackles. He was the captain of the 2022 defensive unit, compiling a team-high 89 tackles, five TFLs and two interceptions and was a member of Bronko Nagurski Award watch list.
He was named to Phil Steele Magazine's first team All-Pac 12 squad a year after earning second team honors from the publication in '21.
Speights was also selected All-Pac 12 honorable mention by the league's coaches after his sophomore season two years ago.
He became LSU's second high-profile addition from the Pac 12 since Kelly's arrival, joining quarterback Jayden Daniels of Arizona State who quarterbacked the Tigers to a 10-4 record, SEC Western Division title and Citrus Bowl victory.
"I talked to him about it, but I don't think that's what sold me," Speights said of Daniels' input on playing in the SEC. "Ultimately, I wanted to come play SEC ball. The two factors of being wanted and winning a national championship are what drove me here. I knew I wanted to come play SEC ball.
"He said every week you're playing against the top guys in the country," Speights said. "He said that was the biggest difference. It's not like one week you'll have an off week. You've got to bring it every week."
In his short time at LSU, Speights has caught the attention of second-year defensive coordinator Matt House.
"I love Omar's approach," House said during a recent news conference. "The focus he comes in with, the attention to detail he has in his work."
Speights said House has played a vital role in his development, allowing him to step on the field this spring with a grasp the defensive scheme. He said that's due in part to positional meetings with House and also remaining after practice for additional instruction to try and fast-track his path to the playing field.
"Before the spring I hung out with him a lot, trying to learn the defense," Speights said of House. "Even now after spring practice I'm meeting with him afterward going over practice, finding ways to get better. It's been good talking ball with him. He's a smart coach. He's a great coach, too."
Speights has also embraced his role as a leader among the linebacker position and defense unit. Given his background and productivity at Oregon State, he's easily the team's most experienced player at the position who's embodied the kind of traits Kelly's looking for on the practice field, weight room or film study.
One such player that he's tried fostering such a relationship with is sophomore Harold Perkins Jr., a Freshman All-American who is ticketed to play alongside Speights this season.
"I've been around a lot of ball, played a lot of ball," Speights said. "Bringing the younger guys up, providing leadership in the (meeting) room, showing guys how to prepare for games. I can learn from them, too. There's nobody better than the next man. I think I could show them some things, too.
"He's a great player and he's a good person," Speights said of Perkins. "Those two things combined; you can make it far. I think it will fit well. We're both athletic. We've both got that dog (mentality). Everything will fit perfectly. You're going to see a lot of plays made at the inside 'backer position."